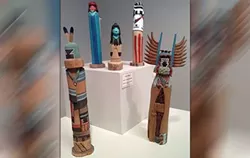 provided by Red Earth
Kachina Dolls on display at the Red Earth Art Center
The Red Earth Art Center, 6 Santa Fe Plaza, has a lot to celebrate, and it is doing things up right. Red Earth Rocks the Plaza is an all-day street festival to celebrate renovations to the center's facade and an exhibition of rarely-seen Kachina from its permanent collection.
There will be live music from local acts including Limber Limbs and Plain Speak and food trucks for the hungry masses. Admission to the center will be free to visitors all day. In addition to the Kachina exhibit, Red Earth houses contemporary and historic Native American art and a sales gallery.
Event organizers encourage you to bring a lawn chair and enjoy an afternoon of art, food and music. Red Earth is a nonprofit that promotes the tradition of American Indian art and culture through education, a museum and art markets.If you have never been down to the Red Earth Art Center, this is a prime time to check it out.