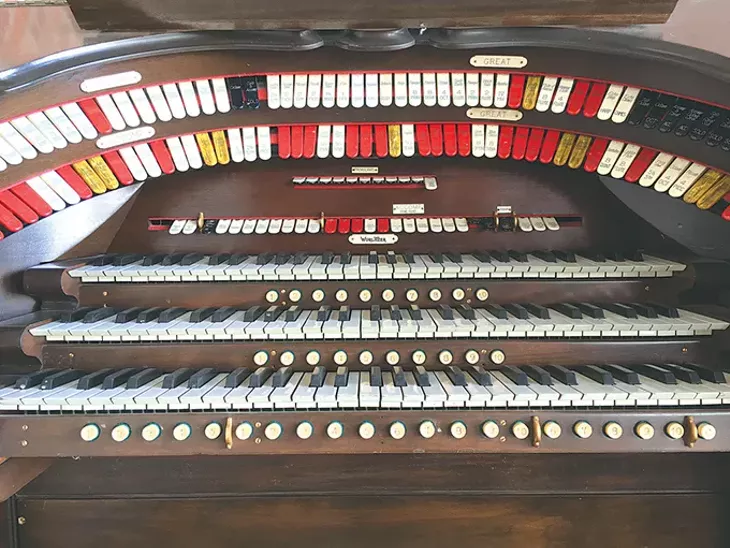 Rodeo Cinema / provided
Rodeo Cinema purchased and renovated a vintage organ originally housed in Tulsa's Orpheum Theater.
A new player is stepping into Oklahoma City's film culture arena, and it looks to be one tough hombre.
The new nonprofit Rodeo Cinema announced plans to renovate the theater space that houses Centennial Rodeo Opry, 2221 Exchange Ave., to bring an independent film theater to Stockyards City. Rodeo Cinema is a sister theater to Tulsa's Circle Cinema, which has become known statewide for screening a wide variety of independent films and hosting unique, film-centric events — often in partnership with other nonprofits.
"We'll be showing all the films that people would typically have to drive to Tulsa to see," said Kim Haywood, Rodeo Cinema's executive director and former program director at deadCenter Film Festival.
In addition to renovating the existing theater, Rodeo Cinema will have two screens in a new building being constructed at the corner of SW 13th Street and S. Agnew Avenue.
The existing theater Rodeo Cinema is moving into is in structurally good condition but lacks the permanent seating and audio and visual components necessary for a full-time movie theater. Renovations to the site, including the installation of theater seating, a new 24-foot-wide screen and other top-line theater equipment, begin in April with the goal of reopening for screenings by sometime in May.
No scheduled Rodeo Opry performances will be canceled due to the renovations. Rodeo Opry and Rodeo Cinema will continue to coexist in the same building even after renovations have been completed.
Haywood said part of the reason Rodeo Cinema chose its location is because the Rodeo Opry has kept the building in good condition.
"This place is so wonderful because the Opry has been here running it and performing out of it and using it and taking care of it," Haywood said. "So the bones to this girl, she's perfect. She just needs some makeup and hair, maybe a little manicure and pedicure."
The second Rodeo Cinema building will not be completed until around March 2019. But the plans for the new building include a food and wine bar up front and a courtyard in the back that will connect the theater to other retail spaces.
Rodeo Cinema's programming lineup will mirror Circle Cinema's offerings when it comes to distributor films. But the two will differ when it comes to local filmmaker screenings and special events. Haywood is still working on what those special events might be, but she has ideas about showing spaghetti Westerns and films that could serve as an homage to Stockyards City's Western heritage.
The theater is planning on showing silent films every Tuesday night. Rodeo Cinema has acquired and restored a vintage organ from Tulsa's Orpheum Theater, which was demolished in the 1970s. The organ will be placed near the theater stage, and live music will accompany the silent films for a unique throwback experience.
The plan for opening screenings in May might seem ambitious, but ambition is the backbone on which Rodeo Cinema was founded.
"Stuff happens, but that's our goal," Haywood said. "We've got some films that we want to show, and that's the timeline. The architects have said it's possible, so that's what we're doing."
Heading south
Clark Weins is president and co-founder of Circle Cinema. He is excited to bring a movie theater into Stockyards City, a district in which his cousin Terry Weins already owns two businesses: National Saddlery and Stockyards Sarsaparilla.
"[The theater] is not perfect," he said, "but in about two months, this will all look different."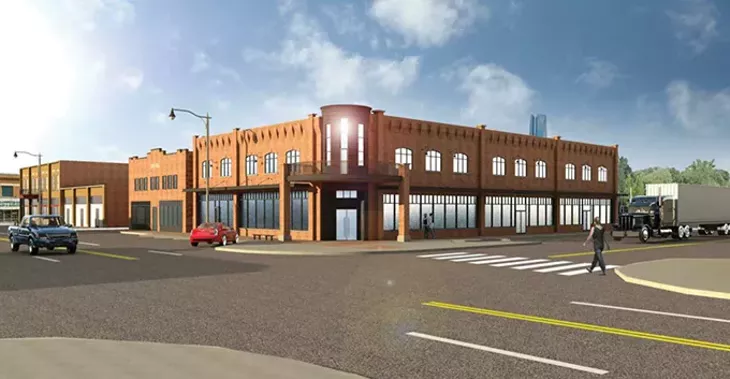 Rodeo Cinema / provided
Rodeo Cinema will house two screens in a newly constructed building on the corner of SW 13th Street and S. Agnew Avenue. The building is scheduled for completion sometime around March 2019.
Weins was first presented the idea of taking over the theater by his cousin Terry after the two attended a funeral for another cousin. It was not the first time someone suggested he bring his Circle Cinema concept down Interstate 44, but it was one of the first times someone came to him with a particular location in mind.
"I've had more people call me and ask me to bring one here [to OKC]," Weins said. "And then when Terry said that, I thought, 'Oh, what the hell. I'm bored.'"
Weins loved the condition of the Rodeo Opry building. He formed a new nonprofit and was able to purchase the building. Weins is president of Rodeo Cinema's board of directors but is quick to share credit for the organization with Haywood and the rest of the board.
"He's a little bit hesitant to call himself founder here," Haywood said. "In fact, he calls us all co-founders because this thing is on the ground floor and we're all working to make this thing happen."
Weins believes that everyone involved in the opening of Rodeo Cinema will become known as local heroes, as he has experienced with Tulsa's Circle Cinema.
"I can't go anywhere in Tulsa where somebody doesn't thank me," he said. "I'm not patting myself on the back; I don't mean it that way. But we had seven of the nine movies nominated for the Oscars. People love film."
Growing appetite
In the past few years, OKC has noticeably grown as an indie film market. Haywood said the popularity of film has generally grown across the country.
"Film is the biggest art form there is," she said. "That's the art form that touches all of us. I think people — now that we see other cities and the culture that they have with film — people want that here. Because of places like [Oklahoma City Museum of Art] and Tower Theatre and deadCenter, people have developed a taste for independent film."
In past years, seeing an artsy or independent film in a theater setting might be considered a rare treat. But the local demand for film has grown considerably.
"It's not just a one-time-a-year or even three-day-a-week kind of thing," Haywood said. "They want a little more experience with it."
It might seem like local film competition has swelled with the addition of Rodeo Cinema, but each venue will likely keep to its own niche. What separates them from others in the city, Weins said, is a total focus on cinema.
"We're film," he said. "Our whole deal is film only."