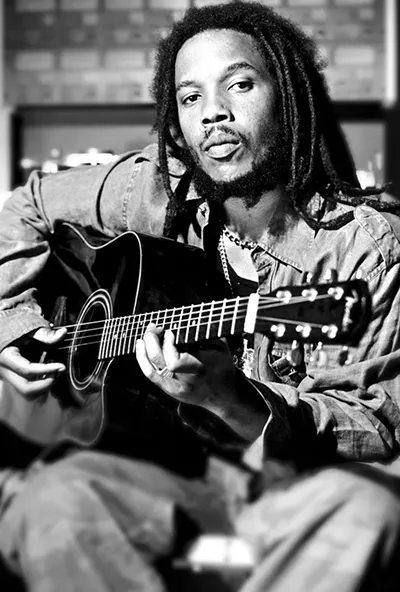 Wonder Knack / provided
Stephen Marley plays 8 p.m. Tuesday at Tower Theatre.
Bob Marley, in a 1975 interview, said he did not necessarily play reggae music.
"When people say reggae them expect a type of music," he said. "As far as me is concerned, I never give it a name. Just play music. Once you put it in a bag and call it reggae and then maybe you listen with your ear and think you hear a single thing. Because music wide, music go everywhere. That's why people expect reggae to be a one type of thing but it's not that. This music, man, is not music of a day. It have to be real."
His son Stephen Marley plays 8 p.m. Tuesday at Tower Theatre, 425 NW 23rd St. In an email interview with Oklahoma Gazette, Stephen Marley said his 2018 album is meant to present his and his father's music in a new context.
"My latest EP One Take: Acoustic Jams was really a jam session that we recorded in my living room," Stephen Marley said. "You hear my songs and my father's in a whole new light, in the acoustic form."
Stephen Marley
8 p.m. Tuesday
Tower Theatre
425 NW 23rd St.
405-708-6937
$31-$41
"Easy Skanking" — which begins "Excuse me while I light my spliff," and repeatedly implores the listener to "take it easy" — and "Small Axe" — which warns "If you are the big tree / we are the small axe / sharpened to cut you down" — reveal two different facets of his father's music. Stephen Marley's own "Revelation Party," which closes the album, warns of people with "hearts as cold as winter snow" who cause people to "live with no reason or rhyme" but promises that "tonight, we're going to have a celebration of our life" regardless.
A version of "Revelation Party," featuring Stephen Marley's own son Jo Mersa Marley, appears on 2016's Revelation Pt. II: The Fruit of Life, which also features verses from Dead Prez, Rakim, Rick Ross, Waka Flocka Flame and other hip-hop artists. Using the tree as a metaphor for reggae itself in this instance, the album and its predecessor, 2011's Revelation Pt. I: The Root of Life, are intended not to cut reggae down but nurture it.
"Part I was a true reggae album, exploring the genre's foundation and core, and in Part II, it shows the fruit that reggae bears," Stephen Marley said. "It is more of a hybrid album that merges hip-hop, dancehall and reggaeton — all of which stem from the source."
Stephen Marley first began recording reggae at the age of 6 in 1979 with The Melody Makers, fronted by his brother Ziggy, and started working as a producer in 1996 on albums by his brothers Julian and Damian before collaborating with The Fugees, Eve and Erykah Badu. A production background has allowed Stephen Marley to have more power over the direction of his own musical career.
"Producing gives you a certain ear and understanding of how a song is shaped," he said. "It is the blueprint. On my own projects, it has allowed me to create a song from start to finish and have complete creative control. By producing for other artists, whether for friends or family, it lays a foundation for us to collaborate again on my albums."
Family foundation
As the son of reggae's most famous ambassador, Stephen Marley said he never considered going into any other career field, but his art allows him to pursue other interests and make more of an impact on issues he cares about.
"Music is the only thing I wanted to do," he said. "Now, I am able to use music as a vehicle for other things I am passionate about. Our annual music festival Kaya Fest's mission is to educate people about the positive and medical benefits of cannabis. Also, a portion of the proceeds from my concerts go towards our nonprofit Ghetto Youths Foundation, which is creating opportunities and resources for underprivileged youths."
Watching his own children pursue musical careers, Stephen Marley said he wants them to have the same kind of freedom.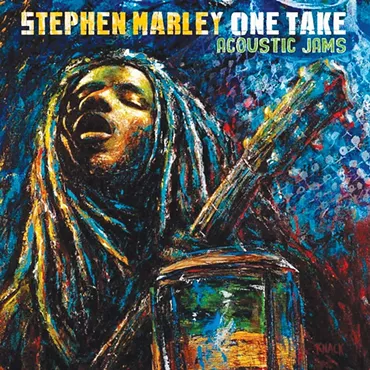 Provided
One Take: Acoustic Jams, recorded in Stephen Marley's living room, was released in 2018.
"I didn't really have any concerns for my children going into music," he said. "No matter what they chose to do, you know there will be obstacles and challenges. I give them the space to grow and make their own mistakes, but I can also give them advice and guidance in this field, you know, so it works well."
Critics and fans frequently point out that Stephen Marley's voice sounds like his father's, but he has never felt like the similarities require him to follow exactly in Bob Marley's formidable footsteps.
"Sure, I hear that quite often," Stephen Marley said. "I'm glad that they can feel a piece of him when I sing, since ... well, I am a piece of him. Vocally, I don't feel limited. Depending on the type of song, I can switch it up. So when I sing my father's music, you may hear similarities in our tone, but if you listen to, let's say, Revelation Part II: The Fruit of Life, I am dee-jaying (or as Americans may say rapping) on certain tracks."
While reggae purists may bristle at the incorporation of reggaeton and hip-hop, Stephen Marley said the newer genres are proof that the roots remain relevant and the meaning of the music is as significant as it has ever been.
"If there was no experimentation with reggae, we would not have dancehall, hip-hop, dubstep and so many great sounds today," Stephen Marley said. "It is only natural for it to take new forms. I think it is just a matter of respecting and educating people about the foundation. Take time to appreciate the people before us. We see that my father's music is timeless, and there are so many of us brining these conscious reggae vibes today. I think if we provide it, there will always but a demand for the message and sound globally."
In 1975, Bob Marley said that if the word reggae became too commercialized, he would call his music "nyahbingi," which he said meant "death to black and white oppressors."
"But that type of music, it come from the heart," Bob Marley told interviewer Karl Dallas. "Every time you hear the drums you hear it, sometimes soft, sometimes frightening, you get to know it. Like when I first hear rasta drumming, I think it something terrible going to do with me, because it's something that we no understand. And yet it's so near to me. And then we get to understand it and everything become natural again."
Tickets are $31-$41. The official after-party features music provided by DJ Shacia Päyne, and proceeds from the $25 tickets benefit Ghetto Youths Foundation. Visit towertheatreokc.com.