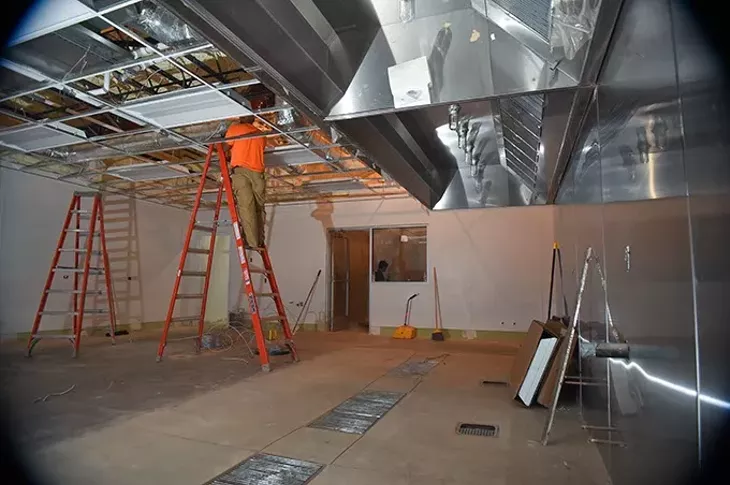 View of construction progress in one room of the new Full-Production Kitchen, part of a 50,000 square feet of expansion at Regional Food Bank of Oklahoma. mh
Since opening its doors in 1980, Regional Food Bank of Oklahoma has provided a staggering amount of food and help to Oklahomans in need. With programs ranging from meals on wheels to school lunch distribution and assistance, in addition to the numerous feed sites around the state, the organization has become an integral part of Oklahoma's efforts to combat hunger.
Now, as the food bank faces the challenge of a rapidly rising population and need (nearly half all of its food distribution since 1980 has been in the past five years), it has undertaken a massive expansion effort.
Thanks to a collection of large new grants and funding from several generous donors and groups, the organization is increasing its volunteer and charity programs and adding 50,000 square feet to its main facility in OKC.
Shopping around
"The facility expansion is part of a larger, long-range effort for the Regional Food Bank to increase the quality and quantity of nutritious food available to Oklahomans struggling with hunger," said Dawn Burroughs, vice president of marketing and communications. "Part of those long-range plans include developing Food & Resource Centers throughout our 53-county service area in central and western Oklahoma."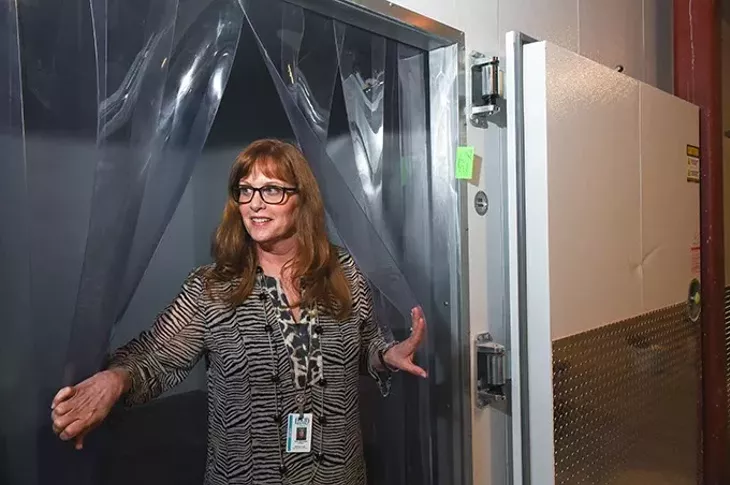 Dawn Burroughs, Vice President of Marketing and Communications, tours construction area including this freezer area adjacent to the new Full-Production Kitchen, at the Regional Food Bank of Oklahoma. mh
Food & Resource Centers are described as "client choice" establishments where people and families in need can browse and choose the foods they want in an environment similar to a common grocery store. These centers help give a sense of normalcy and dignity to the outreach program and allow people to take only the food they want and need, ensuring resources aren't wasted. There are currently nine of these centers providing services to communities across the state, and the new funding and grants that have come with facility expansion will help develop up to fifty more over the next few years.
"The Regional Food Bank is always looking for ways to 'shorten the line,' meaning to get at some of the root causes of hunger in Oklahoma," she said. "The Food & Resource Centers are a perfect model for providing resources and referrals for additional services available in the community. That's where community collaboration comes in. By working together, we hope to bridge the gap for families who are struggling to make ends meet and help them identify resources that can get them back on their feet."
Much of the new space at the main facility will be used as storage for those Food & Resource Centers and the many other programs and sites that the food bank operates, but there are a lot of other plans for the added area as well.
Help wanted
At least 30,000 square feet of the new space is allotted for work and office space for employees of the food bank and to train and coordinate volunteers, the backbone of the organization.
From the start, the expansion project has put an emphasis on volunteer-oriented work like mentoring and tutoring, and the organization plans to use a great deal of the new resources to that end. Programs like Kids Cafe hope to bring children to safe, helpful locations by relying on well-organized volunteers to set up meal sites in areas like Boys & Girls Clubs, where there are plenty of fun activities and help for any children that need it.
It's clear Burroughs is excited about these youth programs making a difference in many children's lives.
"Some of our summer feeding sites also provide mentoring and tutoring, like Freedom School, where kids spend four hours every morning reading," she explained. "When they start back to school in the fall, their reading skills are three and a half months ahead of their peers as a result. The reality is without food, children cannot learn, so the food provided at these sites is the foundation for the tutoring and mentoring."
Hot, fresh
Perhaps the most exciting aspect of the facility expansion for many in the organization is the new 6,500-square-foot full-production kitchen. The food bank estimates that in the first five years after completion, at least 1.25 million meals will be freshly produced for its programs.
According to Burroughs, having access to such a large and modern kitchen facility will open new opportunities and standards of quality for the entire organization.
"The production kitchen will allow the Regional Food Bank to control the nutritional content and quality of the meals produced and will allow after-school programs without the kitchen space, staffing or resources to have hot meals available for the children who participate in their programs," she said. "We will also be able to meet USDA guidelines for the food that is distributed to children while reducing our overall expenses."
'Feeding hope'
The logistics of a construction and action plan of this size turned out to be expensive.
That meant that this organization that has helped so many people needed a bit of help of its own.
"The food bank has been extremely fortunate to have strong relationships with many major donors, corporations and foundations who support our mission of 'Fighting Hunger … Feeding Hope,'" Burroughs said. "The funds have been raised through a silent capital campaign, and no funds have been diverted from operational expenses. We work hard to be good stewards of every gift and have an administrative and fundraising cost below 4 percent."
The organization has countless donors and support and appreciation from the Oklahoma community, but as Burroughs said, it is grateful for more helping hands.
"The Regional Food Bank always needs three things: food, friends and funds," she said.
Visit regionalfoodbank.org or call 600-3160 to volunteer or make a tax-deductible donation.
---
Print headline: Soul food, Regional Food Bank of Oklahoma looks toward a 50,000-square-foot expansion and a major increase in outreach programs.