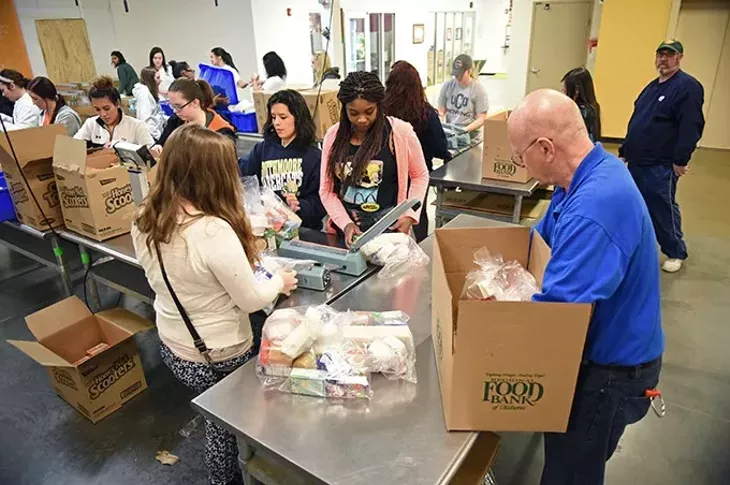 Volunteers from South Moore High School work with donations in the Volunteer Center at Regional Food Bank of Oklahoma. mh
Regional Food Bank of Oklahoma distributes enough food to feed more than 110,000 hungry people every week.
But Rodney Bivens, executive director of the food bank, the state's largest private hunger-relief organization, wants Oklahomans to know that the state still has critical and widespread food insecurity.
"I wish I could tell you things had gotten better or at least the demand was leveling off, but that's not the case," Bivens said. "Oklahoma has one of the highest poverty levels in the country, along with chronic underemployment. One out of every three new professional jobs in Oklahoma pays below the federal poverty level."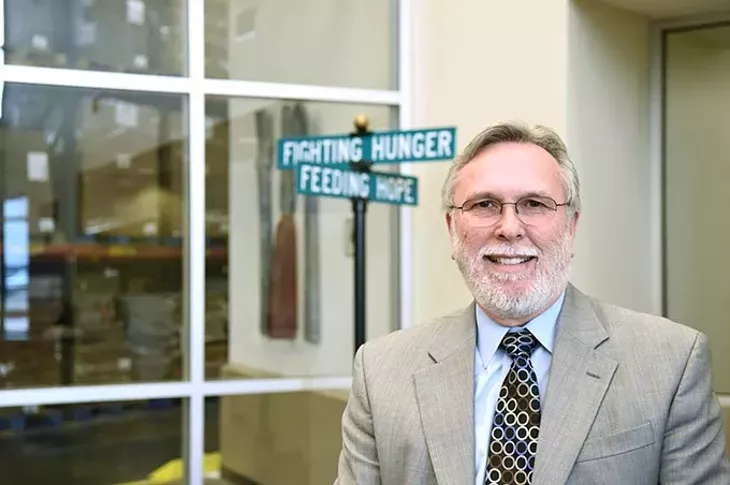 Many of the higher-paying jobs lost during the Great Recession were replaced with lower-paying, service-level positions that don't pay enough to support a family. Regional Food Bank has new goals this year to address the state's hunger needs.
Established in 1980 and dedicated to "Fighting Hunger … Feeding Hope," the food bank has increased its initial annual food distribution from 280,000 pounds to 47.8 million. It has doubled the amount of food it distributes annually during the past six years.
On the big-picture level, Oklahoma can boast of impressive economic performance. In November, it had the 14th lowest unemployment rate, according to the U.S. Bureau of Labor Statistics.
But there's a disconnect between the overall story and Oklahoma families in need.
"We anticipate that current and future economic and market conditions will serve to further increase, rather than decrease, the need among our neighbors," Communications Director Angie Gaines Doss said. "We know it's still not enough. Our rapid growth has stretched the organization's existing resources to its limits, leaving little room for future expansion to meet the increased demand for food assistance.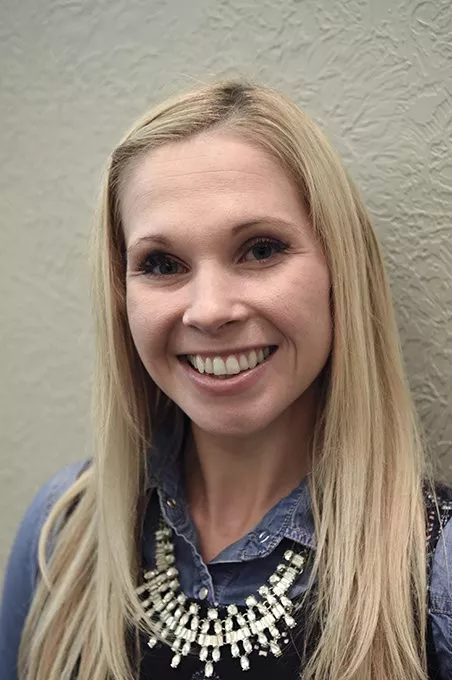 "In order to keep up with the demand for services and program expansion, the organization must expand its facility to meet not just today's needs but also tomorrow's."
Funds for that expansion so far have been raised through a silent capital campaign, with no funds diverted from operational expenses.
The food bank currently raises about $12 million in private donations annually for programming and service needs. Its administrative and fundraising expenses are less than 4 percent.
The organization's expansion goals are aimed at several needs: › Increasing dry and frozen food storage space to allow for more bulk donations, food purchase and increased distribution. › Adding a production kitchen to make healthy meals on-site for childhood hunger programs, like Summer Feeding and Kids Cafe. › Improving and expanding the Volunteer Center to accommodate a growing volunteer base. More than 33 percent of all food distributed is handled by volunteers. › Expanding office space to accommodate growth and support increased organizational capacity. Doss said those efforts are targeted at new and improved resources for struggling Oklahomans in 2015 and 2016. A new initiative, Fresh Rx, will focus on delivering more fresh fruits and vegetables for better nutrition. The nonprofit also wants to extend its outreach with additional food resource centers. The charity plans to grow and improve its childhood hunger programs. It expects to serve more than 18,500 chronically hungry students this year. There are plans to add approximately 20 more schools to the School Pantry Program and create 10 more Kids Cafe sites for at-risk youth and an additional 17 summer feeding sites in rural Oklahoma. The food bank is on track to finish a production kitchen in time for the 2015 Summer Feeding Program in June. The kitchen is designed to provide healthy snacks and hot meals for the Kids Cafe after-school program and fresh, kid-friendly lunches for children during the summer months when school meal programs are not available. Doss said the ultimate goal of the food bank is to serve all Oklahomans troubled by hunger and ensure they have access to healthy food.
Help out The food bank currently needs weekday volunteers to help sort donations from the holiday season. Volunteer tasks include bagging and boxing food products, working on salvage and packing food bags for kids. To view available opportunities and register to volunteer, visit regionalfoodbank.org/volunteer.
2015 special events
Chefs' Feast, 6 to 9 p.m. March 26 The Chefs' Feast, at the National Cowboy & Western Heritage Museum, is an annual food-tasting event that gives the public the opportunity to sample some of the finest cuisine Oklahoma's premier chefs have to offer. In addition to great food, there are fun prize giveaways, a wine pull and music. This event helps raise awareness of childhood hunger and provides an opportunity for attendees to support Regional Food Bank's Food for Kids programs.
Feeding Hope and Letter Carriers' Food Drive, May 9 A monthlong food and fund drive in May that encourages the community to join the fight against hunger by raising shelf-stable food, monetary donations and awareness of hunger in Oklahoma.
Students Against Hunger, September through November Oklahoma students are encouraged to raise funds and nonperishable food donations to help the food bank and its partner agencies.
---
Print headline: Oklahoma disconnect, Feeding residents is still an uphill battle, even when serving 47.8 million pounds of food annually in the face of statewide prosperity.