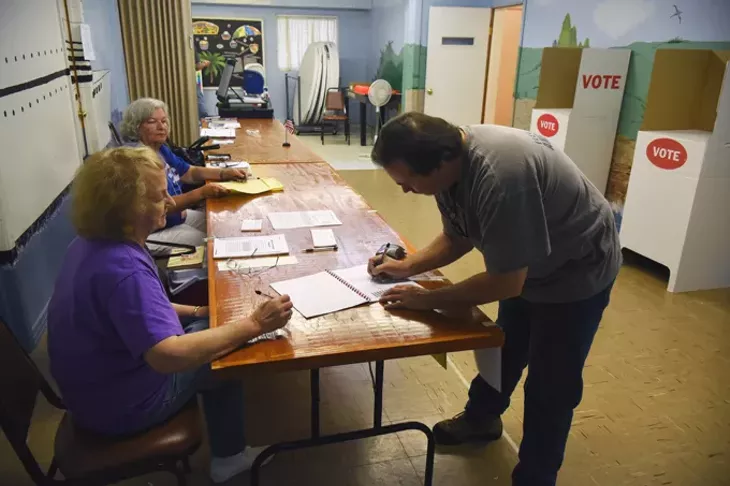 John Harrison signs in with election officals, from left, Eva Welch and Mary Austin, during the election on 7-14-15, at Crown Heights Church of the Nazarene. mh
Andy Moore is full of ideas for improving voter turnout in Oklahoma, the state the U.S. Census Bureau ranked 49th in voter turnout during the last major election.
As a millennial (those born after 1980), Moore doesn't buy arguments like votes don't count or voting wouldn't bring change. As the founder of Let's Fix This, a nonpartisan movement that drove hundreds of citizens to the state Capitol advocating a myriad of issues, Moore has witnessed firsthand the impact of citizen involvement on democracy.
"It's like drops of water in the ocean," Moore said. "You feel a drop, it feels insignificant. If there is a wave, it makes a difference. We have an untouched ocean of voters who don't vote."
Five months after Let's Fix This was first mentioned on social media, Moore is taking the organization from grassroots movement to nonprofit status. As a nonprofit, increasing voter engagement, along with establishing events to bring everyday folks to the Capitol, will be a major mission.
When it comes to voting, Moore believes many registered millennials would cast a ballot come Election Day, but they're sometimes too busy or forget to visit their polling station. He recommends millennial voters organize their friends or coworkers together for group voting. It could be as easy as meeting a friend before work at a polling station and casting ballots together or facilitating an office lunch event that includes stopping at area polling stations.
Election officials, left, Eva Welch and Mary Austin, at thier station during the election on 7-14-15 at Crown Heights Church of the Nazarene. mh
Another option is stopping by the county election office for early voting the Thursday, Friday and Saturday before the election.
"Make voting a fun thing you do with your friends, and be proud," Moore said.
Some of his other proposals include advocacy efforts around absentee ballots and posting reminders sharing registration tips and the elections date near campaign signs.
Voting trends
Across the nation, voting advocates have been developing and pushing for new ways to get Americans to the polls this November. Many argue it's a needed effort, with voter turnouts in the 2014 midterm election hitting the lowest point since the 1940s, according to United States Election Project.
Locally and nationally, lower turnout rates are most prevalent among young voters. Turnout rates increase among older age groups.
Like other states, Oklahoma struggled to attract voters to the polls. The U.S. Census Bureau reported 34.2 percent of eligible voters cast ballots in 2014. Oklahoma's midterm election ballot featured a governor's race and contests for state and federal legislators.
Typically, presidential elections lead to higher voter numbers. While voter turnout always matters no matter the election, in a close presidential election, it can prove decisive. Political analysts are split on predicting November turnout. The 2016 presidential election holds high levels of interest among the public, which could signal higher turnout. However, the top two candidates running collect high disapproval ratings, which could hint little interest in voting.
Peer pressure
Oklahoma City resident David Glover, a longtime voting advocate, has wanted to see an uptick in voter turnout in the Sooner State for years. After reviewing numerous voter studies and research, Glover concluded there was a single tool greater than simply encouraging participation: shaming people into voting.
Glover formed his opinion based on a 2008 Michigan study that concluded inducing feelings of shame against a person who doesn't vote had a much greater impact on their likelihood of visiting the polls. Instead of mail pieces, which were used in the study, Glover built a website after collecting public data on registered voters and how often ballots were cast.
"All I wanted to do was one thing: try to encourage people to reset their civic engagement grade to A+ several times [a] year," Glover said.
BadVoter.org, an online site that exposes the frequency at which Oklahomans vote, went live in 2014. With the simple site, anyone with access to the Internet can see how long it has been since someone last voted. Those who haven't cast ballots in a 12-month period are deemed "bad voters."
"If people know that other people can know how frequently or infrequently other people vote, they usually increase the amount of time they vote," Glover said. "Most people don't realize their frequency of voting and their voting record is public. How someone voted is still a secret, but if someone voted is public."
Part of BadVoter.org's effect is visitors' ability to post a registered voter's great, good or bad voting record onto social media platforms like Facebook and Twitter. In this day and age, social media presences are a big part of everyday life, and a damaging voter record can bring someone to the polls to avoid online taunting, explained Glover.
BadVoter.org sees a surge in visitors on and around elections, like the March 1 Super Tuesday and the June primary. Most visitors spend an average of three minutes on the site for a total of eight searches. Glover believes most people type their name first, followed by close friends and relatives.
Those shamed into voting will find resources for registering to vote and requesting an absentee ballot, which Glover sees as the best way to avoid missing an election. Absentee ballots are sent in advance of elections and give voters the chance to review candidates, research state questions and prepare to vote. Voters can send back their absentee ballot or choose to vote at their polling station.
Issues education
Oklahoma voters will see seven state questions on the ballot. Those questions include education, criminal justice reform, capitol punishment and farming, all arguably big issues in the Sooner State. League of Women Voters of Oklahoma, a nonpartisan political organization that pushes for informed and active citizens, approaches the general election with voter education efforts.
League of Women Voters members have trained other groups in hosting voter registration drives and have hosted their own in areas like Tulsa and Stillwater. Recently, the Norman chapter held a forum covering the state questions with speakers for and against the measures. Through a partnership with the Kirkpatrick Foundation and a number of other organizations, the league supported the 2016 Oklahoma Voter Guide, which began distribution this month.
"There is a lot of focus on the presidential election this year, but it's the candidates and the issues that are farther down on your ballot that often make the biggest difference in your life," said Shelia Swearingen, president of League of Women Voters of Oklahoma. "Those legislators will be making decisions directly affecting the lives of Oklahomans. There are seven state questions on the ballot, and whatever comes of those will have a direct and immediate effect."
Last call
The deadline to register to vote and update registration is Oct. 14. In January, Oklahoma State Election Board reported there were 1.9 million registered voters in the state. A year earlier, the board counted 2.03 million.
It's hard to predict the voter turnout in Oklahoma. March 1, Democrat Bernie Sanders and Republican Ted Cruz scored presidential primary victories in Oklahoma, but neither went on to win their parties.
With millennials now surpassing baby boomers, who cast substantially more ballots than younger people as the nation's largest living generation, some wonder if voter turnout will ever rise.
"People who get out to vote are my age," said Swearingen, a baby boomer. "We are making the decisions for millennials. … I am ready for the millennials to show us what they are made of, get out there and vote."
Moore would like to see the Oklahoma Standard applied to voting and citizen involvement in politics. Oklahomans should have the interests of children, veterans, the elderly, teachers, the disabled and many more in mind when they cast ballots.
"Our duty in society is taking care of each other," Moore said. "Oklahomans are great about that when there is a big crisis. …We've got to pull together and say, 'How can we help each other, and how can we get the people in charge to help us?'"
Print headline: Vote local, With the deadline to register to vote looming, locals call on untapped voters to plan to visit the ballot box.