Provided
Bashawn Moore (Joseph Asagai) and Kat Adams (Beneatha Younger) star in A Raisin in the Sun Oct. 3-27 at Jewel Box Theatre.
A Raisin in the Sun
Oct. 3-27
Jewel Box Theatre
3700 N. Walker Ave.
405-521-1786
$20-$30
The day after Lorraine Hansberry's A Raisin in the Sun opened on Broadway in 1959, The New York Times said the play tells the "the inner as well as the outer truth" about racial inequality in America with "vigor as well as veracity and is likely to destroy the complacency of any one who sees it." Reviewing a revival in 2019, the Times said the 60-year-old play feels "devastatingly of the present."
A locally produced version of A Raisin in the Sun runs Oct. 3-27 at Jewel Box Theatre, 3700 N. Walker Ave. Director Albert Bostick said the play — which details the conflicting aspirations of an African American family after they receive the $10,000 premium from their patriarch's life insurance policy — remains relevant.
"It deals with continuing issues," Bostick said. "We see some of the same recurring things happening with each decade. We thought we solved the issue of, for instance, segregation with integration, and now what is occurring is that we're going into gentrification, which is taking us back to segregation. … We find that the African American community, when we talk about economics, we are still struggling to get a working wage, to be able to eke out a living. A Raisin in the Sun dealt with that in the '50s, and we're still dealing with that.
"The scourge of racism is a circuitous kind of thing. It goes covert and overt, covert and overt, and we say to ourselves, 'Well, things are getting better. It has changed.' That just simply means everything's gone underground for awhile, and then it emerges again in another decade, in another way to let us know that is still prevalent and present in our society."
While Walter Lee Younger (played by Craig Thomas), a chauffer in Chicago's South Side, sees the $10,000 as an opportunity to go into business for himself, his mother Lena (Norma Goff) wants to use the money to move the family from their cramped apartment to a house in a better neighborhood. Walter's sister Beneatha (Kat Adams), meanwhile, faces an internal conflict, attempting to balance her respect for tradition with her desire for progress. The play's title is taken from Langston Hughes' poem "Harlem" which asks, "What happens to a dream deferred?" Bostick said the play, like the poem, offers several possible answers to the question, none of them permanent or satisfactory.
"It answers it for the moment," Bostick said. "Walter Lee's dream is to be a successful man, Mama's dream is to have that little house for her family, but moving into a segregated community, and being quote-unquote 'the first black family' to move there is going to open a whole new can of worms, as we've seen with the civil rights movement."
The family's anxieties about moving into a segregated neighborhood are rooted in incidents from Hansberry's own childhood. In a 1964 letter to the editor of The New York Times, Hansberry recalled her family's fight to live in "in a hellishly hostile 'white neighborhood' in which, literally, howling mobs surrounded our house."
"My memories of this 'correct' way of fighting white supremacy in America included being spat at, cursed and pummeled in the daily trek to and from school," Hansberry wrote in the letter, included in her autobiography To Be Young Gifted and Black. "And I also remember my desperate and courageous mother, patrolling our house all night with a loaded German Luger, doggedly guarding her four children, while my father fought the respectable part of the battle in the Washington court."
Understanding history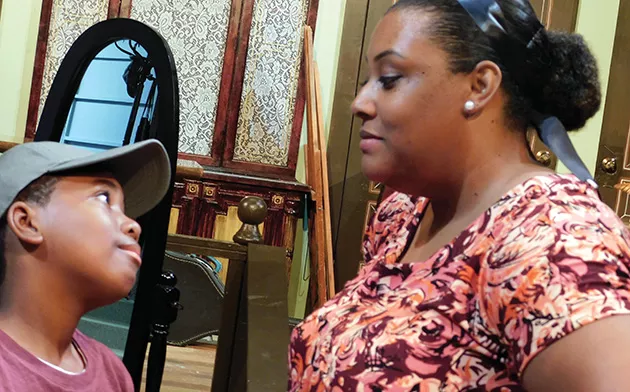 Myles Currin-Moore (Travis Younger) and Nykezia Giles (Ruth Younger) share a moment in A Raisin in the Sun.
Bostick said an understanding of African American history is vital for the present and the future.
A Raisin in the Sun
is both a reflection of that history and an important piece of it.
"I grew up in the '60s," Bostick said. "We had the Black Power movement, which was dealing with the same issues. 'Let's talk about our past so we understand our future,' because in education, we were not taught about black subjects and black theater, black literature, those kinds of things. With Hansberry suddenly making it to Broadway and winning the [New York Drama] Critics' Circle Award — and she was, by the way, the youngest American playwright to win that award — it started to open black theater across the United States, so she was the foundation for that."
Bostick first saw the 1961 film version A Raisin in the Sun, starring Sidney Poitier as Walter, the role he originated on Broadway. In productions for high school and college theater, and afterward, Bostick went on to play Walter and most of the male characters in the play besides young Travis and Mark Linder, the only white character in the play.
"Those people who go before us lay a foundation, and so all we can hope to do is to live up to the foundation that they have laid before us," Bostick said. "I was eager to please what I call the ancestors. Although I knew Sidney Poitier would never see me play that role, I just wanted the public and particularly my African American community to understand that, through my admiration for this actor, that I would be able to rise up to that occasion and move them just as much as he moved them in the movie."
As a director, Bostick said he wants to impart the play's significance to a new generation of actors.
"We have a lot of teaching to do because we were immersed in it," Bostick said. "They're no longer being immersed because society is telling them, 'Oh, things are so much better. We don't have to study those things anymore. You need to go ahead and start moving toward a future.' But, like I always tell them, 'Your foundation is your past. If you don't have a foundation, the house is going to sink.' You have to study. You have to continue to go back and look at those people and admire those people who went before us so that this body of literature will live on."
Watching the cast rehearsing the climax of the play, Bostick said he could see they related to the characters and their difficulties.
"I found myself becoming quite emotional," Bostick said, "because for the first time, I think they began to understand the pain that a character like Walter Lee was going through, and so my Beneatha was in tears, Mama started to cry, all of them, and so all the talk about connecting, all the talk about understanding, all of that came to fruition, and suddenly they blossomed like flowers."
Bostick encouraged theatergoers to see the play while they have the chance. Local theater, more than 60 years after Hansberry's Broadway debut, is still another community where African Americans have trouble gaining access.
"How many years will go by before we are privileged to view this production again?" Bostick said. "If you miss it, you may have to wait another decade."
Tickets are $20-$30. Visit fccokc.org/jewel-box-theatre.