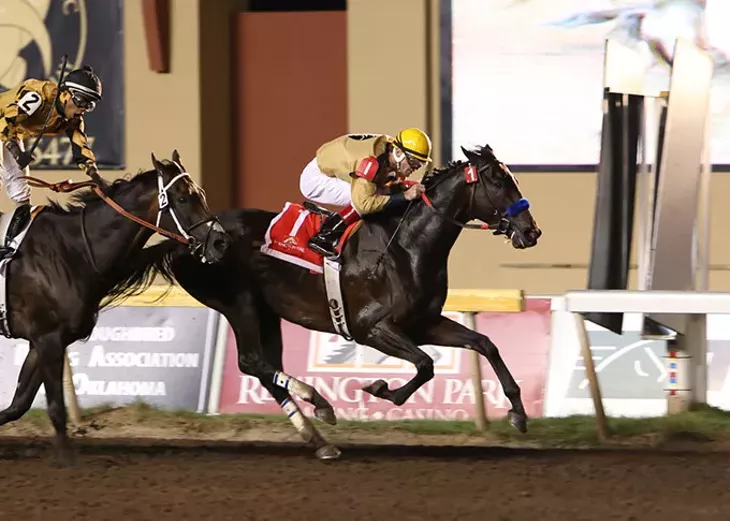 Cliff Berry rode a quarter horse in his first race in 1979. This season at Remington Park will be the jockey's final season in the saddle, bringing a 26-year career to a close.
Berry, a Joplin, Missouri, native, was raised in Jones after his family moved here when he was 9 years old. The summer between his junior and senior years of high school, Berry headed for Midway Downs, a now-closed quarter horse track in Stroud.
"I had always liked horses," Berry said. "My dad was a trucker, but he always had horses, so I grew up around 10 or 20 horses. I went to Stroud thinking I would make a little summer money."
Instead, his summer job turned into a career in which Berry has amassed more than 4,400 wins, including 2,078 thoroughbred wins at Remington Park.
"I've never had a job," Berry said. "My brother and I were talking the other day, and he said, 'I can't believe you made it this long.' I can't either."
Now that he is retiring, he is unsure what will come next for him professionally. He and his wife plan to move to her home state of Louisiana after Dec. 13, the end of the thoroughbred season.
"We'll build a house," he said. "We are talking about what will happen after that. I'm not sure how much I'll miss racing; I know I'll miss it."
Since he moved back to Oklahoma from Chicago after pari-mutuel betting was approved in 1982, Berry averages about 600 races a year. He has raced as many as 1,000.
"Racing is a year-round job now," Berry said. "It didn't used to be, but since they started running at Remington, I've pretty much worked all year."
That includes watching what he eats — jockeys have to be small, after all. Berry said he constantly thinks about what he is eating and he said he is on scales more than most people.
Jockeying also meant a ton of traveling, both before and after he returned to Oklahoma.
"That was the downside of the job," Berry said. "My wife did a great job raising our two sons, and she had to do it by herself half the time because I was on the road."
Berry does not sound like a man with regrets, though. He said he is proud of his career highlights, including the night in 2010 when he won on all seven horses he rode — a track record that still stands.
This season, Remington Park honors Berry in a variety of ways, including naming this thoroughbred season A Berry Special Season, a move that surprised the jockey.
Opening day on Friday — A Berry Big Opening — is the first chance fans have to win in the Berry stakes. There are promotions scheduled each month: When Berry wins, fans win, too. On nights when he wins multiple races, all fans receive prizes after he posts his third program win.
Berry's final season will be a light one. He estimates he will be in 250 races. The season has 67 race dates overall — and 33 stakes events — with purses totaling $3,565,000. The first stake event is the Governor's Cup on Saturday with a purse of $175,000. The big day is Oklahoma Derby Day on Sept. 27, which features seven stakes races with purses totaling $1,050,000.
---
Print headline: All out, Thoroughbred season opens soon at Remington Park, signaling a close for one jockey's career.