Provided
A design in the new American School archive.
The Bavinger House in Norman was one of 10 buildings designed by architect Bruce Goff to be designated on the U.S. National Register of Historic Places, but the building was unceremoniously torn down in 2016.
Goff, who served as chair of the University of Oklahoma (OU) School of Architecture from 1947 to 1955, is one of the country's most important organic architects, but his legacy has been somewhat lost to time.
Goff, along with Herb Greene, helped usher in a new pedagogy of architectural study at OU's school of architecture, away from traditional Eurocentric beaux-arts to more eccentric and creative principles based on Goff's idol and the United States' most famous architect, Frank Lloyd Wright, which asks architects to break out of the rigidity of columns and arches and instead think of the building as a living organism. It created a uniquely American architectural style.
"This was an approach completely different from the common approach in teaching and in the way to think about architecture in the U.S., said Luca Guido, visiting associate professor in Gibbs College of Architecture. "Many of the schools were based on beaux-arts principles, which means beautiful arts, architecture referring to Greek and Roman architecture, which was how it was taught until the beginning of the '50s in the U.S."
Guido and a team of researchers and historians have curated an exhibit dedicated to the paradigm-shifting legacy of Goff called Renegades: Bruce Goff and the American School of Architecture at Bizzell. The interactive exhibit will be on display on the entry floor of Bizzell Memorial Library on OU's campus from Saturday until July 29, 2019.
Radical design
Goff's drawings, glass transparencies from lectures and correspondence, including some with Wright, will be on display in the exhibit. Goff began writing letters to Wright as a child and designed his first building at the age of 12. Goff was born in Kansas in 1904, and he moved with his parents to Tulsa in 1915. A 1951 story in
Life Magazine
said that Goff was "one of the few architects whom Frank Lloyd Wright considers creative."
One of Goff's most stunning works was Bavinger House. The 96-foot curved spiral building was built by Norman artists Nancy and Eugene Bavinger, who enlisted art students to help with carpentry in the house. It served as a tourist spot for decades until the family wanted privacy.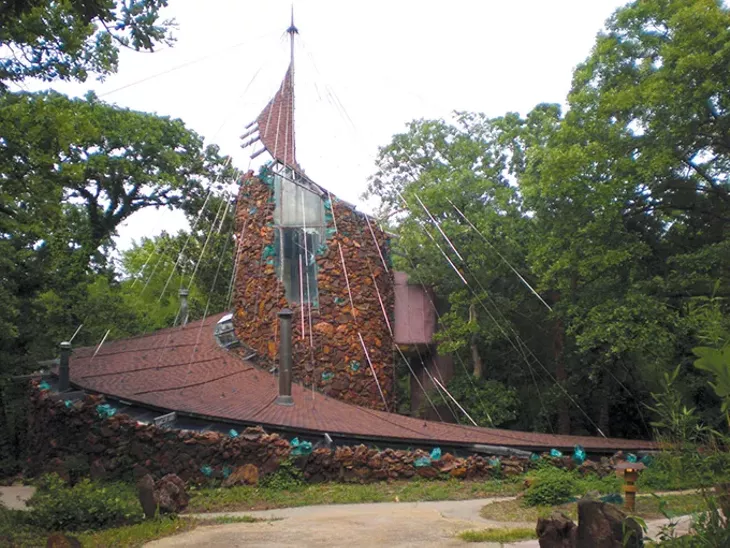 Wikipedia
Visitors at the Renegades exhibit will be able to take a virtual tour of Norman's Bavinger House, which was demolished in 2016.
According to The Norman Transcript, the house was damaged during a 2011 storm nearly to the point of total destruction, but its spiral could still be seen above treetops before it was torn down for good five years later.
Visitors to the exhibit will be able to take a virtual tour of Bavinger House through the use of a VR headset rendered by Skyline Ink of Oklahoma City, as well as the Ledbetter House, another Norman home designed by Goff that is on the National Register of Historic Places.
Goff would challenge his students to break traditional models of design by sometimes asking them to design a building around feelings. One assignment, which is shown in the exhibit, called for students to work with the depth, reflection and transparency.
"[Goff's] radical approach to design drew students to Oklahoma from as far away as Japan and South America and later spread the American School influence to professional practices in California, Hawaii, Greece and beyond," said a release from the University of Oklahoma Libraries.
Remembered legacy
Goff's tenure at OU ended abruptly in 1955. Goff, who was gay, was forced out of his position with the university due to claims of homosexual activity, according to a 1996 article in
Frieze Magazine
.
His legacy continued in the curriculum at OU into the 1960s but slowly faded away. Goff died in 1982.
"After his death, he was a little bit forgotten [at OU]," Guido said. "We want to highlight the significance of his experience. The legacy is that finally we have people interested again in the history of the school of architecture. Now, everyone in the school of architecture is aware of Goff."
Guido said that the research for the upcoming exhibit is only the first project in establishing the American School Archive, which includes items from famous architects like Wright, Fred David Shellabarger, Albert Yanda, Arn Henderson, Donald McDonald, John Hurtig, Norman Froelich, Jim Gardner and more coming in by the day.
The Renegades exhibit also includes the role of archives and documentation as historical evidence; for example, the correspondence between Goff and Celestine Barby as Goff designed the Barby House in Tucson, Arizona. It also shows Goff's stunning design of the Crystal Chapel, which was intended for OU's campus but was never built. A virtual tour also goes into Crystal Chapel.
"Architectural records appear in vastly different settings with vastly different purposes, including as building records, as documents of artistic process, as records of built environments and as the records of regulatory history," said Bridget Burke, OU Libraries associate dean for special collections, in a release. "These records serve many constituents, from scholars, practicing architects and builders, people doing historic preservation and even legal and regulatory interests. For projects that were never built, they are evidence of what might have been."
Visit renegades.libraries.ou.edu.