For the majority of Oklahoma school districts, navigating the complicated world of 21st Century education can be a lonely experience.
Lacking the resources of larger schools districts like Oklahoma City and Tulsa, many of the state's rural districts and urban charter schools face smaller funds and increased mandates without the collaborative support enjoyed at larger schools.
That's where the Oklahoma Public School Resource Center (OPSRC) comes in.
Launched this year, the organization offers small districts communication, curriculum, technology and legal support. Districts pay a monthly fee and have access to the resources of OPSRC and its staff.
"Many school districts here in Oklahoma feel crunched," said Brent Bushey, the center's executive director.
The center has helped districts navigate complicated legal issues, and it also developed a communication plan for community members regarding tough financial decisions. In addition, Bushey said OPSRC is developing a Web hosting service for districts that is cheaper than most other services following the federal government's decision to restrict schools from using E-Rate dollars (from the Schools and Libraries Program of the Universal Service Fund) to fund websites.
"The resource center model was really interesting to me because we are particularly focused on smaller districts and smaller schools," Bushey said.
In a state where all but 23 of the 520 districts have fewer than 4,500 students, the majority of schools are small operations where superintendents might also be found teaching math or driving a bus.
"We primarily focus on rural schools and charter schools," said Sarah Julian, communications director at OPSRC. "Typically, those are the districts that don't have a lot of funding to provide full-time employees in the areas that we provide resources.
Employees of the Oklahoma Public School Resource Center pose inside with shipping container constructed offices and modern decor. mh
"You can kind of look at us as a central office for small districts that don't have one."
Districts pay a $2,500 annual fee to utilize the center's directors and professional development services throughout the school year.
The concept of consolidating services in education has grown in popularity in recent years, especially as lawmakers look for ways to cut costs and direct more funds into classrooms.
The Oklahoma State Senate Education Subcommittee on Appropriations held an interim study this month that reviewed a bill designed to consolidate administrative services for nearly 200 districts with fewer than 250 students.
"The issue here is the duplication," said Sen. Kyle Loveless, R-Oklahoma City, who authored a school consolidation bill. "If there's just a little bit of waste, multiplied over 500 districts, that needs to be addressed. Looking at it and discussing it and not just ignoring the problem is what we need to move forward."
Bushey gave a presentation at the interim study and discussed the service his organization offers.
With offices in a modern warehouse in Midtown, OPSRC has the feel of a collaborative organization, which fits its model of innovation. Bushey said he hopes the center will evolve and embrace new ideas to help schools.
Some of those new ideas may come from member schools, he said.
"The ideal relationship we are going for is to work with districts that want to try something new but don't want to get smacked for it," Bushey said. "I will know that we are winning when we have superintendents calling and saying they have a new idea."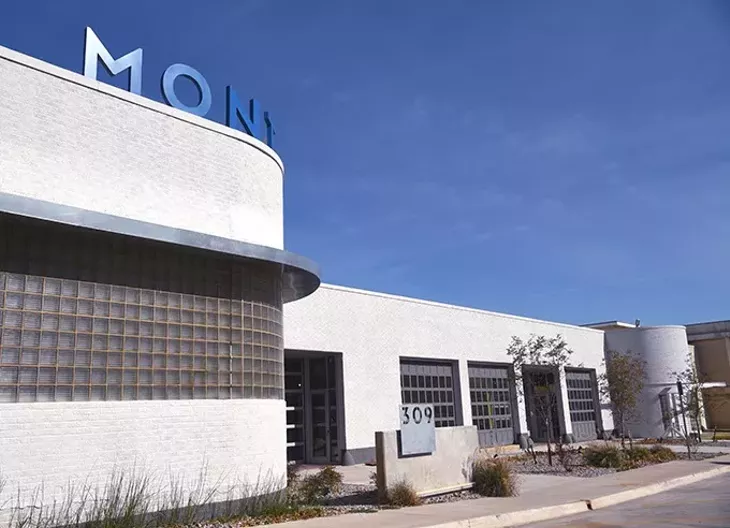 The Oklahoma Public School Resource Center is located inside the Monterey building at 309 NW 13th Street. mh
OPSRC doesn't heavily push policy issues at the state level, but Bushey believes the charter school model should be expanded into rural districts.
Bushey said the center has freedom to try new things and grow thanks to funding from the George Kaiser Family Foundation, Inasmuch Foundation, Charles and Lynn Schusterman Family Foundation and The Walton Family Foundation. OPSRC also has a relationship with the Arkansas Public School Resource Center, which offers a proven model of success, Bushey said.
Additionally, OPSRC launched the Catalyst Education Fund (CEF) in an attempt to pump more dollars into rural schools. The fund will go towards grants for arts, STEM and technology programs in small districts. CEF comes at a time when industries including science, engineering and energy are having difficulty filling positions that require advanced levels of science and math proficiencies.
"What we're seeing now are students graduating from high school who have not been trained in the logic of how to interpret and take a problem from point A to point B," said Luke Curley, president of Oklahoma City's Shoreline Capitol and managing partner of the Monterey Energy Group.
Providing resources, innovative ideas and even funding for many of the state's smaller districts is the goal of OPSRC and Bushey believes it's an approach that today's education industry requires.
"This is all about removing the barriers that keep teachers from doing their job," Bushey said. "It will take new ideas."
Print headline: Getting schooled, Oklahoma Public School Resource Center acts "as a central office for small districts that don't have one," organizers say.