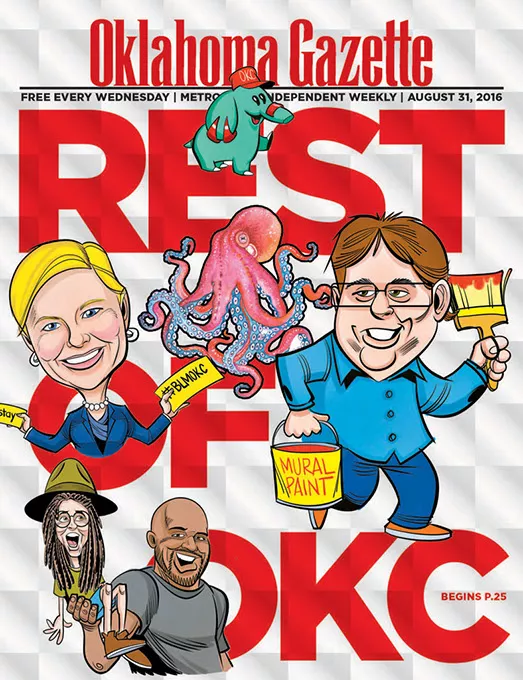 Editor's note: For Rest of OKC, Oklahoma Gazette rounds up two of our readers' favorite letters to the editor, along with excerpts from several more not-fit-for print letters we received over the past year. Names and context have been removed to protect, well, everyone.
Best letter of 2016 — first place
Why isn't anyone doing a story on the five strip clubs in Valley Brook? A year ago, there were two. Now there are five. That is a major entertainment mecca that no one knows about, and why are they opening in Valley Brook and not the city? I've visited them all, and they each have something different to offer, which is odd for clubs like that. Little Darlings is great; they definitely have the corporate backing, and it shows. Everything is so nice, and it has a classy feel. The other notable club on the strip is Whispers. It's owned by a girl who actually works there. She sat down and introduced herself to me when I went in. She'll actually play a game of pool with you, and she's not half-bad. These clubs are beating out the more popular clubs around the city.
Best letter of 2016 — honorable mention
On April 14, I was sitting at the City of OKC permit office and saw a copy of your magazine. The cover showed a story about Ben Folds. … Not far into the story, I came across the "f" word completely typed out. I stopped reading the story and scanned to see if this was something throughout the article. To my disappointment, it was.
Enough already!
OK, Gazette, STOP THE PROPAGANDA!
Film at 11
I stumbled onto a movie in Oklahoma City being made that exposes the errors of the health care system at Oklahoma County Crisis Intervention Center. The whole place is run by actors that are not doctors. Some are extras or had roles in shows like Scooby Doo, Jerry Springer, Judge Judy and quite a few others that I can't remember.
Up in smoke
I read the pot issue. Are you reporting or advocating the use of pot? Only one side to the report. As a moderate, opened-minded person, this report is as bad as FOX news.
Late-night hang-ups
I think frankly that the semi-illiterate clown commentary and ethics you write about, given the complete lack of objective literacy you feature, it's enough to split a gut over. You're stupid!
Fur babies
Many pet owners refer to their pets as their children. Refer to them as being brothers and sisters to their biological children.
Classy caller
Imagine I own a classy restaurant in Oklahoma City and you show up with your latest edition. For the first time I have ever seen the "shit word" is printed on your cover. Well, your publication is in a class all by itself. Shame on you, you, you sh— (laughs, pauses). … Low.
Non sequitur
I have some advice for the "I cannot believe I still have to protest this shit" sign person: Why don't you … move out of your parents' home and pay off your college loan. Then you will not have time to protest all the shit.
Huh????
Enraged. As rage is an illogical feeling, "enraged" is its only appropriate expression (in writing, anyhow). I'm enraged not by "your publication of a trend," but more by the fact that "that symbol" seems "owned by" a certain group. This is just my reaction to only the cover-"tag" for the article within, which I haven't gotten around to reading yet and which I'll probably just skim through and read the headers-etc. unless some phrase catches my eye.
O, RLY?
The illuminati are all going to be dead soon … who could be afraid of a bunch of morons who have to pay for sex with prostitutes and child sex slaves!!!
Aiming high
The problem for the police is that, unless you carry the weapon at the close order ready, intending to double-tap you with a couple of rounds at any second, it does not leave your hands free to do anything else (except butt-stroke: ooorah!).
Huh?
Kids, if a bully beats up your friends… >> Don't call him a bully. (It might offend him and encourage others to be a bully.) >> Don't tell your friends he's a bully. (It will prove your "bully-phobia.") >> Don't blame the bully for the violence. (Blame his fists.) >> Don't say anything if a bully threatens to beat up other kids. (It will show your preconceived prejudice against bullies.)
Blight in whining armor
Watching the howling mob of hate-filled white people spewing venom at Hillary Clinton during the RNC, I was astonished at the transformation of the GOP from Reagan's sunny optimism to a dark, apocalyptic vision of America, one beset by crime and terror, whose lone savior can only be Donald Trump (big government will fix everything), the blight in whining armor.
Print Headline: Best of the rest of letters to the editor