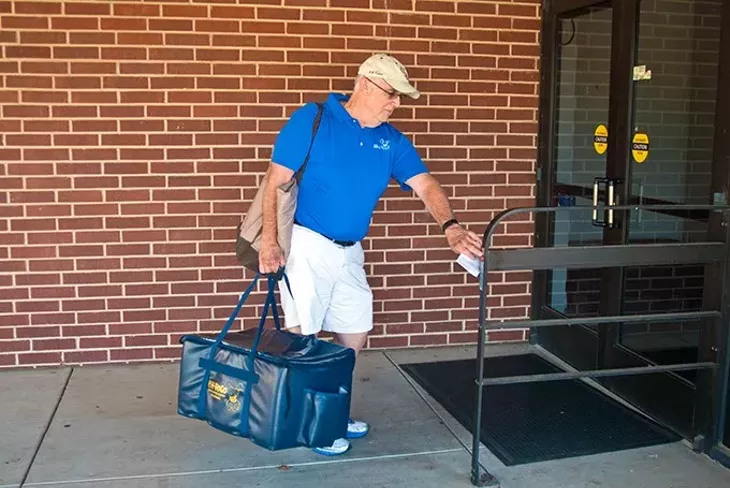 Gary Colvin with 858-ToGo, makes a lunchtime food delevery to a local medical office building recently. mh
There are days when cooking just isn't in the cards.
You're tired, it's cold, you don't want to go grocery shopping, you don't want to cook, you are swamped with work — fill in the blank. You want your food fresh and ready, and it needs to be different, not the usual pizza or Chinese delivery. Here's the short list for gourmet delivery and pick-up, pronto.
Paseo Grill
Paseo Grill makes lunch deliveries to full-service, catered dinners. Or order your dinner for pick-up at 2909 Paseo St., 671-1079. For pick-up, try the chicken saltimbocca ($21). Saltimbocca in Italian means "jumps in the mouth," and this dish certainly does. Sautéed chicken is layered with prosciutto, spinach and provolone and then drizzled with lemon-thyme sauce. It comes with mashed potatoes and seasonal vegetables. If it's catering you're after, Paseo Grill's chicken pot pie adds unexpected class with a hint of cayenne pepper and curry. For lunch delivery, cold plates include cherry wood smoked salmon served with a hearts of palm and artichoke variety and crustinis for $60.
Let's Do Greek
Stuck at the office during a lunchtime meeting? Let's Do Greek, 120 N. Robinson Ave., 228-0017 caters. Order and pick up early to feed your crew a fine meal, even if that crew demands finger food. A dozen spanakopita, or spinach pie, wedges cost $10.99 and are made with fresh, sautéed spinach, scallions, olive oil, feta and egg in phyllo dough. For the vegetarians, dolmas, or grape leaves stuffed with rice, herbs and veggies, are $7.99 a dozen. Oregano chicken is breaded and tossed with grilled onions, herbs, lemon juice, virgin olive oil and its spice sauce for $10.99 a pound. For heartier eaters, gourmeh sabzi beef stew includes simmered, braised meat, sautéed herbs, shambalileh leaves and lime at $6.99 a pint.
Ask for help
Call locally owned and operated Dining Express to coordinate home delivery of your favorite meals from your favorite area restaurants. It was founded in 1999, and dozens of metro restaurants now participate. Register and learn more at 858togo.com, or call 858-TOGO for more details.
Our picks:
Kang's Asian Bistro & Sushi:
The extensive sushi menu includes the ninja roll ($9), sliced thinner than a usual sushi roll and filled with shrimp tempura, tuna, salmon and a spicy mayonnaise. The traditional dragon roll ($11) includes broiled eel, eel sauce and avocado on the outside and shrimp tempura and cucumber inside and is sprinkled with sesame seeds.
180 Meridian Grill & Sushi: Located in Norman, 180 offers Korean-smoked baby back ribs ($17.25) served in a Korean house barbecue sauce with tempura fries and Szechuan long beans. Follow this with a tempura banana split ($8), which includes caramel rum sauce.
Simply Falafel: Located in Edmond, Simply Falafel has an array of Middle-Eastern delights. Start with dolmas ($4.25), rice-stuffed grape leaves, and a Persian salad ($6.50) with Mediterranean dressing. Follow with a classic kafta sandwich ($8.95): halal meat (ground lamb and sirloin) with tomato, lettuce, pickles, onions and a tangy yogurt-tahini sauce.
Print headline: Not DiGiorno!, Restaurant pick-up and home delivery options let you eat gourmet without making you dress up (or stay out late).