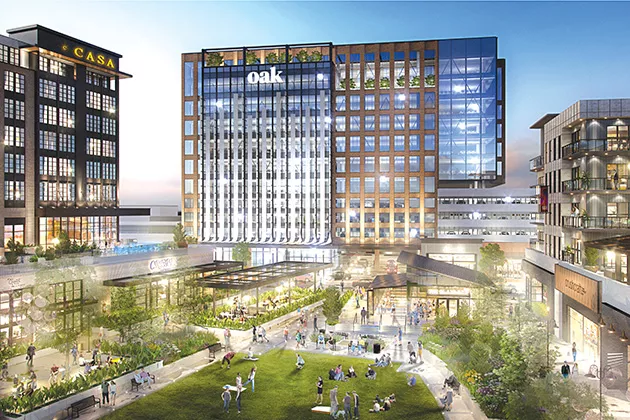 Wakefield Beasley & Associates / provided
Oak is one of several developments attracting new retailers to the metro area.
While traditional retail appears to be on a decline in some markets, Oklahoma is seeing various new retailers throughout the metro. About a dozen new-to-market stores have opened recently, and more are coming soon.
Tammy Fate, senior manager of retail development and recruitment for Greater Oklahoma City Chamber, said the metro's growing population, which is now about 1.3 million according to a 2010 U.S. Census estimate, helps draw retailers.
"When you hit that 1.5 million in your population, you kind of become more on people's radar, and we're getting closer to that threshold," Fate said. "People are also seeing the success that other retailers are having. All these retailers talk, and it's becoming more about being part of a master plan development, not just coming out here and setting up shop by yourself. … Like Chisholm Creek had a 180-acre master plan development. There's so many retailers, and they kind of play off of each other in that development."
Chisholm Creek is a mixed-use development offering dining, shopping and entertainment on Memorial Road and Western Avenue. In May, it announced the next phase of development, which would include five-story buildings with office space, more apartments, additional retail and a boutique hotel.
On the other side of Western Avenue stands Oklahoma City's first Costco Wholesale, which hosted a grand opening in early May at which store managers estimated nearly 8,000 people had already signed up for memberships.
The Half is another development Fate said serves as an example of retailers playing off each other. The 52-acre development, which is named for being the halfway point between downtown OKC and Edmond, is the future home of two more new-to-market retailers opening in 2020: Texas-based Flix Brewhouse, a microbrewery and movie theater, and Chicken N Pickle, an indoor-outdoor entertainment complex with a restaurant, a sports bar and pickleball courts.
Oak, a third development attracting retailers to the area, was announced in July. Formerly known as Penn Central, the new 20-acre development just south of Nichols Hills will have a 4-star hotel, 12 bars and restaurants and 250,000 square feet of retail and office space. Officials hope for a 2020 groundbreaking.
When recruiting retailers, Fate said her role is to sell the market in general, so she doesn't necessarily favor one development over another.
"We've worked with some of the retailers that are looking at going into the Oak," she said. "We showcase the entire market. I've done driving tours and met with several of the tenants that are looking at Oak, but at the end of the day, it comes down to the cost of the lease and terms and location and all those things. Our job is to make sure they are aware of the opportunities and possibilities within our market. At that point, as long as they locate to Oklahoma City, my goal was accomplished."
New to Oklahoma
One of the most recent store openings was REI in the former Babies R Us space at Belle Isle Station. The Seattle-based outdoor retailer hosted a two-day grand opening celebration at its newest location, a 23,000 square-foot facility next to Nordstrom Rack. Fate said REI is one of her favorite stores and was elated to have a hand in finally bringing it to Oklahoma City. Before officially committing to open a location in OKC, she had been selling the market for years and it is a good example of the fact that they have to customize recruitment strategies from retailer to retailer.
"Pushing that one over the edge was really trying to get them to understand that even though we don't have mountains here or the type of topography that they typically like to locate in — like a Colorado or a Washington, where their headquarters are — there's still a lot of active people here from hiking and biking and some climbing opportunities," she said. "It takes years to really build that relationship. I've been doing retail development for about 15 years now total, and it's always been on my target list. I've toured with them many times, and … really just continued to reach out and make sure that we stayed in the forefront of being on their agenda and their mind."
Penn Square Mall also saw new-to-market retailers like Untuckit and Dry Goods, two clothing stores, open earlier this year. The Container Store also opened its first Oklahoma location just northwest of Penn Square Mall last September.
"We worked on [The Container Store] for many years, and then they had to get approval through the neighborhood to even build there because it had to be rezoned," Fate said. "Even though a retailer wants to be here, some of them have such specifics in terms of the demographics that they're willing to locate in. I think that's the thing that a lot of people don't understand. They know who their customer is, and they know their disposable income, who the shopper is and what their target is."
At Classen Curve, national developer Washington Prime Group has brought several new retailers and restaurants to Oklahoma City since acquiring the shopping center. Trader Joe's, Drybar, Sur la Table, Warby Parker and Bonobos are among the already-open, new-to-Oklahoma retailers in Classen Curve. The next one comes this weekend when western wear brand Tecovas hosts its grand opening.
"You're seeing ecommerce sites that are opening brick-and-mortar locations now. Warby Parker is an example of an ecommerce store that just opened at Classen Curve, and even Bonobos," she said. "There's a lot of these different stores that started out online. But then they realized they needed to have that brick-and-mortar presence and that Oklahoma City kind of fits that opportunity."
Other new-to-market retailers across the metro area include recently opened Duluth Trading Co., Cost Plus World Market in Norman and ShowBiz Cinemas in Edmond. Round 1, a big Japan-based entertainment complex, is set to open in Quail Springs Mall in 2020 or 2021.
Retail outlook
Through her role, Fate spends a lot of time at trade shows, pitching Oklahoma City. She said MAPS is one of the big things that sets OKC apart, along with some of the unique districts and the fact that the city is 620 square miles.
"The future looks positive," she said. "From our traditional economic development team, we have like over 90 projects in the pipeline, so showing a very healthy economy and showing that there's companies that want to be here and move here. The traditional economic development team has had such a successful year. Last year alone, it was 7,355 new jobs that were added to the metro, and the capital investment was $495 million. That was either a project that was announced or opened in 2018.
"When people see those companies locating here and seeing the housing market as well as the growth that's happening and those kinds of things, it really helps kind of move the needle for retail as well. … It's a fun city to promote. There's so much happening here, and there's a lot of momentum and lot of positive growth that it makes it attractive for people to consider our market."