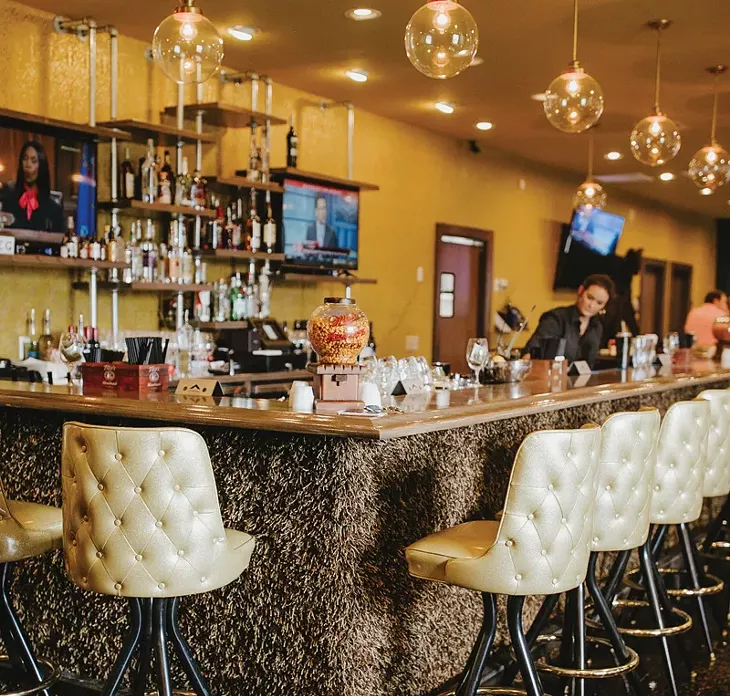 Alexa Ace
The decor at Ned's Starlite Lounge is meant to invoke a 1960s setting in a modern context.
Ned's Starlite Lounge opens at 7301 N. May Ave. this week, and diners will be transported to a vintage 1960s-era eatery with modern conventions, which is the vision of its namesake.
Ned Shadid Sr. is the bridge linking old and new in an Oklahoma City restaurant dynasty. His parents helped run the original Sussy's — the restaurant and nightclub credited with popularizing pizza in Oklahoma City — with Jake Samara in the 1950s and '60s.
Shadid Sr. helped expand his cousin's Big Ed's Hamburgers to 32 locations across the Midwest until the 1980s oil bust led to its downsizing and Shadid's focus on his very successful Ned's Catering. The catering business is famous for its seated dinners, which sometimes means supplying food for 1,200 guests or as many as 7,000 people in suite- and club-level boxes at Oklahoma State University football games.
Ned Shadid Jr. is a member of the Oklahoma Restaurant Association, where his father was a past president.
Seated on a custom barstool that matches the '60-era corner lounges, Shadid Sr. said he wanted a restaurant where residents near N. May Avenue can feel at home.
"It's been a concept I've had in my back pocket for about 20 years. We kind of patterned it after a northeastern tavern," Shadid Sr. said. "If you go to some of those areas of the country, you'll have places like this — surrounded by nothing but residential — and it's where they eat, drink and enjoy with each other."
The bar at the center of the 94-seat dining room is covered in tasseled carpeting that will be nostalgic for older guests familiar with the shag carpet popularity in the 1960s, and younger guests might make a joke about "stroking the furry wall" in reference to the 2010 comedy Get Him to the Greek.
A vintage Schlitz beer statue depicting a gold woman holding a light-up globe sits in the corner of the bar. Shadid said he was attracted to the item after they found it online. During a private soft opening, he said a guest offered to buy it on the spot.
"He said they're very rare and expensive, so I guess we got a good deal on it when we bought it," Shadid Sr. said. "We'll have some pictures on the wall my dad had; he had a few prohibition bars before there was legal liquor."
The barstools and bar are reproductions, but everything in the restaurant from its gold flock wallpaper to tile in the bathrooms are from the 1960s, stored in a warehouse of Ketch Design Centre, Shadid Sr. said.
"We wanted you to feel like you're walking into the '60s, but it is today's and yesterday's food with a twist," Shadid Sr. said.
Fried chicken wings were not yet popularized in the 1960s, but contemporary diners will enjoy the jumbo wings, particularly the dry rub that is as sweet as it is spicy with a pair of housemade dipping sauces. Arancini is a classic Sicilian dish traditionally made with day-old risotto and deep-fried. Ned's Starlite Lounge makes the risotto and stores it overnight in a cooler.
"[Letting it rest] gives the dish more bite," he said. "We fill the risotto with roasted garlic, mozzarella, a sun-dried tomato reduction, deep-fry it and then place them on a bed of the tomato reduction; it's been very popular."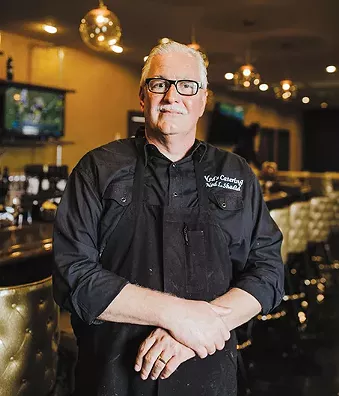 Alexa Ace
Ned Shadid Sr. is the proprietor of Ned's Starlite Lounge.
Shadid Sr. is proud of his chicken-fried steak, which can be topped with traditional cream gravy or a poblano reduction. A grilled salmon filet served over sautéed greens with Mediter-ranean bruschetta and a balsamic reduction has been popular during soft opening rehearsals, he said.
Fresh half-pound hamburgers are cooked medium, and the most popular is the PB&B; roasted pork belly is diced and caramelized with bacon and topped with cheddar cheese on the burger in between soft and buttery brioche buns. The restaurant's version of the pizza burger is an homage to the building's previous tenant, Nomad II, and its fried pepperoni pizza legacy that now lives on at Sussy's at 200 S. Oklahoma Ave. in Bricktown.
The Nomad burger tops the half-pound burger with sautéed onions, red bell peppers, mozzarella, the sun dried tomato reduction and, of course, fried pepperoni.
The cocktail menu will feature a mixture of house-designed craft cocktails in addition to vintage cocktails such as the Harvey Wallbanger, whiskey sour and the Bloody Bull, which is similar to a bloody Mary but also includes beef bouillon in the tomato juice mixture.
"In the old days, men would order the Bloody Bull and the women would order the bloody Mary," Shadid said. "We're going to bring that back to the forefront and see how it goes over. We'll see how the new generation likes it."
Ned's Catering has been a staple in the Oklahoma City community, whether it was donating meals following the bombing of the Alfred P. Murrah Federal Building or working with The Homeless Alliance to distribute meals.
"I'm born and bred in Oklahoma City and [have] been involved in the community my whole life," Shadid said. "In any community, you give back what you take out. I've always believed in giving back."