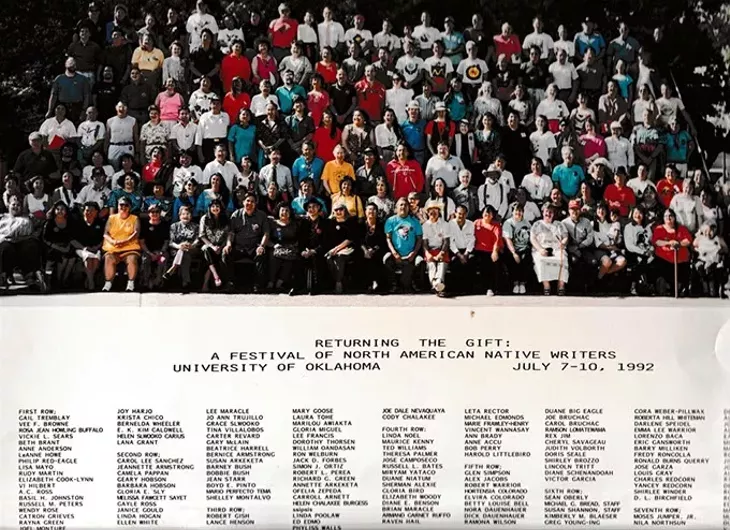 Returning the Gift / provided
Participating writers for the first Returning the Gift conference gather for a group photo in 1992.
A quarter century ago, a group of Native American writers noticed they were having a hard time finding representation at mainstream writers events. As a solution, they decided to start their own.
Returning the Gift returns to Norman, the city where the annual Native writing and storytelling conference began, to celebrate its 25th anniversary Sunday-Oct. 11 with events primarily located in the Thurman J. White Forum Building at 1704 Asp Ave. Registration is $70 for one-day access or $125 for the entire conference and can be done online at rtglitfest.org/register.
The event includes headlining appearances by Tulsa-born multi-talented Muskogee poet and musician Joy Harjo and New Mexico Pueblo storyteller Simon Ortiz.
Returning the Gift was partly founded by former University of Oklahoma English professor Geary Hobson. With his wife Barbara Torralba Hobson, he has helped maintain the literary festival since its inception.
Maya Torralba, a volunteer at this year's festival and a niece of the Hobsons, said the conference's original purpose was to give Native writers a platform to share their work.
"They were having a hard time getting their stories published, getting their books published," Torralba said. "They started almost like a clearing house to have this advocacy and support from one another."
The conference officially begins with a blessing ceremony 4:30 p.m. at Jim Thorpe Multicultural Center, 624 Asp Ave. A dinner will follow at 5 p.m.
After the dinner break, University of Georgia professor and Choctaw author LeAnne Howe will hold a reading while Kiowa and Choctaw pop artist Steven Paul Judd does a live painting. Judd is also a writer himself, having written or contributed to screenplays for 2003's American Indian Graffiti: This Thing Life and 2011's Shouting Secrets.
A variety of readings, panels and workshops will continue throughout the duration of the conference. An official Native Writers' Circle of the Americas (NWCA) awards banquet begins 6:30 Tuesday in the multicultural center. Lifetime achievement awards will be presented to Klallam poet and author Duane Niatum, Huron and Métis poet Allison Adelle Hedge Coke and Cherokee poet, author and playwright Diane Glancy.
Individual tickets to the awards banquet are $30 and can be reserved on the website.
Encouraged storytelling
According to a preview of the first Returning the Gift conference in the July 2, 1992, Oklahoma Gazette, Geary Hobson said he joined writers like Harjo and Linda Hogan at a 1991 international writers conference in New York when the idea for an all-Native writers event first took root.
"The reference is to the fact that when we learn things in Indian culture, a predominantly oral tradition, we are enriched," Hobson said in the preview. "As writers, our obligation is to return the gift to our people in written form."
News of the first Returning the Gift conference spread quickly among the global literary community. Requests for information about the festival came in from as far away as England and Sweden. More than 500 people were expected to attend.
Storytelling is an important art form in many Native traditions. Returning the Gift gives Native writers a chance to practice and pass along their own stories — many of them with roots in stories the writers heard growing up, even if indirectly or subliminally.
Torralba said she hopes the event comes as inspiration for young Native writers.
"It encourages Natives to write and the upcoming writers to stay writing," she said. "They get help from the mentors, who were our first-timers 25 years ago."
Timely celebration
Returning the Gift's Norman homecoming coincides with the city's first official observance of Indigenous Peoples Day.
In late August, Norman City Council approved an official observance of the holiday often presented as an alternative to Columbus Day, which is sometimes considered offensive by Native communities.
After its own opening ceremony Monday, Returning the Gift will join the University of Oklahoma's Indigenous Peoples Day ceremony on OU's South Oval.
Returning the Gift's timing with Norman's first Indigenous Peoples Day would not have been possible if the event was not rescheduled from its original planned date in July.
Celebrated Spokane and Coeur d'Alene author Sherman Alexie was originally slated to appear at the conference but abruptly cancelled all of his press and literary events to properly grieve after the death of his mother. Alexie's recently published memoir You Don't Have to Say You Love Me is largely about his relationship with his mother, Lillian Alexie.
Karen Kuehn / provided
Joy Harjo
Family feel
The theme for this year's conference is Gathering at Our Headwaters. Aside from being a return to where the festival began, Torralba said there will be added emphasis placed on the environment, ecology, protecting the waters and the power of Earth's female energy.
Torralba spoke with Oklahoma Gazette because her aunt Barbara Hobson was unavailable for health-related reasons. This is Torralba's first year officially volunteering for the festival, but growing up near her aunt and uncle provided her a very literary environment.
"These famous writers, they've been names that I've known and friends of my family for years," she said. "My friends say, 'You know them?' and I said, 'Yeah, they're my aunt's and uncle's friends.' For me, it's more like, 'I can't believe you know who they are!'"
For years, Torralba has been regaled with stories of her aunt and uncle's writer friends. She has met some of them but is eager to make acquaintance with many of the other people she has heard of and read but not seen in person. In some ways, she feels like she already knows them.
"I'm finally able to meet these people whose words I've read after all the wonderful things I've heard about them from my aunt and uncle," she said. "It's really like putting a face with a name. For me, it's very comfortable and familylike."
Visit rtglitfest.org.
---
Returning the Gift: Gathering at Our Headwaters
Sunday-Oct. 11
multiple Norman venues
$70-$125
---
NWCA Awards Banquet
6:30-8:30 p.m. Tuesday
Jim Thorpe Multicultural Center
624 Asp Ave.
$30
---
Print headline: Flowing prose, Returning the Gift literary conference journeys back to Norman to celebrate 25 years.