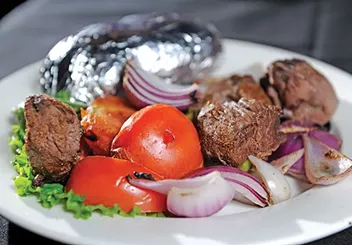 Gazette / file
Jamil's beef kebab
A drive north on Lincoln Boulevard away from the capitol is one that features relics of the past and provides a portal into the 1960s, which is a very difficult thing to find in Oklahoma City.
When the Lincoln Plaza complex was opened in 1970, the 24-acre project with a huge hotel, office center, parking complex and sleek midcentury architecture aimed to become a regional hub for corporate and political activity.
As Oklahoma boomed in the '70s, the hotel with its dinner theater and spacious ballroom became an attraction for tourists and lawmakers at the nearby capitol. After the collapse of Penn Square Bank sent the state into a massive financial panic, Lincoln Boulevard began to change.
Hotels along the boulevard attracted sex workers and illicit drug users, and once-gleaming Lincoln Plaza began to fall on hard times and was foreclosed in 1993, according to The Oklahoman.
The massive complex has gone through so many revitalization attempts — including an 18-month stint in the late '90s in which the hotel featured a restaurant owned by former Oklahoma State University and Dallas Cowboys head coach Jimmy Johnson. A representative for the property's current owner promised the city council that renovation efforts will begin by January 2019, saving the complex from being added to the city's abandoned registry.
If you're making the trip down Lincoln and want to get a glimpse of what it would've been like during the heyday, look for Jamil's Steakhouse, 4910 N. Lincoln Blvd. Lucky for us, it's still serving its Lebanese-inspired menu and has been for nearly six decades.
The combination of urban renewal and the financial crash that started in the 1980s wiped out an entire generation of Oklahoma restaurants. When researching the recent Gazette cover story "What we ate in '68," I could only find a handful of full-service restaurants that remain in service today as they did 50 years ago.
Jamil's got its start in Tulsa in 1946 when Jamil "Jim" Elias decided to embrace his Lebanese heritage after starting a night club a few years prior. Each steak would be served with tabbouleh, hummus, pickled vegetables and cabbage rolls.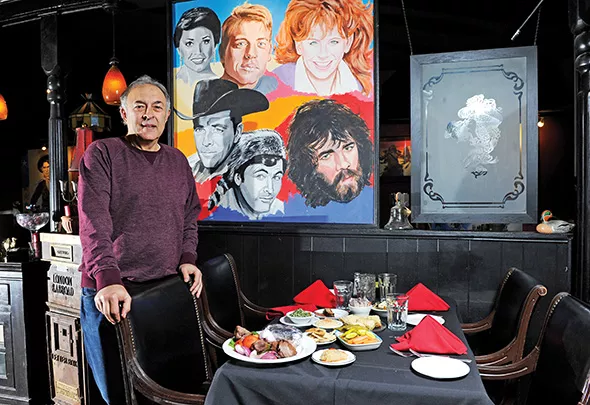 Gazette / file
Jamil's owner Greg Gawey stands next to one of the restaurant's murals featuring famous Oklahomans.
Elias opened the Oklahoma City restaurant in 1964 in a former luxury home that was used as a nightclub. Elias passed on the operation to his nephew Greg Gawey in 1976, and he still owns the restaurant today.
The walk up the long entryway into a waiting room filled with photos of vintage OU football teams feels like a trip into a time portal that is only enhanced when you walk into the main dining room that is dim and filled with photos of its many celebrity guests over the decades. Murals of famous Oklahomans line the walls between table settings, and my only wish is that more of them are identified.
After six decades, Jamil's is still delivering during its dinner service, which I enjoyed during a visit from the in-laws, and it pleased everyone's stomachs. If you've never eaten at Jamil's, the dinner service has side dishes and hors d'oeuvres built into the price of the entrees.
The server starts by taking drink orders and then bringing tabbouleh, hummus and pickled vegetables to the table with crackers. Opt to get a serving of pita bread to easier combine all of the ingredients for an excellent start to the meal. It's my favorite hummus in the city, and the tabbouleh hits all the notes you want: acidity, salt and fat from olive oil with plenty of fresh herbs and cucumber.
A dish with a stuffed cabbage roll and in-house smoked bologna arrives after entrée orders are placed. The bologna was much better than any store-bought version, and I realize that it's a restaurant staple, but I couldn't imagine ordering its entrée version, especially for $23. The cabbage roll had a good filling and flavorful tomato sauce topping. I think cabbage rolls are underrated. Whenever I buy fresh cabbage for coleslaw, I usually end up with half a head left over. I like to make cabbage rolls or braised cabbage and apple with pork to use up the rest of the cabbage. The cabbage holds up well to be stuffed. I've done similar preparation with collard greens, which have more flavor but don't hold up as well after baking as cabbage.
Jamil's delivered a pair of well-made cocktails that pleased the table, including one with grapefruit-flavored vodka and lemon lime soda that tasted like an adult Fresca.
The broiler-cooked steak ranging from beef kebab ($28.75) to filet with jumbo shrimp ($44) or market price for filet and lobster. I went with the center-cut huge 16-ounce rib-eye ($35.99), and it was delivered cooked medium-rare with a fluffy baked potato and was perfect with a slight char from the broiler and a tender interior. My favorite bites paired the steak with leftover tabbouleh.
Gazette / file
Tabbouleh is included with every dinner entree at Jamil's.
As fun and relaxing as dinner was that evening, I wondered what Jamil's was like for lunch. I noticed that it offered a completely different menu based around sandwiches as well as house-smoked brisket not found on the dinner menu.
I returned for lunch the next day and ordered the Lt. Governor sandwich ($12.95): jalapeño bacon and pimento cheese topped chicken breast with pickles, tomato lettuce and onion. It was a hard choice because I also thought about getting the brisket sandwich or the ham and tabbouleh pita.
The sandwich came with baked potato fries, rounds of potato cooked and then fried golden. It's probably not my favorite french fry preparation, but it was memorable. The jalapeño bacon delivered some heat, but I found it to be missing in the pimento cheese, which worked well as almost a sauce on the sandwich.
While a meal at Jamil's might normally be saved for date night or business dinner, I'd recommend popping in for lunch, where it offers an interesting menu that also includes huge hamburgers that are discounted on Mondays.
My only major complaint with the restaurant is it music selection. During both dinner and lunch service, it played some Pandora station that featured solo acoustic covers. Hearing Chris Cornell painfully sing "Nothing Compares 2 U" while trying to make conversation wasn't the easiest thing to do.
It's great that OKC and Tulsa have a place like Jamil's that carries on the tradition of Lebanese steakhouses that used to be more common in the city. It's even better to see that it's still serving quality food and service that has made it an institution.

Visit jamilssteakhouse.com.