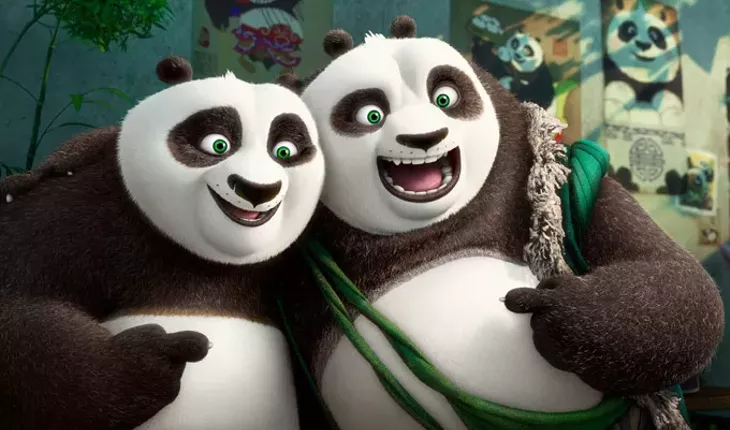 DreamWorks Animation
(L-R) Po (voiced by Jack Black) and his long-lost panda father Li (voiced by Bryan Cranston) pose for a portrait in DreamWorks Animation's KUNG FU PANDA 3.
Like its titular character, the Kung Fu Panda franchise continues to defy expectations by being inexplicably better than any movies with the words, "Kung Fu" and "Panda" together in the title should be. They succeed through nuanced storytelling, effective world building, utterly stunning animation and a keen ability to never take themselves too seriously. Kung Fu Panda 3 continues the winning streak while providing an appropriate capper to the trilogy.
In this installment, Po (Jack Black), is confronted with the return of an ancient foe, Kai (J.K. Simmons), a blade-wielding yak that has stolen the chi of thousands of kung fu masters and uses it to raise a supernatural jade army. He also learns that his long-lost biological father, Li (Bryan Cranston), and an entire village of other pandas are alive. This parental revelation obviously leads to some added tension with Po's adoptive father, noodle-peddling goose Mr. Ping (James Hong).
Po is tasked with reconciling his past, learning to be the panda he never knew he was, with his future by once again saving the world in his position as the Dragon Warrior, all with help of his friends, Master Shifu (Dustin Hoffman) and the Furious Five: Tigress (Angelina Jolie), Monkey (Jackie Chan), Crane (David Cross), Viper (Lucy Lui) and Mantis (Seth Rogen).
Something that sets these films apart from your standard kiddie fair often dumped on audiences early each year (looking at you, Norm of the North) is that in all the slapstick hijinks and kung fu fury, the human element remains crucial. Po might be the Chosen One, but he is also a fanboy and a goofball. The way he works past his underachieving and zany sensibilities and lives up to the prophecies placed upon his shoulders while remaining the panda we know and love makes up the strong thematic core that translates so well through this franchise.
Even our main villain this time around, imbued with such gusto and fun from Academy Award-winner Simmons, is beyond a simple mustache-twirler, or at the very least a little more three-dimensional than one would expect.
Unrestrained by the limits of reality, the action sequences on display are on a scale unlike anything you've seen outside Japanese anime. Co-directors Jennifer Yuh and Alessandro Carloni keep the camera steady yet fluid, ensuring audiences are engaged with the fast-paced action at hand and not lost in the flurry of punches and kicks.
Panda 3 is lighter than its predecessors and isn't afraid to use cute baby pandas for a laugh, but it never scarifies that mature flair that has consistently put the series ahead of the "animated talking animals" pack. While this film puts an effective cap on the series, DreamWorks has promised more Panda films to come — due in part, no doubt, to the commodity of brand recognition these days.
However, if their output continues at this level of quality, it's hard to not say, "More, please."
Print headline: Animated accolades, Kung Fu Panda 3 continues the franchise's penchant for excellence.