Garett Fisbeck
Donnay Building, Thursday, July 13, 2017.
When Charlie's Jazz-Rhythm & Blues Records' "open" sign lit up the day after news broke that a fast-food restaurant and grocery chain submitted a rezoning application proposal to clear historic structures along Oklahoma City's Classen Circle, customers streamed into the four-decade-old record shop.
"People were coming in, and they kept saying, 'We are not going to let this happen,'" said Justin Daniels, who continues his grandfather Charlie Nicholson's legacy by running the business known for supplying locals with vintage blues, jazz and R&B records, cassettes and eight-track tapes and introducing new generations to music legends.
Located at 5114 Classen Circle, Charlie's Jazz-Rhythm & Blues is one of the long-standing local businesses that calls the midcentury modern Donnay Building home.
Last week, Braum's Ice Cream and Dairy Stores submitted a rezoning application that hints at demolition of existing buildings to make way for a new Braum's store.
"My grandpa worked way too hard and put too much effort into this shop for nothing," Daniels said.
Last week, Daniels joined a crowd of protestors gathered outside the Classen Circle businesses to voice concerns over the application. Preservationists and fans of Charlie's Jazz-Rhythm & Blues Records, HiLo Club, Drunken Fry and neighboring diner Classen Grill shouted, "Save the Circle," as they waved picket signs at passing cars. Save Classen Circle — Boycott Braums, a Facebook group created in the hours following media coverage about the rezoning application, organized the protest.
"Oklahoma City doesn't have a lot of places that truly express what is the flavor of the city," said protestor Dillon Pierce, who frequents HiLo Club, which he described as a bar where everyone fits in. "For it to be destroyed to make way for a corporation would be very disappointing."
Rezoning application
On July 7, Braum's Ice Cream and Dairy Stores filed a rezoning application with the City of Oklahoma City that revealed plans for a new restaurant near the corner of NW 50th Street and N. Military Avenue, where the company acquired a small residential lot next to the Donnay Building in 2015.
The application seeks to rezone lots at 5100 Classen Circle from residential to a simplified planned unit development (SPUD), which allows for a variety of uses and building types. It included documentation about larger plans for the triangle-shaped city block — bound by Classen Circle, NW 50th Street and Military Avenue —including razing the Donnay Building and the neighboring one-story building housing Classen Grill, in order to create a parking lot.
According to the application, Red Oak Properties, LLC, which has owned the Donnay Building, its surrounding buildings and land since 1995, authorized Braum's to act on its behalf and indicated a forthcoming agreement between Red Oak and Braum's to either buy or lease the properties.
The application will come before the city's Planning Commission as early as 1:30 p.m. Aug. 24 in the council chambers. The community board must weigh in before any zoning change can be granted. The ultimate decision, however, rests with the Oklahoma City Council, which could hear the case Oct. 10. All planning and council meetings are open to the public and provide opportunities for the public to address city leaders.
In addition to a rezoning approval, Braum's must also seek and be granted a demolition permit from the city for any structures it plans to tear down on the land. An effort to reach Braum's officials for comment was unsuccessful by Oklahoma Gazette's deadline.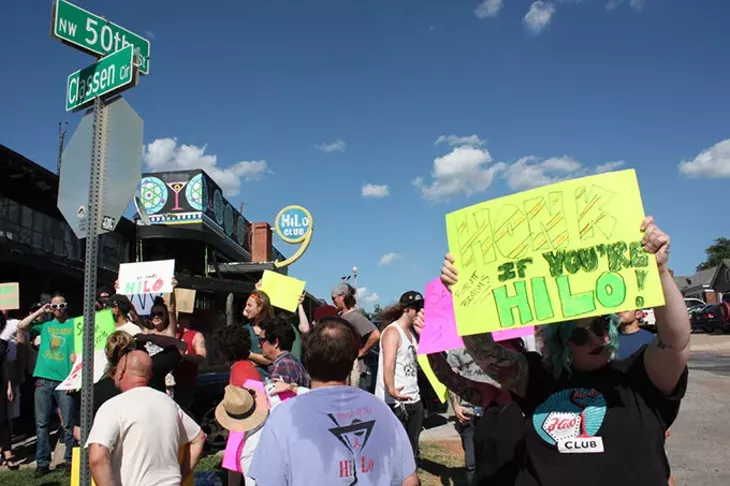 Community landmark
When Okie Mod Squad cofounder Lynne Rostochil learned about Braum's proposal, she created an online petition to preserve the properties at Classen Circle.
Okie Mod Squad is a group of architecture and design enthusiasts who celebrate and push for preservation of Oklahoma's unique midcentury modern architecture.
The petition had more than 12,000 signatures and recorded thousands of comments by Gazette press time on July 17.
"It is a very interesting building because it's one of the first examples of mixed-use architecture," Rostochil said. "It had space for apartments and space for retail and restaurants. It was an early precursor to what's going on all over the city today. Even though the building needs some love, it is a great example of forward thinking in midcentury modern architecture."
Built in 1954, The Patio restaurant was one of the building's first tenants, operating for 46 years before it closed. In 1956, HiLo Club opened and has become a bar known for serving strong drinks, dishing up Sunday brunch and being a haven for the LGBTQ community and its allies. Nicholson's record shop opened in the late 1970s. A decade later, Classen Grill, located at 5124 N. Classen Blvd., opened its doors as a breakfast-and-lunch spot. Drunken Fry opened about 10 years ago.
"This building and the businesses in it touch the core of people," Rostochil said. "If you grew up in Oklahoma City, this was the place you went with your parents and grandparents to The Patio restaurant. So many people have visited this building throughout their entire lives and made memories here. I've heard many stories about first dates and first legal drinks. What I find interesting about this building is it's not just history; these businesses are thriving with new memories being made every day."
Update, July 20: Oklahoma Gazette incorrectly stated the Oklahoma City Council could hear the rezoning case in late August or in September. Kristy Yager, City of Oklahoma City public information director, said the application could come before the council on Oct. 10, but not any earlier.
Update, Aug. 3: Oklahoma Gazette learned that an attorney representing Braum's Ice Cream and Dairy Stores requested the Oklahoma City Planning Commission to delay the zoning application's hearing in hopes to hold a community meeting. The attorney requested the application be heard at the Sept. 28 commission meeting. So far, no information has been released on the community meeting.
Print headline: Broken Circle?, A Braum's proposal to rezone Classen Circle draws heavy debate about the area's past and future.