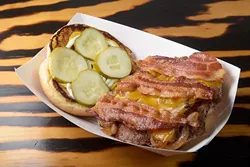 Garett Fisbeck
The Right-A-Way at Right-A-Way Burger in Edmond, Thursday, Aug. 18, 2016.
There is no freezer in the back of Right-A-Way Burger. If that does not seem like a remarkable detail, then consider how many restaurants use products that were, at some point, frozen. It's most of them.
It's not that freezing something is wrong. There are reasons for it, including the ability to keep products fresher for longer periods. But that's just not necessary at Right-A-Way Burger.
Tucked into a little shopping center in far north Edmond at 2917 E. Waterloo Road, this eatery burns through its stock by selling a lot of burgers. Despite the somewhat remote locale, the small venue seems forever packed.
It's no mystery why, either. Of all the questions a food writer hears, the one right after the ever-popular, "What's your favorite restaurant?" is, "Who makes the best burger in town?"
The maker of the best burger in the Oklahoma City metro is a hotly contested prize. This burg has many great burgers to choose from, and folks are always looking for more.
Right-A-Way isn't content to just be a tastier sandwich; it also wants to be a healthier one. There are no fried products at the restaurant. The burgers are made with a lower-fat beef than many competitors, but without sacrificing flavor. That's because owner Jimmy Johnson has figured out an important skill: seasoning.
Using simple seasonings, Right-A-Way adds a lot of punch to its burgers without adding extra calories. Break a chunk of meat away from the toppings and give it a chew. It's tender, but not greasy, with beef flavor enhanced by salt and pepper.
It's also the secret ingredient in the baked beans ($2), which are a mix of sweet and savory. Right-A-Way makes its own barbecue sauce and cooks down onions to give the beans a slightly thick texture. The crumbled hamburger gives it heft and keeps the side from getting too sugary.
Johnson said he doesn't fry anything at the restaurant, and that includes the fries. Instead of fat-fried french fries, he opts for buttery, cheesy home fries ($2). Again, the seasoning is done perfectly, making it taste like the best baked potato around. It requires a fork to eat, though it's best to grab a couple — people will want to share.
One more side before getting to the main course: green chili mac and cheese ($2). There's a subtle heat here that's irresistible. The cheese flavor isn't overwhelming, but the bite of the chili and the creaminess of the sauce make it hard to pass up. And it doesn't hurt that there's crumbled bacon on top, either.
Garett Fisbeck
Macoronie and cheese, baked beans, and home fries at Right-A-Way Burger in Edmond, Thursday, Aug. 18, 2016.
But let's be honest. Anybody driving all the way out to Right-A-Way is going there to get a burger. There are plenty to choose from.
The Old Fashioned ($7) is about the simplest on the menu for purists: lettuce, tomato, pickle and onions on a burger with a brioche bun. As much as the restaurant focuses on making a great sandwich, it seems to be particularly proud of the buns, and it's easy to see why. Soft and buttery, the bread has a high egg content that gives it a tender texture that holds a burger together before it melts on the tongue.
It's a fair bet that the item the owner named after the restaurant is probably one worth trying. The Right-A-Way ($7.50) is stacked with honey bacon, cheddar, fried onions, house sauce and coleslaw. If that last topping gives pause, let's assuage those fears. The coleslaw is not glop. It adds a zing and a dose of moisture to the burger, but it's not going to leave diners with a mess.
The Heater ($7.25) was a pleasant surprise, as well. Sometimes, joints want to spice up a burger and go overboard, creating a bite that's too hot for most mouths to handle. While there are jalapeños and ghost pepper cheese on The Heater, it's not going to burn diners from teeth to tongue. It's definitely not a sandwich for those who like it very mild, but it's not an inferno, either.
My favorite so far is The Working Man ($7.25), which is a classic combination of bacon, cheddar, pickles and grilled onions on a burger. Take it apart and marvel at the just-right crispy bacon and the tawny hue of the onions. Every piece of this is cooked correctly, and when it's put together, it's better than the sum of its parts.
Garett Fisbeck
The Working Man at Right-A-Way Burger in Edmond, Thursday, Aug. 18, 2016.
While The Porta-Swiss ($7.25) was satisfying, it's not for all comers. Mushroom and Swiss is a time-tested pairing, but it's also a divisive one. Those who are already fans of this type of combo will find no complaints here.
Garett Fisbeck
The Porta-Swiss at Right-A-Way Burger in Edmond, Thursday, Aug. 18, 2016.
Johnson said he has only gotten to dabble in baked goods, with much of his prior career spent in upscale catering, but he's hit a home run with the cinnamon rolls at Right-A-Way. Just a couple of seconds in the microwave turned the peanut butter and chocolate cinnamon roll ($3.75) into a gooey, delectable round that everyone wanted to taste again and again.
Though the service is quick, don't expect fast food at Right-A-Way. This hidden gem is a quality restaurant serving great burgers with a smile. You should head there right away.
Print headline: Keep Right, North Edmond restaurant Right-A-Way Burger eschews the fryer for healthier, delicious burgers and sides.