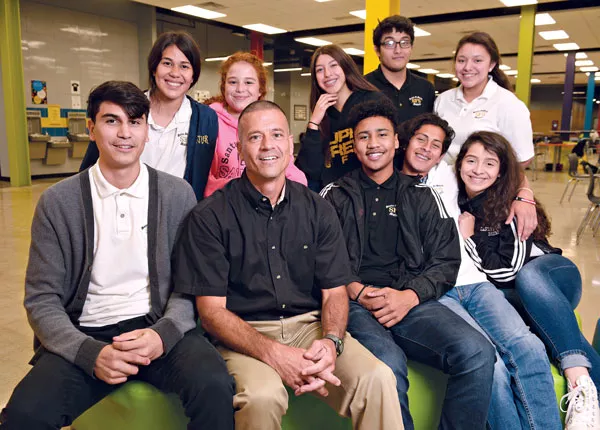 Superintendent Chris Brewster, surrounded by Santa Fe South students, led a successful south Oklahoma City charter program to open a new high school facility in Plaza Mayor and add a fourth elementary school this academic school year. | Photo Garett Fisbeck
In its 14 years of serving Oklahoma City students with high-quality learning opportunities in science, technology, engineering and math, Dove Science Academy-OKC reached a critical point. Following the state-required lottery process for enrollment, school leaders were forced to place 277 student names on a waiting list. There were no seats to spare at the 500-student sixth- through 12th-grade building situated on NW 23rd Street between The Paseo Arts District and Mesta Park neighborhood.
The following year, the waiting list climbed to 400 names. For the current academic year, 470 students' names are listed.
The ever-growing demands by OKC families to enroll their children in Dove led Superintendent Umit Alpaslan and other school leaders to discuss expanding the school's charter program. With an increasing number of their students from south OKC neighborhoods, leaders searched for a school facility south of the Oklahoma River.
"They are coming to us," Alpaslan said. "We decided we would go to them."
Next August, school leaders plan to open a third school site in the former Heritage College building near Plaza Mayor at the Crossroads in south OKC. More than 225 students in grades six through eight will make up the inaugural class. Each academic year, another grade will be added. By the fall of 2022, the charter will serve over 500 students in grades six through 12.
"From our educators to our administrators, everyone has worked so hard to get to this level," Alpaslan said. "I think our track record of success brings excitement. We've only seen excitement about our plans."
Charter leaders bringing their models to south OKC has been a welcome sight for parents and the greater community as neighborhood schools deal with overcrowding. OKC is a growing city with a Hispanic population serving as a key driver of that growth, and south OKC neighborhood schools have recorded a rapid rate of enrollment. Charter operators Dove, KIPP OKC and Santa Fe South Schools are stepping up to meet the demands of a growing population and its call for high-quality education.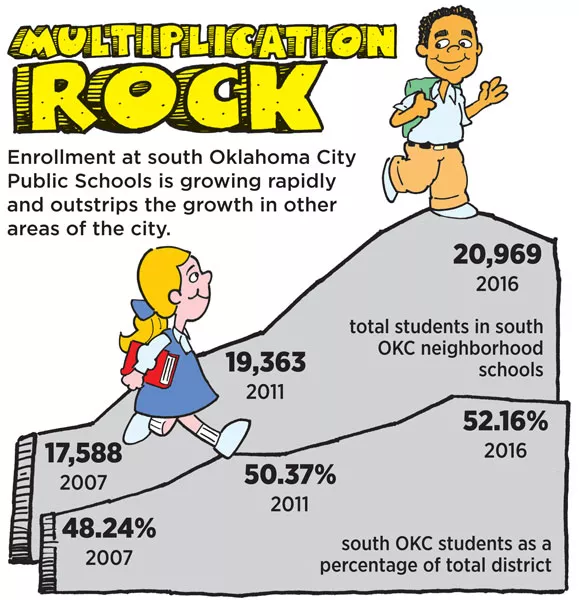 Enrollment at south Oklahoma City Schools is growing rapidly and outstrips the growth in other areas of the city. Graphic | Jim Massara
Growth spurt
Charters were founded on the concept of creating an improved learning environment for traditionally underserved populations, and Oklahoma lawmakers passed legislation allowing charters in the late 1990s. They are publicly funded and independently operated schools that are required to meet the expectations of the Oklahoma State Department of Education.
By 2004, a handful of charter schools were in operation in OKC. With the exception of Santa Fe South, charter leaders opened schools to serve students from OKC's northwest and northeast neighborhoods. While the charter school model has continued to grow in OKC, the growth has mostly been visible in the city's northern quadrant.
According to analysis by Oklahoma Gazette of school site enrollment data from the Oklahoma State Department of Education, district schools located south of Interstate 40 increased enrollment by about 3,300 students between the period of 2007-08 and 2016-17. OKCPS officials have repeatedly said the population boom has caused overcrowding. There have been hints that a future bond issue would address additional classrooms and new building construction to meet the district's growth. In recent months, district leaders have called for a board-commissioned demographics study to project future enrollment and guide leaders in decision-making.
A growing school-age population has created a unique opening for Santa Fe South, which began in 2001 as a charter school for ninth-graders in a south Oklahoma City church basement. Authorized by the district, Santa Fe South continued on a steady growth trajectory for its first dozen years. Chris Brewster, founder and superintendent, explained the school has increased enrollment by 2,000 students since the fall of 2015.
Brewster said the school's approach to growth has been based on three key components: parent interest, qualified teacher applicants and adequate facilities.
"If I can continue to get great teachers and find space, I will continue to grow as long as parents want to be a part of what we are doing," Brewster said. "If parents and the community want to have their children with us — we are a school of choice — and if we continue to have applications, we will continue to meet our other conditions."
New campuses
In August, Santa Fe South welcomed its high school students to a new location, a former department store at Plaza Mayor repurposed into a modern place for learning and community gatherings. In addition to classrooms and offices, the new space features a spacious student common area dominated by a large, tiered seating structure where students can hang out before or after classes and school and community events can be held.
With a larger high school facility, Santa Fe South now serves around 3,400 students in pre-kindergarten through 12th grade in eight different locations. This school year, the charter school opened its fourth elementary school site: Spero Elementary.
"Now that we have 3,000 families involved in our schools and over 2,000 graduates, most of whom live and serve in Oklahoma City, we are really having a positive effect on the entire community," Brewster said. "It is just better for our kids now in south Oklahoma City, and that's because of our teachers and our families."
This August, KIPP OKC South Community Prep welcomed around 100 fourth-graders into its temporary space at Western Hills Baptist Church, 401 SW 44th St. Part of the KIPP network of charter schools, the south OKC middle school is expected to serve around 500 students in grades four through eight by the fall of 2021. School leader Meg Wheeler told Oklahoma Gazette last spring that KIPP was drawn to the area by parent interest and as an effort to alleviate overcrowding at nearby schools.
At Santa Fe South, leaders don't see KIPP or Dove as competition but partners with the same goal to improve the overall quality of education in south OKC, Brewster said.
"It creates a positive pressure for every school in south Oklahoma City to do well," he said. "Everybody gets better."
Print headline: Answering the call; Rising student enrollment in south Oklahoma City creates an opening for charter school expansion.