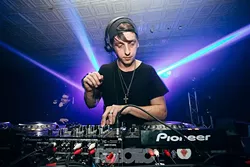 Robotic parties are dance parties that can't be stopped — almost literally.
Organizers say only one or two Wednesday nights were skipped in the weekly event's 10-year history. The Robotic Wednesdays series has become synonymous with Oklahoma City's mid week.
"We can never do Robotic any other night of the week now because it's always been Robotic Wednesdays," said Chad Raunborg, one of Robotic's co-founders.
The impressive run is celebrated during Robotic's 10-year anniversary show Aug. 10 at Kamps 1310 Lounge, 1310 NW 25th St.
Mystee Yannarella, Robotic promotions and marketing manager, said they began contemplating show ideas about a year ago. So far, 16 DJs have confirmed they'll perform, and organizers said guests should expect surprise additions to the roster. Guests also will find an additional stage, which will be set up outdoors on the patio. Marco's Pizza will provide free slices for guests.
In fact, Raunborg said a number of surprises that Robotic regulars will enjoy are planned for the night. Organizers said their goal for this party is to give back to everyone who has supported the event through the years.
"As long as everyone just has the best time they've ever had at Robotic," Raunborg said, "That's the key with this one."
Early days
Not much was expected of the dance night when it launched a decade ago at Sidecar Lounge (now The Drunken Fry), said Bryan Peace, another Robotic cofounder.
The event's origins are fairly simple. The metro dance scene had been dominated by Bricktown clubs that refused to veer away from the radio Top 40, Peace said. There was no place for "hipster" dance music or dance rock, so he joined Raunborg and co-founder John Bourke and the team hosted their own parties. Joshua Leckie and James Smith were also co-founders.
"All the original people that started it had all been DJing for a while," Peace said. "We were just going to throw a couple of parties and move on. I don't think anyone expected one single party to last 10 years."
Raunborg said the first Robotic crowded almost 100 people into a space with a capacity of 35. Attendance eventually leveled off after that initial high. Peace said some people early on had the impression that shows would feature all techno or drum-and-bass music.
Still, each party they threw was well attended. It was a popular enough event that they started to get noise complaints.
Peace said one day, several resident DJs gathered at Electro Lounge and talked about the challenges Robotic faced with its venue. The owner overheard their chat and offered them a new home.
"That's when it really kind of exploded for a while," Peace said.
Continued growth
Robotic's time at Sidecar lasted less than one year. Its Electro Lounge run spanned a productive year and a half.
"Electro Lounge was cool because it was like a 100-cap room," Raunborg said. "So it was more like 100 of your best friends showing up every week for the best house party you could ever throw. That was the atmosphere there."
Peace said hosting electro house producer Steve Aoki at the venue is still one of his favorite Robotic memories. It did not take long until the weekly party again outgrew its host and organizers needed a new venue.
Kamps approached Robotic about permanently moving the event to its venue after Robotic hosted several seasonal Halloween and Christmas parties there. The 2009 move doubled maximum capacity, a space that was easy to fill.
"It just kept growing and growing. Then we actually started bringing in some money to do things like buy new sound and lights," Raunborg said.
The founders remember how the event rose to new heights during the summer of 2011. Dubstep and the festival scene went mainstream. Raunborg remembers setting up at 7 p.m. at Kamps as people lined up to come inside.
Another memory is how obscenely hot it got on that dance floor. Kamps now has a new air-conditioning unit.
"You would leave here so showered in sweat," Raunborg said. "People were dancing so hard there'd be an inch of water on the floor from all the sweat."
Party people
Peace and Raunborg said they enjoyed their roles introducing new music to the masses, but crowds are becoming more knowledgeable about music in general.
"Now I think more people know what they want to hear," Peace said. "You definitely have to play more to the crowd now."
Raunborg said he is not sure where Robotic will go from here because everything to this point developed organically. One thing he knows is that organizers will be creative and take chances.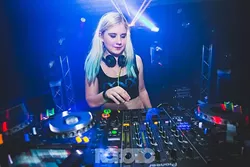 "We've always tried to be a little off-center with how we do things with our themed parties and our guests and stuff like that," he said. "I think that's helped with the branding because people remember it. It's something you don't forget."
Fun, Raunborg said, is what has made Robotic successful in its first decade.
"Everything we make from Robotic, the majority goes back into the party, whether it's throwing themes or improving the production or the sound and stuff like that," he said. "We never really viewed this as a business; it was just to throw a fun party for our friends."
Learn more about Robotic Wednesdays at facebook.com/roboticwed.
Print headline: Electric affair, Robotic Wednesdays celebrates a decade with a special anniversary party.