Soundgarden BY_Michael-Lavine / BB Gun Press / Provided
Tens of thousands of music fans in the state and from across the nation will converge on the vast fields and farmland near Pryor for three days of hard rock celebration over Memorial Day weekend.
Rocklahoma is an annual event in which music fans trek to see live the rock bands they heard on cassette — yes, cassette — back in the day. But in the decade since its inception, the music and camping festival has grown to feature an eclectic hard rock lineup of international, national and local acts — '80s hair metal, '90s grunge and the rock bands of today still show fans love at Rocklahoma, which runs May 26-28 at the Catch the Fever Festival Grounds near Pryor.
Thousands more will pack their RVs, tents, swamp coolers, grills and sleeping bags to commune at Rocklahoma's expansive campgrounds during the event.
This year's lineup features Def Leppard, Soundgarden, The Offspring, Suicidal Tendencies, Stone Sour, The Cult, Buckcherry, Ratt, Zakk Sabbath and dozens more performing on three primary outdoor stages. Organizers estimate 70,000 ticketholders will pass through the festival gates.
Broad appeal
"We try not to be too narrow with the demographic of who we're targeting. It's all rock," said event organizer Joe Litvag, senior vice president of AEG Presents. "Some may classify it all as 'hard rock,' but I think that's a subjective term."
Bands established in the '70s, '80s, '90s, and 2000s are represented on this year's bill.
"There's a little something for everybody," Litvag said. "Again, the goal is that people are able to relive some of those fond memories no matter what their age."
Rocklahoma launched in 2007 as locally organized tribute to '80s hair-metal bands and was inspired by Cadott, Wisconsin's Rock Fest event. By 2010, AEG Live was also affiliated with the event and worked to expand its focus.
"When it was just an '80s hair-band festival, there's only a certain amount of bands who fit within that subgenre who were worth booking," Litvag explained. "We don't want to go completely away from that — I call it the Soul of Rocklahoma, but we had to go wider with who were booking and ultimately with the fans we were attracting. That's where things turned around."
Rocklahoma features over 80 bands on three primary outdoor stages. A fourth stage, located at the campgrounds, showcases after-party entertainment, featuring local and regional acts through the early morning hours.
"The real extracurricular activity at Rocklahoma is the party that happens at the campgrounds," Litvag said, which is a big reason it happens over Memorial Day weekend. "The party that's happening at the campgrounds is running 24 hours a day for four days straight."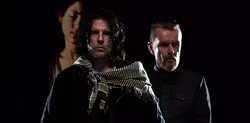 the cult - Dine Alone Records - Provided
Safety first
While music is the primary focus for guests and organizers, Oklahoma's sometimes-fickle weather also gets plenty of attention.
"We work closely with local law enforcement and meteorologists on-site who are watching the weather in real time," Litvag said. "It goes without saying that the weather in Oklahoma in May can potentially be unpredictable."
In 2008, a storm let loose over the festival site, causing a 2 1/2-hour rain delay. On-site meteorologists alerted festival organizers, who evacuated thousands of fans from outdoor stage sites as 65 mph winds and heavy rain collapsed two of the venue's side stages.
"In just three minutes, we went from rain showers to a storm that I have not seen in my 30 years," Rocklahoma's onsite weather expert Mike Orange told The Oklahoman at the time.
"We have a complete safety and emergency plan," he said, citing safety and fun first.
For Litvag, the biggest reason to attend Rocklahoma is "experiencing new music and reliving those memories for the acts that you love, but the sense of community from making new friends and meeting new people is really what makes this festival special."
Visit rocklahoma.com or call 866-310-2288.
Print headline: High volume, Rocklahoma brings dozens of '80s hair metal acts and today's newest rockers to one enormous outdoor venue.