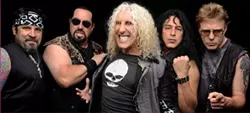 Provided
Twisted Sister
The last time Twisted Sister played Rocklahoma, it traveled on nine planes through 15 time zones.
"It's easily the craziest shift in weather we've ever experienced," said Jay Jay French, guitarist and founding member of the New York band. "We went from the Arctic Circle to Pryor."
In case you were wondering, that was a summertime heat wave of 50 degrees up north to a 110-degree blast here.
This will be the band's third visit to the Rocklahoma music and camping festival, founded in 2007. The festival was one the first to feature a rock- and metal-only format, along with three days of onsite camping. Last year, it brought in about 20,000 fans a day over the three-day event.
And French loves it. The Iron Men of Rock 'n' Roll have played 33 countries and headlined in nearly every one, with more than 9,000 live shows played since it formed in 1972. (Yeah, that long go.) But things have changed.
"We don't get paid to play; we get paid to travel," he joked.
But it's true. These days, the band plays about 10 festivals a year, and audiences range from 20,000 to 100,000 at each one.
French is authentic. He's intense but personable, cynical yet endearingly honest, each word emphasized by his thick New York accent.
He also has no problem playing songs that were radio hits 30 years ago.
"We don't force people to listen to new songs when we know they come to see us perform our hits," he said. "They expect to see a great show, and that's what we give them."
And yeah, the band licenses its hits for just about anything. In fact, today, "I Wanna Rock" and "We're Not Gonna Take It" are still two of the top-earning songs from the '80s.
"They put our kids through college," French said. "Those songs are worldwide anthems. They're why we're still here today."
This year is the 30th anniversary of the Twisted Sister album Stay Hungry, which spawned both hits. Both are possibly forever embedded in pop culture, for better or worse — and sometimes even for the hilarious.
"We were playing a stadium show in Mexico and realized that the audience wasn't singing the same lyrics we were (to "We're Not Gonna Take It")," French said.
The band stopped to listen.
"Huevos con aceite!" fans yelled — "Eggs and oil!"
According to French, the song was used for a butter commercial in Mexico, and during South American shows, the band now also sings those lyrics with the song. Needless to say, the fans go wild.
"Do we ever get tired of playing these songs? No! Not ever," he said. "I get asked that all the time. How do you think Mark Metcalf feels?"
Metcalf plays the father in the 1984 video for "We're Not Gonna Take It." In the intro, Metcalf, his face distorted, growls to his son, "Whaddya wanna do with your life?" The boy immediately morphs into frontman Dee Snider in all his lipstick and blue eye shadow glory. Then he snarls back, "I wanna rock!"
"He still can't go anywhere without being asked to say that line," French said.
Those 20 seconds of a four-minute rock video have become an iconic moment that generations of people relate to.
"We see kids at shows, especially in Europe, that tell us all they listen to is music like ours because 'our-age music sucks,'" French said. "What's wrong with being part of pop culture? Nothing."
Main stage lineup:
Black Stone Cherry Skid Row Killswitch Engage Seether Deftones Five Finger Death Punch Adelitas Way Pop Evil Filter Jackyl Twisted Sister Staind Redlight King Cinderella's Tom Keifer Black Label Society Extreme Theory of a Deadman Kid Rock
See full schedule at rocklahoma.com