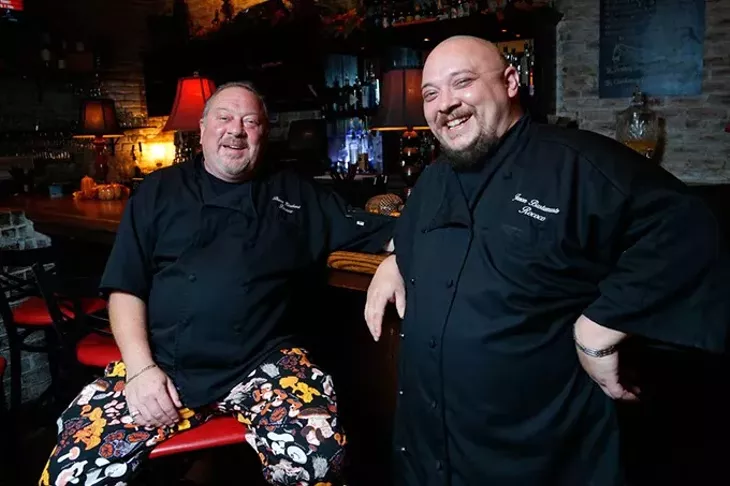 Garett Fisbeck
Bruce Rinehart and Jason Bustamante pose for a photo at Rococo Northpark in Oklahoma City, Monday, Nov. 2, 2015.
Hang around Bruce Rinehart and Jason Bustamante for five minutes and you're almost guaranteed to hear the word "love" at least once.
In five years, though, it has become a major theme of their business at Rococo Northpark, 12252 N. May Ave. It is all about the love.
Rinehart, who owns both Rococo Northpark and the original Rococo location at 2824 N. Pennsylvania Ave., worked with executive chef and managing partner Bustamante for years "on their little island" before the opportunity to expand into northern Oklahoma City presented itself.
A lot of things came together at the right time, and now, with five years in the rearview mirror, it's clear they made the right choice.
Perhaps best known for its Italian food, Rococo is a bastion of East Coast-style eats and hospitality, said Bustamante. And while seafood has seen a recent explosion here, the Oklahoma City food scene owes a lot to the pioneering work he and Rinehart did bringing mussels, oysters and crab to the Sooner State.
"It used to be no one around here knew about belly clams or steamers," Rinehart said. "We ate a lot of it back then because it didn't sell. Now, we bring it in, I send a couple of texts and boom — it's sold out."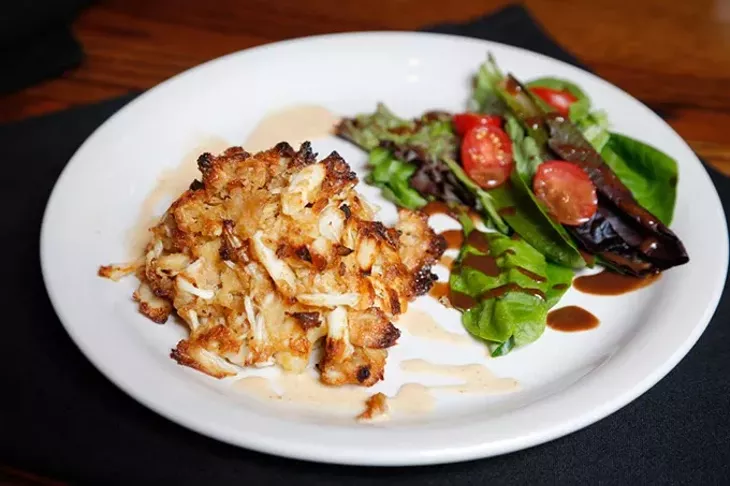 Garett Fisbeck
Crab cake at Rococo Northpark in Oklahoma City, Monday, Nov. 2, 2015.
The restaurant was ahead of the curve on a few other trends, as well. Bustamante pioneered a vegan menu at Northpark and was an early devotee of wild-caught, sustainable salmon. That attention to detail and customer needs has made Rococo a darling of the eat local crowd and foodies alike.
Though the menus share similarities, the Northpark location has come into its own under Bustamante's leadership. One big draw remains the cruise ship-style brunch: a massive buffet of cold bar treats, freshly shaved meats, omelets and other favorites.
"There are people who come in every week," Rinehart said. "Jason changes it up all the time, so there's always some new spin. It keeps it fresh."
When you're in the business of seafood, fresh is everything. It's especially vital to Rococo's signature dish: the crabcake. Stuffed full of lump jumbo blue crabmeat, a little binder and seasoning, it's one of the restaurant's biggest sellers. So much so, in fact, that Rococo holds a contest each year to guess how many crabcakes it has sold, with the winner taking home a free one every week for a year.
It's not easy staying in business for one year, much less five, and Rinehart said competition for restaurant dollars in Oklahoma City is always climbing. But in Bustamante (and Penn location kitchen manager Josh Partain), he is looking to the future with a firm sense of Rococo's legacy.
"I always say I want to take our guests on a rollercoaster ride of flavor," Bustamante said. "But it really boils down to love."
For those who love Rococo's food as much as the people who make it, there's also a free hug somewhere in there, too.
Print headline: Northern exposure, Seafood powerhouse Rococo Northpark basks in the love of its fifth anniversary.