After a brief hiatus, both Rodeo Cinema locations are open again under new leadership and with the aims of being more of an arthouse — full stop — than just an arthouse cinema.

Executive Director Kara Luther-Chapman comes from a live theater background and left her role as executive director of the Pollard Theatre Company to helm what is now called the Rodeo Cinema Foundation.
"Having an arthouse is essential for the community of Oklahoma City, especially with film blowing up and everything that's happening," she said.
"I built my reputation in live theater as a performer and as an executive director of live theater, but I'm actually a huge cinephile. I really love movies more than live theater. I don't follow what's coming on Broadway, I don't read plays, but I watch everything that comes out."


Berlin Green
The entry to the theater.
Growing up in small town Kansas, Luther-Chapman wanted to be a film actress but threw her lot in with live theater because it was an accessible art form. Being an avid cineaste was something that was ingrained in her early.
"Every Friday after school, we'd go down to Aardvark Video and rent a VHS player. And when you rented the VHS player, you got ten free rentals, and we'd get ten free rentals and watch everything all weekend long. That's how I grew up," she said.
But while she's always had a love of cinema, running one is an entirely different animal.
"I will fully admit I didn't know the first thing about running a movie theater. I took a crash course and I have contacted every owner, executive director, you can think of across the nation and I've made great relationships," she said.
Luther-Chapman suspended screenings at the Stockyards location in order to overhaul the lobby and expand the menu to include sandwiches with names like Attack of the Killer Tomato, which includes sun-dried tomatoes, mozzarella and pesto on panini. Then the Oklahoma spring took Film Row temporarily out of commission.
"Film Row is getting an equipment facelift right now and rewiring, fixing what we had in the storm damage and cleaning it up. It is eventually getting ready to have a full rebrand look as well. The goal is to turn it into an executive screening room with reclining seats. Very posh, elite type of thing," she said.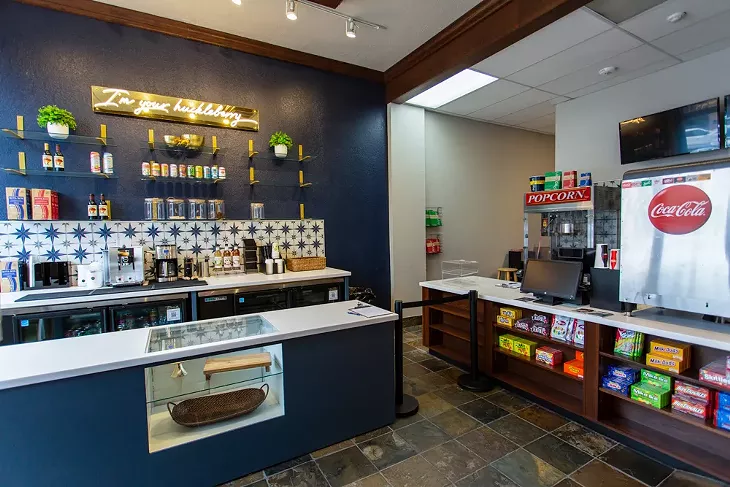 Berlin Green
The redesigned concession area at Rodeo Cinema.
Both locations are currently open for screenings, but more changes are in the works, including a renaming of both venues.
"We've had a lot of confusion about our locations. It's been Rodeo on Film Row and Rodeo Cinema and people are constantly showing up to the wrong location. So we're rebranding. Rodeo Cinema Foundation is the nonprofit corporation that everything is umbrella-ed under. And then Rodeo Theater — we're going back to the OG but we're spelling it with the -er, sort of like AMC Theaters — is going to be our Stockyards and then Film Row Cinema will be the one inside the Paramount Building," she said.
The programming at both theaters will be expanding immensely.
"I knew one thing coming in as someone in business: one-screen cinemas have to be diversified. The way that everything's changed with direct to consumer streaming, people kind of smelled it for a long time. Blockbusters are going to bring in people and arthouse films are a tougher sell. You're never going to be viable with that kind of method. You're never going to reach a broad enough demographic. … Our essence, our core, is always going to be film centric, but it's got to be more than a movie, it's got to be an experience and that's multiple things, like shadow casts, live performers with films. Just having things that make people get off their couch because they can watch it at home. Q&As, retrospectives, celebrity meet and greets, but also don't be afraid to have a comedy show in there or have an original workshop playwright come in. The other thing too, I think most people forget, is there are not a lot of venues that have the capacity that we do and we have a venue that can promote all forms of art. We can showcase a local filmmaker's movie and screen it on the big screen in just as good a quality as any other theater, but we can also lift that screen up and we have a 20 by 20 stage space with a badass sound system and LED lights and soundboard and we can showcase a local band or a local playwright or a local dancer, and we do it at an affordable price. That's the biggest thing. We're an arthouse. And that's what an arthouse truly is. An art house truly is a place that supports all art," Luther-Chapman said.
There are quite a few other plans in the works that will be announced at later dates, she said. But Rodeo as a cinema isn't going anywhere.
"We're it. We have the corner, and, like I told our board of directors, we're going to do it and we're going to do it so well that eventually somebody's going to say, 'I can do that too' and pop up. By that time, you're going to have been the OG and if anything, I welcome it because that means that we're doing it right and the more competition you have, the harder you have to fight," she said.
Visit rodeocinema.org.