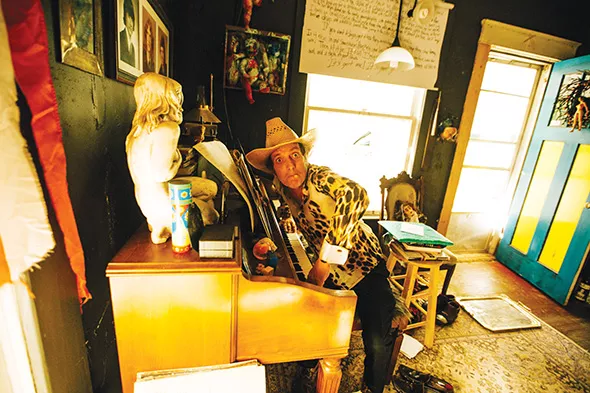 Alexa Ace
Musician Tyson Meade launches his brand of Meade Luxury Cannabis in select Oklahoma dispensaries this fall.
Losing his bid for the U.S. House of Representatives might have been a blessing in disguise, as it will allow Tyson Meade to produce his own line of cannabis instead.
"It was so much fun to run, but it was also even more fun to lose and for Kendra [Horn] to win," Meade said. "My run introduced me to so many people in the party. The chair and co-chair of the party, the Democratic Party, were really encouraging. I had the best experience for about one of the worst things anyone can do, which is running for political office."
Meade Luxury Cannabis lands in dispensaries this fall.
"If it's not Meade, it's just weed" is the slogan.
"What I envisioned when we were coming up with the brand is Brian Ferry from Roxy Music smoking one of our joints," Meade said. "They're pre-rolled. They'll come in little packages. And George Salisbury, he's gonna help me lay out the packaging."
Salisbury is the art director and music video director for The Flaming Lips.
"I'm just such a perfectionist," Meade said. "I just want to, like, grab the market because I feel like anytime I've seen packaging, even the packaging that people go, 'Oh, well, look at this packaging,' it's all somewhat, to me, it all looks like craft beer. I don't want craft beer. If I want to drink craft beer, I'm going to go drink some craft beer. Not that there's anything wrong with that. I just want a really nice cannabis experience, and I think that all of it put together, the whole thing, is so important. Of the three of the partners, I'm the visionary. We're still working on the actual strains we want. We want to do three. You know, an indica, a sativa and then a blend. I've got to sample a lot, and I'm like, 'That's what I want, this is what I want, that's what I want and that's what I want. Make it happen with the grower.'"
Business partner James Spake said they have chosen Blueberry Haze as the sativa-dominant strain but are still deciding on the indica and hybrid flower for the line.
Alexa Ace
Meade's line of cannabis is a collaboration with James Spake of GreenLove Compassionate Care + Wellness Center.
"We're still kind of feeling out the other two just because we want to get the best quality product at the most affordable prices for our potential patients," Spake said.
Each package will contain seven half-gram pre-rolls, which total one-eighth of an ounce of flower.
"We don't want to vary too much," Meade said. "We want to know our product. We have this all-or-nothing sort of feel right now, which is great."
Meade said they are not ruling out selling pre-packaged raw flower, but it will not be in the near future.
"When we align ourselves with a special grower, it would have to be definitely maybe our own strains, and so that might be down the line," he said.
The line will not venture into processing for cartridges or other concentrates at this point.
"I know people like the vape and stuff, and I know that's like a big thing," Meade said. "And people were like, 'Well, are you going to do vape?' At this point, I think there's so much vape out. We're not trying to grab every cannabis smoker. Myself, I prefer a joint, and I know there has got to be other people like me. When you watch movies, you don't see people vaping. You see them smoking joints. To me, and not to be a jerk, but vaping, it just kind of leaves me cold. Vaping just doesn't speak to me, I guess. There's nothing wrong with it at all. I just enjoy the ceremony of lighting a joint and enjoying it and passing it to whoever you're with."
The price for a package of Meade Luxury Cannabis will be decided after deals with growers are finalized. Meade and his team are still in the research and development phase for the actual pre-rolls.
"We were looking at metal tips, and we don't know if we're able to do those or not," Meade said.
The packaging will be a slide box with a child-resistant button placed inside a transparent childproof bag, Spake said. The dispensaries the product will be sold in will also be carefully selected.
"We're just going to have Tyson and I go around to different dispensaries in the metro area that are a little more geared towards music and art. We don't want our product to be just in any dispensary. We kind of want it to reflect his company's name, Tyson Meade Luxury Cannabis Enterprises. We want to be in upper-scale dispensaries," Spake said.
"I'm looking at the fashion industry as the luxury market, like Chanel and Gucci," Meade said. "This is what I see for our brand, and I want it to be something that when people have that pack of Meade in their hand, it's a lifestyle I wanted to have to resonate with. I'm not trying to get everyone. I'm just trying to get those people who really want the brand. I think as with any sort of car or designer or whatever, my goal is to build a relationship with our customer base."
Meade and Spake met through music. Spake owns GreenLove Compassionate Care + Wellness Center in Norman and asked him to play in the store. Meade has curated all the art in GreenLove for 2019, and Spake will also be playing bass at Meade's Aug. 2 show at Tower Theatre, 425 NW 23rd St.
Since opening as a CBD store in May 2018, GreenLove has also sponsored Norman Music Festival and Norman Film Festival and hosted live music during the monthly art walk.
"It's the most social that it has ever been," Meade said. "And maybe than it will ever be. So it's like, why not have a joint? I was at the Norman Music Festival, and I loved having the freedom of just lighting a joint on stage and passing it around, letting everyone enjoy it. Everyone, I think, is just so excited that this is happening and that we're not the last state, which we so often are. I just love that there's all this new energy in Oklahoma too and there's so many millennials coming in. I'm like, God bless the millennials. We're basically in the Garden of Eden of cannabis right now. Take advantage of it."
Visit facebook.com/smokemeade.