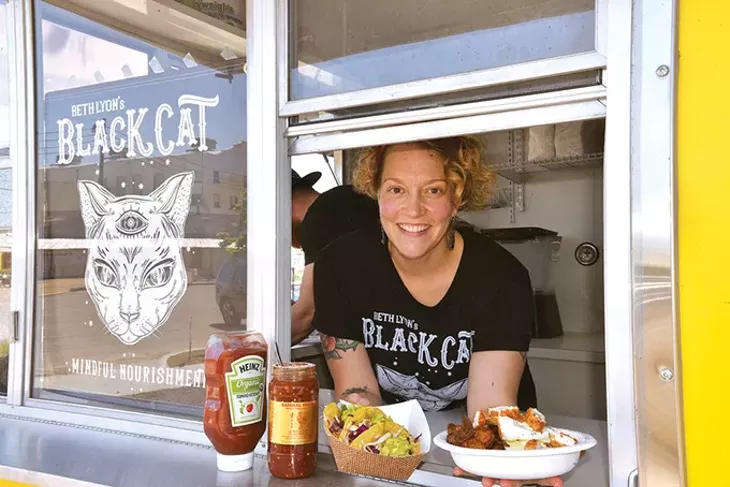 Jacob Threadgill
Beth Ann Lyon serves chipotle chicken tacos and the Clucker out of her new Black Cat Food Trailer in Delmar Gardens Food Truck Park.
Chef Beth Ann Lyon walked out of her front door one morning, and the bright yellow food truck sitting in her neighbor's front yard called to her.
Lyon has shaped menus across the city (Provision Kitchen, The Mule, Anchor Down, The Press) since establishing an eponymous LLC two years ago, but life as a consultant has its ups and downs.
After a few consulting jobs fell through late in the process, Lyon said she knew a positive outcome was on the way. It arrived in the form of a long yellow food truck that her neighbor Tommy Hand's mother Kathleen used to serve fried peaches and ice cream as Odie May's during the summer.
"I walked out of my house one day, and there it was. It was like a light shining from heaven," Lyon said. "The clouds opened, and there was this food truck. Before I even talked to Tommy, I knew it was there for us to use. I know when I'm in alignment with things the universe presents to me."
Tommy Hand and his wife Tess are longtime friends of Lyon's husband Gerald. After Kathleen Hand died, the food truck had no caretaker. Instead of selling it to a stranger, the Hands are allowing the Lyons to use it to start Black Cat Food Trailer, which held its opening service May 5-6 at Delmar Gardens Food Truck Park, 1225 SW Second St.
"It's worked out pretty great," Tommy Hand said. "I ran [mobile catering service] for Big Truck Tacos, I've been in the restaurant industry and I helped my mom with concessions. This was the perfect circumstance because Beth is so skilled. I like that we didn't sell the truck, and hopefully this becomes the start of something bigger for Beth."
Lyon is a graduate of Kurt Fleischfresser's apprenticeship program and rose through the ranks of kitchens across the city, becoming the first executive chef at Kitchen No. 324 and Provision Kitchen. Her work there and as a consultant earned her a spot on Food Network Guy's Grocery Games in early 2018, but Black Cat is her first independent operation.
"I've always belonged to somebody, been someone's executive chef," Lyon said. "It is so exciting. I had Arlo, my youngest son, running around [Delmar Gardens], and he came and wanted me to pick him up. I was able to do that while I continued cooking on the stove. Things like that make a difference."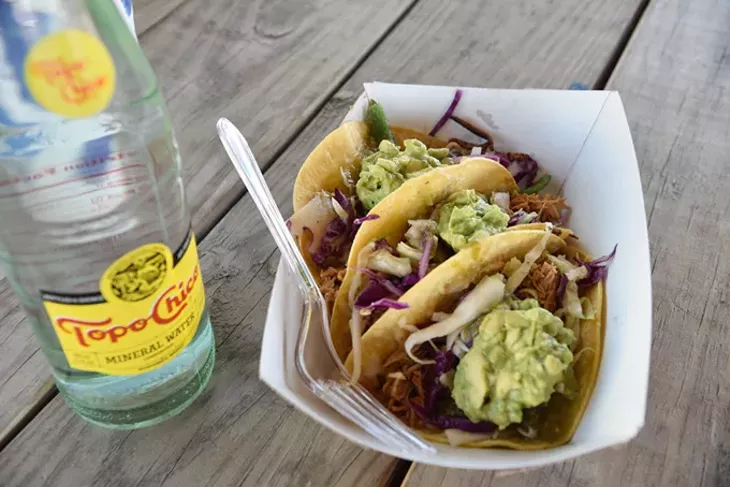 Jacob Threadgill
Chicken chipotle tacos from Black Cat food trailer
Intuitive eating

Lyon practices what she refers to as "intuitive eating." While she primarily eats a plant-based diet in her personal life, she isn't one to shy away from grass-fed chicken or local cheese. In the end, local and mindfully sourced organic ingredients win out over processed items like tofu.

The menu at Black Cat will change according to seasonal ingredients, but it will also be 50 percent plant-based and 50 percent meat options.
"I know my market. I know that I can't throw out 100 percent vegan. For my animal-eating friends, I want people to get a juicy grilled onion cheeseburger from me, but they know the beef is grass-fed. Who else has organic, pasture-raised fried chicken?"
The top seller the opening weekend were chicken chipotle tacos, fried black beans, avocado mash and jalapeño slaw, but they were followed by the Clucker, a fresh biscuit topped with fried chicken, an over-easy egg and chicken gravy served with salt-fried potatoes. There was also a vegan biscuit with onion gravy, vegan squash fajitas and a mushroom melt featuring spinach from next door's Urban Agrarian.
"I had girls that came in and said they were Whole30, and I said, 'I got you,'" Lyon said. "I made them an amazing lunch, and they were so happy about it. People should know that when they come into Black Cat, their grandfather can get chicken and biscuits, Dad can eat paleo and kids can get grilled cheese and fruit. There is always something for everybody."
Lyon's training is showcased on the salt-fried potatoes, which she hand-cuts in different sizes to create different textures and parboils in salt water before deep-frying to-order.
"Here's the deal with most fried potatoes: They're bland," Lyon said. "You get the potatoes and all of the salt is at the bottom of the container. I blanche them in salt water — it's like the ocean it's so salty — to induce flavor. I fry them in peanut oil because it's my favorite, so sorry, peanut allergens."
Lyon said that the chicken chipotle tacos will be a menu staple through the rest of the summer, but the menu will shift depending on what comes from local markets. She's excited to feature fresh peaches and strawberries this summer and envisions taking the trailer to serve at area lakes, which is the inspiration for the trailer's name, as Lyon thought back to setting off Black Cat-brand fireworks at the lake.
"I knew this food truck would be amazing to haul out to [Lake] Eufaula and serve near the boat ramps," Lyon said. "It is my nudge to summertime and the nostalgia of being a kid, eating hamburgers and shooting fireworks."
As Black Cat expands, Lyon wants to use it as a type of apothecary, where clients can pick up bulk items like shredded chicken or pasta primavera every two weeks. Inquiries can be made through bethlyon.com.
Lyon will establish a card program for Black Cat so that every 10th meal with the trailer is free.
To follow updates on the food truck, check @bethlyonsblackcat on Instagram.