Jacob Threadgill
A cup of chili with a sausage burger and a half order of fries at Ron's Hamburgers & Chili in Oklahoma City
Ron's Hamburgers & Chili
4723 N. May Ave.
ronsburgersandchili.com
405-286-9172

What works: The hand-cut fries are a treat while the classic chili is a meat-lover's paradise.

What needs work: The texture on the sausage burger is more lean than a regular burger.

Tip: Root beer is served in a frosted mug.
In a state rich in hamburger history, Tulsa native Ron Baber established a name and legacy for himself when he founded Ron's Hamburgers & Chili in 1975 at a small, 10-seat restaurant on E. 15th Street in Tulsa.
Baber died at the age of 82 in 2018, but he lived to see his hamburger empire expand to 19 total locations across Oklahoma and into Texas and Arkansas.
"I had built up $10,000 in a retirement plan, and it was enough to put a down payment on this little place," Baber told Tulsa World about Ron's original location. "I always loved to cook and always wanted my own place. When other guys were buying Playboy, I was buying Gourmet."
Ron's signature burger, Ron's Special, is one of its huge beef patties cooked with fried onions into the meat and then topped with bacon bits, Cure 81 ham and pepper jack and American cheese while the bottom bun is dressed with mustard, mayonnaise, pickles, lettuce and tomatoes.
A "Did you know?" section on the back of the menu points out the irony of food history, like how hamburgers (which originate from Hamburg, Germany) have no ham at all. Ron's Special goes out of its way to introduce ham to the burger and is similar — and totally different at the same time — to the Geronimo burger at Geronimo's Bakery, 1817 N. Martin Luther King Ave., in Oklahoma City.
As for the other part in the name of Ron's restaurants, chili is made fresh daily in huge pots as two parts ground beef and one part ground pork simmer away in spices before being added to its brown-and-red sauce. Chili can be ordered with beans, onions or jalapeños and more of that melted pepper jack cheese.
The chili can be applied to burgers and hot dogs or ordered as Frito Pie; it can be eaten on its own in a bowl or pilled on top of spaghetti with cheese and beans.
While Ron's chili is as comforting as a weighted blanket, there are more innovative options on the menu, like the sausage burger, which combines pork country breakfast sausage with ground beef. Fresh chicken is battered and fried and can be paired with housemade honey mustard, ranch, barbecue or gravy for dipping, but add some battered and fried jalapeños for an extra treat.
The fried jalapeños also appear elsewhere on the menu like in Ron's famous Spanish Fries, which also add some fried onions for good measure. The same application is available for the Spanish Okra (fried). Root beer is served in frosted mugs with free refills.
Taste test
Since moving to Oklahoma in 2017, I've had fun getting to know the state and its culinary traditions, but Ron's Hamburgers remained a culinary blind spot for me. I knew it was an institution. I drive by the Oklahoma City location, 4723 N. May Ave, during weekly trips to the nearby Aldi grocery store, but it's hard to gauge interest because its windows are tinted and the connected parking lot doesn't include spots right next to the restaurant.
With dark windows and non-adjacent parking, I honestly thought the location wasn't very popular, but I couldn't be more wrong. It turns out that all of those cars in the lot weren't clambering to get into the nearby plant store.
I walked up to Ron's on a Monday around noon on Christmas Eve's eve — a day that I thought might have a light lunch crowd — to find the restaurant near-capacity. Guests have the option of picking up call-in orders at the counter, but otherwise, find your way to a booth or table and wait for a server to take your order.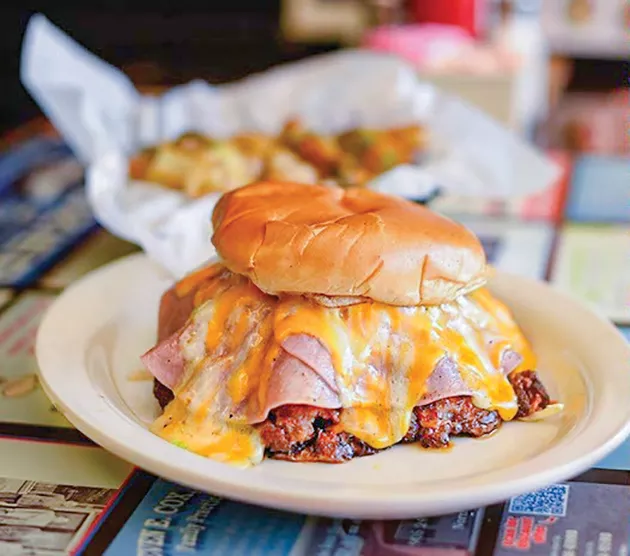 provided
A Buster Burger is a sausage burger topped with ham, chili and cheese.
I knew that I wanted to try a sausage burger over the Ron's Special because I'd never seen the former before, but I have encountered ham on a burger. I also knew that I wanted to try some of Ron's famous chili, but I didn't necessarily want it on the burger; I wanted to isolate the flavor of the sausage in the burger, and I didn't want it to come soggy.
I ordered a cup of chili with cheese, raw diced onions and beans with a sausage burger and a half order of fries with an unsweet iced tea ($17.11 before tip). The food arrived quickly, but not so quickly that I suspected the hand-cut fries might've been waiting under a heat lamp. Seriously, the fries might be the star of the show. There was great variation in the basket — the larger fries retained a delicately soft center while other, smaller pieces got crispy in the grease. (Ron's has a sign that says trans fats are not used in the frying process.)
I was not prepared for the burger construction; it's a large patty flattened to about 1/3 of on an inch thick with a diameter the size of a 45 record. The large saucer of meat hides the vegetables underneath as the cheese mixture peaks from under the top bun as its melds into the bread.
I found the texture of the sausage burger itself to be more sausage than beef. The patty had more lean, less fatty texture and seemed to spring back into place after every bite. If you're a Jimmy Dean freak or just really love country sausage, then it's the burger for you. I think I'll stick with the regular burger next time. The huge burger is a knife-and-fork affair; I was afraid the bottom bun would lose structural integrity if I tried to pick it up with my hands. I only saw one person try to pick up a burger while I was in there.
The chili was exactly what I would expect for a recipe that has been a hit for decades: heavy on grease and meat flavor, but light on the spice. I didn't think the fries improved while dunking them into the chili, but it turns out I did enjoy the burger with the chili. The move next visit might be to get a regular burger with a chili topping.
There's no dessert served at Ron's because its entrée portions are so large. I ate about half of the burger, finished the chili and put a dent in the fries. I was still not hungry at dinner, but I'm glad that I stopped at Ron's and excited to see that it's still executing at a high level after 45 years.
Visit ronsburgersandchili.com.