Alexa Ace
Sheriff P.D. Taylor set Jan. 1 as the deadline for the jail administrator to take over, but officials do not expect to meet that deadline.
(This story was updated Dec. 11 to include new information on the sheriff's deadline and budget requests.)

A jail administrator has been selected to run the Oklahoma County jail.
Greg Williams, who has worked at Department of Corrections for nearly four decades, was selected unanimously by the jail trust in early November. However, he has not yet been officially hired. The trust recently established its own bank account but is still waiting for clearance to put Williams on payroll. Trust chairwoman Tricia Everest said she does not know when Williams will be hired but the trust is already working with him on a volunteer basis.
"He has already toured the jail once with an engineer, and we should know of an office for him if not this week, then next week," she said. "He's been attending different meetings, he's been speaking with the public, and so I think he's fully into his volunteer part. And we're excited to work with him now and it will be exciting to work with him as we formalize all the agreements."
Williams told Oklahoma Gazette that his unanimous selection was encouraging and he's looking forward to being a part of what seems like a new era in criminal justice.
"It's not frequent that people get to come in and say, 'Let's just start over,'" he said. "We have a new trust, we have a new organization, we have a new administrator. I don't really know anybody that works at that jail. I don't know one person, so I have no personal agendas, no preconceived ideas. I just want to walk in with my eyes wide open and say, 'How about we all work together? How can we take the good people that are already working there and the people that are working hard and make those jobs more beneficial and more fulfilling and get some things straightened out that maybe aren't going as well as they could?'"
As recently as last week, Williams served as the deputy chief of operations for Oklahoma Department of Corrections. In working with the department for 36 years, he has held several positions in different areas. Williams began as a correctional officer in 1983 before moving into administrative positions in the mid-2000s.
"I've been in charge of the private prison contracts and jail contracts and halfway houses, community corrections centers. At one time, I supervised about 42 facilities for the state," he said. "I've been a warden out of several facilities. I've been a deputy warden at several facilities. I had the privilege of opening Eddie Warrior Correctional [Center] in 1989, which is a women's prison in Taft. … I have just been blessed with being able to work all over the agency, doing a number of roles, a little bit of everything."
Everest said his "stellar career" and qualifications are why the jail trust selected him unanimously.
"He has the highest remarks from [Department of Corrections director Scott Crow]. He gets along with people. He wants to be able to take the opportunity to improve the conditions for the people who work there, the people who are held there, and ultimately how it interacts with the entire criminal justice system," she said. "We can really use that intake at Oklahoma County to create better solutions for those lives of the people that are in there and making a better pathway for the people who work there. He understands all the different components."
When the opportunity of becoming the jail administrator came up, Williams said he felt things "lined up" for him.
"There seems to be a lot of excitement right now about doing some things different with criminal justice and doing some things different for people in need," he said. "I saw this as a real opportunity to get right on the ground floor of something very exciting that's going on."
Williams said he has not really had a chance to get intimately familiar with how the operations of the jail are set up. But he did say he is aware of many of the problems plaguing the facility.
"I'm eager to get in and … take a look at all the operations and all the things that are going on. I want to see where things are going right and where things are that could use some improvements. The understaffing and the physical plant problems and a lot of that, those are going to be around. I deal with that at the Department of Corrections, and we have dealt with that forever," he said. "Working in jails is not easy work, and typically they're not really high-paying jobs, so it's [necessary] to have leadership come in and make those jobs more fulfilling. If we can get people that are proud of what they're doing and [feeling like] they're accomplishing some good things … for people and making a difference in the community, I think that's what gets people excited and what gets people to stay."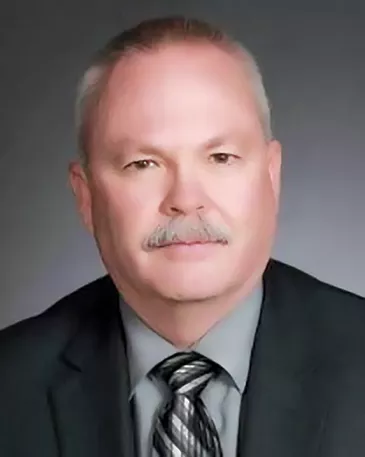 Oklahoma Department of Corrections
Greg Williams
In terms of reform, Williams is interested in ways to prevent people from getting involved in the criminal justice system in the first place.
"I think there's a lot of people that are going to jail and going to prison and getting involved in the criminal justice system for reasons other than straight up, 'I'm a criminal,'" he said. "There's a lot of substance abuse. There's a lot of mental illness. There's a lot of things that maybe we can attack or approach early on in the system to keep those folks from penetrating the criminal justice system quite as deeply as they maybe are right now."
Oklahoma County Sheriff's Office and the jail trust have received a lot of criticism for their collaboration with Immigration and Customs Enforcement (ICE). Currently, two agents typically work out of the county jail on weekdays. Though the sheriff does not honor ICE's requests to hold individuals at the jail for two days beyond their scheduled release for federal agents to pick them up, community activists say they are still contributing to mistrust with the community and sending individuals into the "deportation pipeline."
Williams said the jail should continue collaborating with ICE.
"Again, I haven't really got in there to try to figure out exactly what are all the dynamics and what are the moving parts with that," he said. "I'd like to have an opportunity for getting in there and talking to those agents and talking to the jail staff and trying to find out, really is there a conflict. … The jail staff and ICE and all law enforcement ought to be working hand in hand with common goals."
Williams said there are still some logistics to work through, but he is looking forward to officially becoming the new jail administrator.
"I've got a lot of support from the trust … and I told them I'm going to work real hard to continue to earn that respect. I just want to be a partner with the sheriff that's in place now. I want to be a partner with the trust. I want to be a partner with [ICE]. I want to be a partner with the inmates and the mental health agencies and really just the whole criminal justice system," Williams said.
Sheriff P.D. Taylor originally set Jan. 1 as the deadline for the jail administrator to fully take over the jail's operations, but recently offered an extension until April 15.

"The county was stuck there for a bit not really moving toward transitioning the jail, but as a result of announcing the Jan. 1 date, Oklahoma County Commissioners created a Jail Transition Committee and plans have started coming together," he said in a statement. "April 15 will mark nearly a year since creation of the trust by the [Board of County Commissioners] and that should be plenty of time for the county to work out any issues and complete the transition. ... Let's keep the jail transition momentum going and possibly even expedite the timeline for the trust to assume jail operations."

Everest told Gazette before Taylor's statement that she expected the jail administrator to take over in June. At a special budget board meeting Dec. 6, Everest requested $450,000 be transferred to fund estimated needs through the next month. The trust had already requested $100,000. County commissioners approved the cumulative $550,000 at their Dec. 11 meeting.
"Greg will … be more of our CEO, and then when he takes over the jail operations, which I don't foresee until maybe even the end of the fiscal year in June, then he will be the jail administrator," she said. "We asked for $450,000 to go through the next month."
Sheriff Taylor also requested the budget board immediately approve raises for "all full-time jail personnel to address the current dangerous trend of detention employees leaving the jail,"
according to his statement
.