With Election Day just around the corner, candidates have amped up their campaigning efforts while politics buffs add their predictions to the fray. Below is a breakdown of the candidates for seven critical runoff races that will appear on ballots statewide Aug. 28. Bill Shapard, a nonpartisan polling expert and founder of the state's only nonpartisan and independent pollster, SoonerPoll, gave his predictions on what he believes outcomes will be.
Governor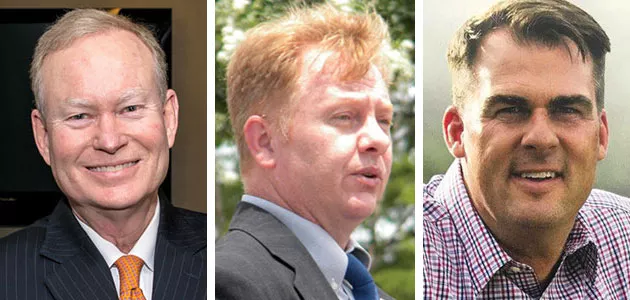 Provided
from left to right Mick Cornett, Chris Powell and Kevin Stitt
Military veterans and libertarians Chris Powell and Rex Lawhorn will run against each other for governor on Tuesday. On the Republican side, former Oklahoma City mayor Mick Cornett will face off against Tulsa businessman Kevin Stitt. Recently, Stitt and Cornett aired campaign advertisements that directly targeted one another, a move that Shapard said could swing voters either way on Tuesday.
"I don't think the misspelling is a big deal for Stitt's voter base or for anyone really," Shapard said of an ad launched by Stitt that misspelled the word 'governor.' "I don't think anyone noticed it."
In the ad, Stitt claimed that Cornett was not a supporter of President Donald Trump or his policies. Cornett fired back by calling "bull Stitt," a play on words that aimed to debunk Stitt's accusations in a clever way.
"I think Mick Cornett's loyal voter base probably loved it," Shapard said. "But he took a risk in doing that with Republicans because suggestive cussing on a TV ad might have hit a nerve."
In late July, SoonerPoll polled 483 Republicans at random to determine which Republican candidate they preferred to win for governor. Results showed that each candidate received exactly 181 votes, or 37.5 percent of the vote, causing Shapard to admit that this race is one he can't predict.
"It could really go either way," Shapard said.
Oklahoma's new governor will take office in January when current governor Mary Fallin will depart after having served the maximum two terms for a total of eight years. In an article published in February by Stillwater News Press, Fallin said she is proud of the work she has done for criminal justice reform, education and the state's economy.
"What I hope to do is leave Oklahoma in a better place fiscally, as far as our state financial situation goes, so the next governor doesn't come in and have to face some of the challenges I faced coming in," she said.
Attorney General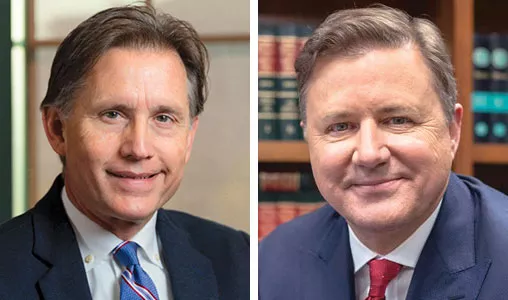 Provided
Mike Hunter and Gentner Drummond
Republicans Mike Hunter and Gentner Drummond will have a final showdown for state attorney general on Tuesday. Incumbent Hunter and Drummond, a lawyer and businessman from the Tulsa area, have both been at the receiving and dealing ends of each other's mudslinging and personal attacks since the early stages of their campaigns, with Drummond accusing Hunter of being too deeply tangled in Washington D.C.'s purse strings and with Hunter claiming that Drummond's past business deals reek of dishonesty. The latest poll, conducted by SoonerPoll in late July, shows Hunter leading the race by nearly 10 percent.
Lieutenant Governor
Voters will determine Tuesday who will become Oklahoma's next lieutenant governor, Republican Oklahoma Corporation Commissioner Dana Murphy or former Oklahoma Republican party chairman Matt Pinnell. The winner will serve as state senate president and will have significant access to the governor.
State School Superintendent
Provided
Joy Hofmeister and Linda Murphy
Republicans Joy Hofmeister and Linda Murphy will face off Aug. 28 with the winner facing Democrat Peggs School Superintendent John Cox on the Nov. 6 general election. Hofmeister and Murphy each have extensive experience in education and politics and both supported the teacher walkout in April. According to the latest poll by SoonerPoll, Hofmeister is ahead of Murphy by 13 points.
Labor Commissioner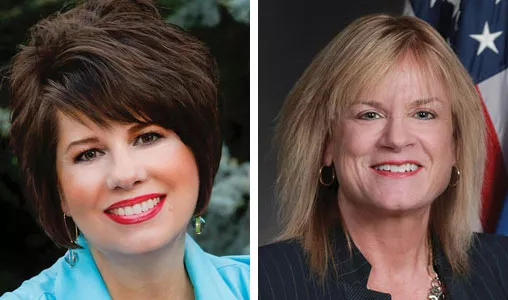 Provided
Cathy Costello and Leslie Osborn
Former labor commissioner Mark Costello's widow, Cathy Costello, leads the Republican race for labor commissioner against Leslie Osborn by 10 points according to SoonerPoll's latest numbers. Costello is a strong advocate for mental health reform while Osborn has extensive political experience, having served as the chairman of the House Appropriations and Budget Committee. She is currently a member of Oklahoma's House of Representatives.
Corporation Commissioner
Incumbent Bob Anthony is the longest-serving utility commissioner in the United States, having held his current role for 30 years. Term limits require that if Anthony is reelected, this will be his final six-year-term. Anthony is running against fellow Republican Brian Bingman, a businessman and former state senator.
Ward 7 City Council
After John Pettis resigned in May, a flock of candidates answered the call to fill his position as councilman for Oklahoma City's City Council Ward 7 representative. Pettis' father, John Albert Pettis Sr., is one of eight who will be on Tuesday's ballet. Shapard said that while SoonerPoll has not conducted any preliminary polling to determine what the outcome of the Ward 7 election might look like, the race for city council representative is an interesting one to watch.
John Albert Pettis Sr.
Pettis 61, is the former mayor of El Reno and is running for the seat vacated by his son, John Pettis Jr., who resigned in May after being charged with three counts of embezzlement and one count of tax fraud.
Ed Alexander
Alexander, 71, is a retired former General Motors manager who hopes to unite his neighbors in Ward 7. Should he be elected, Alexander hopes to make city council meetings more welcoming and transparent and reduce utility bills for Ward 7 senior citizens.
"I would like to try to do something to take some of that burden off of them," Alexander said in a previous interview with Oklahoma Gazette.
Kirk Pankratz
Pankratz, 59, is the founder and former senior pastor at Church of the Harvest located in Ward 7.
Leslie Johnson III
Johnson is a 41-year-old art teacher who is running on a platform of uniting Ward 7's diverse community through creating jobs and community outreach programs.
Nikki Nice
Nice, 37, has lived in Ward 7 all her life according to a previous interview with Gazette. The radio co-host hopes to strengthen Ward 7's neighborhoods and school systems.
Chris Harrison
Harrison, 43, listed his top three priorities for Ward 7 in a previous interview as "making health care more accessible, bolstering opportunities for employment and finding ways to work with Oklahoma City Public Schools."
Lisa Butler
Thirty-six-year-old Lisa Butler served on the board of adjustments for the City of Del City before moving to Ward 7. In a previous interview with Oklahoma Gazette, she said she hopes to strengthen Ward 7's economy.
Margaret Walsh
Walsh is a 65-year-old OG&E employee. In a previous interview with Gazette, she said she attempted to withdraw her name from the ballot but missed the deadline.