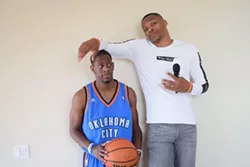 provided
Russell Westbrook and Demetrius Deason grew up together and played high school basketball on the same team.
Long before Russell Westbrook became the Most Valuable Player in the National Basketball Association (NBA) and the crown prince of Oklahoma City, Demetrius Deason was alongside him, dribbling a basketball and cracking a joke.
Deason and Westbrook grew up together in Hawthorne, California, in Los Angeles County, a friendship that predates elementary school and continued as they played basketball together at Leuzinger High School.
As Westbrook went on to the University of California, Los Angeles (UCLA) and eventually the NBA Draft Lottery, Deason continued his playing career at Pacific Union College, but that career ended due to a back injury prior to his senior season.
Back at home, Deason was encouraged by friends to pursue a career in stand-up comedy.
"Stand-up isn't like basketball where if your jump shot isn't working or your handles don't feel good, you can just lock the doors to the gym and no one will see you," Deason said in an interview with Oklahoma Gazette. "With stand-up, you have to work on it in front of people."
Breaking into stand-up is very difficult because the politics of getting stage time makes things complicated, he said.
"Any comedian who said they haven't bombed is lying. You're not naturally good at stand-up," Deason said. "You can be funny and people will laugh at you, but you will still bomb because you will have different nights, different crowds."
Comedy for a cause
He pursued a new avenue to work on his craft by founding the company Layups2Standups, which books stand-up in nontraditional settings to raise money for community and charity events.
Deason performs at everything from school libraries to stages with Layups2Standsups and does nearly two events a month across the country. Each event raises money for a local cause.
Deason brings Layups2Standups to Oklahoma City for the second Why Not?? Comedy Show Oct. 13 at the Tower Theatre. The event will raise money for YWCA Oklahoma, an organization that provides services, including a safe place for women who are victims of sexual assault or domestic violence, job training, health and fitness, child care and counseling.
"My mom was a single parent and went through domestic abuse, so I wanted to give back to something that I had a connection with," Deason said. "We toured the facility, and they're doing a great job."
OKC on the rise
Playing off Westbrook's "Why not?" motto, the duo put together a show on short notice at The Criterion last year. More than 400 people attended the event, which was organized in a month, but Deason said this year's event will be bigger.
"[The Tower Theatre is] a gorgeous theater that has been there for a long time, and they just re-did it and it looks awesome. The Criterion was really nice, but it was so big that it was full but not intimate enough. Tower is perfect for comedy," he said.
Deason will serve as emcee and will be joined by comedians Tacarra Williams, Ron Taylor and Ray Grady. Local hip-hop artist Jabee will also provide a special performance.
Taylor is a young, up-and-coming comedian originally from Detroit who has found success with sketches and video content, Deason said.
Williams' credits include opening for DeRay Davis and Bill Bellamy. Grady is a stand-up veteran and one of Deason's mentors.
Grady can be seen on Comedy Central's Kevin Hart Presents and has opened for everyone from Tony Rock to Mike Epps.
"From last year to this year, I've grown so much from hosting to performing and doing a lot more material than I did last year," Deason said.
The rest of the Oklahoma City Thunder, including recently acquired stars Paul George and Carmelo Anthony, are expected to be in attendance for the event.
Deason spends a lot of time in Oklahoma City with Westbrook during the NBA season. When he's not helping with basketball camps and other charity organizations, he said he likes to hang out in Bricktown.
"I love OKC," Deason said. "I feel like it is my second home. The people are really friendly and the city is on the rise with a lot of things going on. There is a lot to do. It's a city on the up-and-up."
As the Thunder gets ready to tip a much-anticipated season after the addition of George and Anthony, Deason said he's excited to continue working in Oklahoma City after Westbrook signed a five-year, $205 million contract last week to become the NBA's highest paid player.
With the influx of talent on the Thunder roster, Westbrook won't be asked to repeat the statistics from his record-breaking MVP season in which he became the first player since Oscar Robertson in 1962 to average a triple-double.
"It was exciting, to say the least," Deason said. "Even with the situation with Kevin [Durant] leaving made it so he'd have to do more, I know how Russ is. So we felt like he'd have a big season, but we didn't know it was going to be that kind of season. It was crazy."
Visit layups2standup.com or call 405-708-6937.
---
Why Not?? Comedy Show
7 p.m. Oct. 13
Tower Theatre | 425 NW 23 St.
layups2standups.com | 405-708-6937
$40
---
print headline: WhyNot?, Russell Westbrook and his lifelong friend bring a fundraising comedy show to Tower Theatre Oct. 13.