Legendary rock guitarist and composer Steve Vai relaunched his 54-city tour this fall — with an Oct. 7 stop in OKC — after it was waylaid by the omicron variant of COVID-19 earlier this year.
He spoke with the Oklahoma Gazette over Zoom to discuss the upcoming tour and what it's like playing for live audiences again. His exclusive interview is below:
Oklahoma Gazette: Tell me about The Inviolate Tour. Are you excited to finally get to perform live again?
Steve Vai: During lockdown, I discovered that I really love this touring life. I've been doing this for over 40 years. I've played in places that no other American artist has, like Siberia and China. I started doing this when I was 21 years old. I was just a young, stupid American. But there's so much culture to learn about when you travel. When I tour, I take a bicycle with me, or I go run, and I love the exposure to the various cultures. I love to learn about the cuisines, history, and the people of each new place. I like experiencing the diversity of culture. There are many elements of touring that I love.
OKG: You've toured the world!
Vai: I have! I've traveled more than any politician.
OKG: Have you ever played in Oklahoma City before?
Vai: Many times.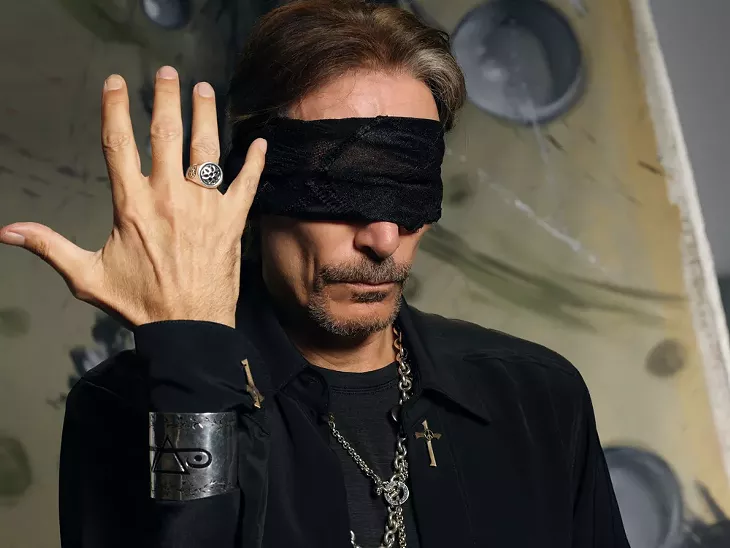 Photo provided
Steve Vai
OKG: What do you love about the local audiences here?
Vai: In Oklahoma City, I love the simplicity. One thing I've learned while touring, is every new place you go, there's a collective consciousness. It's in the air, and it varies from state to state. In Oklahoma, I always get a peaceful vibe. People seem to really enjoy living life there. Southern audiences are always very engaged. Other places aren't as animated or "rowdy," if you will. There's a touring culture, too. It's been a great experience to travel with my band. They've been with me for twenty years, and there are no secrets. It's a brotherhood. I've got Dave Weiner (guitar/keys), Philip Bynoe (bass), and Jeremy Colson (drums). I'm really lucky to have had the same band for all this time.
OKG: How did you prepare to launch this tour?
Vai: I thrived during the pandemic. It's a state of mind, and I've been making the best of it. I experimented with certain guitar techniques, and just focused on playing music that I felt my audience could embrace. This tour was a big project. During lockdown, I just kept thinking, "Man I wanna get back on tour." I canned other projects and started working toward going on this tour.
OKG: You've been in the music industry for so long. How have you watched it change and evolve?
Vai: Absolutely. The landscape of artistry has changed. Changing technology and how we make music has affected everyone. How we utilize technology is what determines our quality of life. It's all about perspective. Technological changes in the music industry have led to a lot of blaming, criticizing, and victimizing. This mindset creates great suffering. I choose to look at evolving technology and say, "How can this serve me?" It's really all about perspective.
OKG: We have social media now and everything is visible. Has that changed how you work as an artist?
Vai: There is this mindset that social media is destroying everything, and that social media is our real lives, and it's not. People believe what they want to believe, and it's true that our attention is being robbed. But social media isn't the real world. It's a worldwide platform that doesn't reflect reality. When you see it as a tool, then you have a mental shift. There are those who can adapt and say, "What's missing?" When you can do that, then you're an innovator.
OKG: Live performance kind of demands that we step away from distractions. It gives us a chance to focus and be present.
Vai: Yes, it does. There's great value in living in the present moment. It's simpler and more powerful. That's why I love live performance. You've got to give attention to what you're playing and focus on the current moment.
OKG: What are you hoping your audience will experience during this tour?
Vai: I'm going to go out and project myself and create an atmosphere of sharing. I see myself as more of a service provider than anything else. Throughout my career, leading up to tours, there's usually a flood of pressure and excitement, as well as figuring out the logistics. When that's all taken care of, I can just get on stage and create this experience. When I'm performing, I can focus and get into the zone. I can feel the music flowing through my body. In that moment, everything flows beautifully. That's the biggest attraction to playing live, to me. It creates an atmosphere of sharing, and we're all in it together. It's totally glorious.
Steve Vai's Inviolate Tour stops in OKC on Oct. 7 at Tower Theatre. Visit towertheatreokc.com