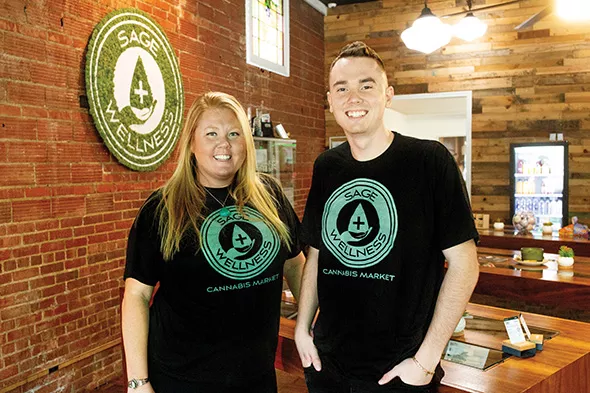 Alexa Ace
Miranda Mitto and Talon Hull, co-owners of Sage Wellness
Sage Wellness hosted the Vape Safe event at its dispensary, 4200 N. Western Ave., Suite A, on Oct. 25 in order to bring patients face-to-face with some of the leading producers of cannabis vape cartridges.
As of this week, there have been nearly 2,000 cases of what the Centers for Disease Control and Prevention are calling "e-cigarette, or vaping, product use associated lung injury," or "EVALI," that resulted in 37 deaths. In Oklahoma, only four cases — none fatal — have been reported, according to the state health department.
While the culprit behind the illness has not been deduced, the available evidence indicates the outbreak is primarily the result of using black-market vape cartridges containing THC.
While there is nothing to suggest that legal cartridges from the Oklahoma medical cannabis market are to blame for any cases of lung injury, multiple manufacturers have reported decreased sales during the health concern. To mitigate that, Sage Wellness hosted a number of Oklahoma producers to meet with patients and answer questions.
"When all the hubbub started, we got a lot of calls, we got a lot of texts or DMs and emails and people from Weedmaps, just shit tons of, 'How do we know we're safe?'" Sage Wellness co-owner Miranda Mitto said.
"The reason why we decided to hold this event is to keep our community safe and so that they can trust in our brands because a lot of our patients have been given black-market cartridges or any products, rather. … So I thought, well, let's meet the maker and ask and put them to the test," she said. "The whole vision here is for Sage to be able to deliver the best products that the industry has to offer, so I thought this went hand in hand with that, and I think it also helps support our vendors that have worked so hard on making the best products, so I thought this would be a good way to support them as well because I think it has hindered everybody. Really, in a nutshell, it's just to protect our community and give everybody a peace of mind."
Oklahoma Gazette asked some of the companies on hand to weigh in on vaping illness and what impact it has had on the industry.
Derek Kern, co-owner of Mammoth Processing: "I don't know realistically how much it has affected us. I haven't really got to look at any kind of real numbers to see if it has. We definitely have had many more people reaching out, just asking and wanting some reassurance. Definitely seen an uptick in that and just people wanting to know about our process, wanting to know, 'Do I need to worry?' It's the most common question. I think after even going around to all the tables today and talking to a lot of these people, I think even I feel more comfortable about a lot of these companies, just that everybody seems to kind of know where their processes are coming from, where the terps are coming from. … A lot of us are really trying to get ahead of the hardware problem because I think, in the end, we're going to find that some of this was due to crummy Chinese hardware that had heavy metal leakages and just bad solders on the hardware and all that kind of stuff. I think we're gonna see that this was much bigger than one isolated thing, and so the hope is that all of us in the industry are looking at this now and really trying to make sure that we get ahead of any and all of those problems."
AJ, business development for Mary Mechanix: "There's always somebody like trying to take a shortcut, and we're talking about criminals that are making black-market vape carts to try to capitalize on people doing it the wrong way. This costs money and investment and time and effort and people's dreams that are put into this so we can provide a good medicinal product, and the black-market stuff has just put a stain on what we're doing legally and in a very healthy and safe way. You have, what, 400,000 opioid deaths a year that nobody says anything about, and all of a sudden, a couple people take some bad black-market stuff and get sick and the president's talking about it? Give me a break."

Lance Kimball, managing partner of Simple Cure: "Everything is 100 percent cannabis and strain-specific in ours. … This is a dirty distillate that they're using to formulate with, and they're then compounding it with dangerous constituents, and they are selling these illicit cannabis cartridges on the streets, and in most instances, it was people that didn't have the option to purchase legal cannabis, so their only option was to get illegal cannabis. Vitamin E acetate is one of the cutting agents that has been highlighted, and it's an oil that's not water-soluble, so when you heat it and vaporize it into your lungs, it recongeals as a fat, and that's causing problems; the pesticides in the THC that they're using is a problem. The confusing part for the public is then they go and get this packaging that's very accessible, that looks pretty professional, that's widely available online, and some of this has got a little bit of traction as a brand of sorts on the street."
Alexa Ace
Legal, licensed vaporizer cartridge brands found in Oklahoma's medical cannabis market. No brands pictured have been connected to vaping disease.
Tanner Fielding, co-owner of Sunday Extracts: "We are a new company. We just started selling our products since Labor Day, so we've not seen any effect in our sales. What we're going to do moving forward is just be as transparent as possible, just keep learning of what's happening with this crisis. We do not use any additives. We do BHO extraction. We do a distillate cartridge, and we also do a cured resin cartridge. Nothing is taken out or put back in. It's just the cannabis oil resin; that is it. Our distillate cartridge is just the terpenes, the distillate and the cartridge."
Aaron Sawheb, engineering director of Moon Mix: "We source quality hardware, and we create a distillate that is provably clean, as in free from pesticides, heavy metals, mycotoxins, bacteria. … The CDC has essentially hopped from one culprit to another culprit to another culprit to another. At first, it was vitamin E, then it was potentially lipid, and then now they're talking about heavy metals. All of these things can be mitigated by using a high-quality input and high-quality hardware, and that's something we did before the vaping crisis."