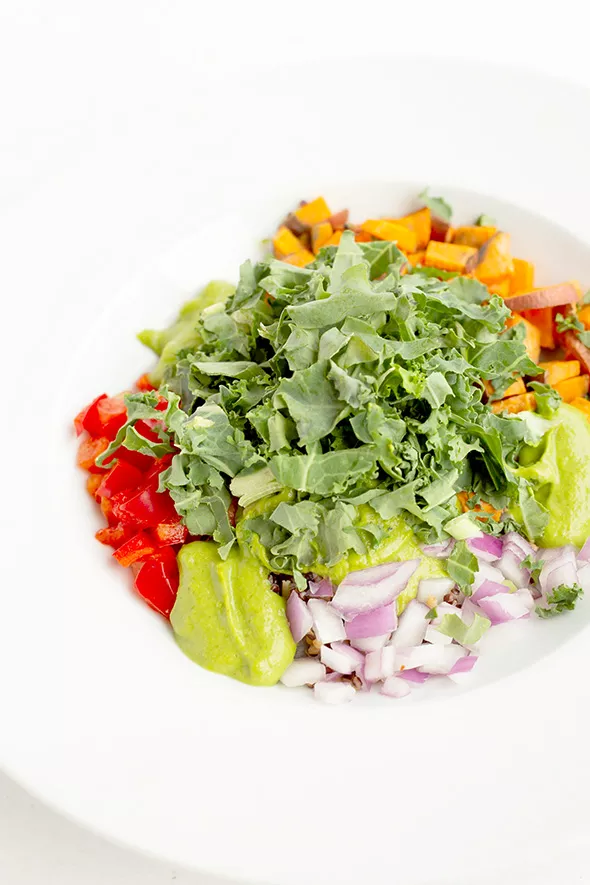 provided
The Sweet Kale bowl checks in at just 150 calories, thanks to the use of an oil-free avocado dressing.
Coolgreens is the latest Oklahoma City-based restaurant concept to expand its wings regionally, joining the likes of Orange Leaf frozen yogurt and some of Hal Smith Restaurant Group's most popular brands by pushing not only into Texas but also Nebraska and as far away as the Boston area.
Last year, Coolgreens opened in Tulsa, and it is in the process of opening its second store in South Lake, Texas; a third in Richardson/Plano; and will expand to Omaha, Nebraska, and Waltham, Massachusetts, by early 2020 as it talks with potential franchisees in Dallas and Houston.
Coolgreens
6475 Avondale Drive
coolgreens.com
405-841-2665
What works:
Salad customization and grain bowls provide protein without being heavy on calories.
What needs work:
Flatbreads aren't as appealing in big portions.
Tip:
The build-your-own salad option now includes unlimited toppings.
"There's excitement, nervousness and so much happening," said Todd Madlener, vice president of operations for Coolgreens, while seated in its flagship Nichols Hills location at 6475 Avondale Drive, which is one of six metro area locations. "How many companies can say they're going to double or triple in size over a year?"
Adding locations isn't the only thing that has changed at Coolgreens this year. The company pared down its potential salad toppings from 55 to 35, gave customers an unlimited amount of salad additions and added a kiosk ordering system for its employees and a mobile ordering app, all with an eye to decrease customer wait time.
"We know that we took away some people's favorite topping, but there was a science to it," Madlener said. "We took away the 15 lowest performing toppings and kept the top 35. We'll reevaluate at the end of the year. … [Going to unlimited toppings] hasn't been a [financial] impact to us, and it's been a positive because guests can get down the line quicker."
Another way Coolgreens is looking to reduce wait times — especially during its busy lunch hours — is the addition of vending machines that will dispense premade salads and wraps. The company did a beta program during this year's Women's College World Series in Oklahoma City with two machines that Madlener said were a "rousing success."
The company will add a vending machine to its downtown location in the coming months, and it's in talks to add them at standalone locations downtown as well as on campus at University of Central Oklahoma. Salads are served in jars with a ramekin of dressing on top so that customers unscrew the lid, add a desired amount of dressing, reapply the lid, shake and eat. The vending machines are designed to shut down if the internal temperature rises above 40 degrees Fahrenheit, and individual slots are designed not to sell if a product is expired.
I know that I certainly would have liked the option to get a salad when studying late in college rather than relying on pizza delivery, and I wish more offices installed vending machines with healthy options rather than the standard unhealthy and non-satiating candy bars and chips. Madlener said the vending machine should be operational at the 204 N. Robinson Ave. location by the end of October.
In early 2019, Coolgreens unveiled new menu items devised in part by consulting chef Vuong Nguyen, who owns Ur/Bun and Café de l'Asie in The Collective food hall. The biggest menu overhaul impact occurred in the quinoa bowl section, where three new bowls (Sweet Kale, The G.O.A.T. and Sesame Crisp) were added to the already-successful California bowl.
On a recent visit, I tried the Sweet Kale that includes a red quinoa and brown rice blend, roasted sweet potatoes, kale, red onion and red pepper and checks in at only 180 calories, thanks in part to the use of an oil-free avocado and cilantro dressing. I enjoyed the flavor of the dressing, but the lack of oil made it difficult to evenly distribute throughout the bowl. It's kind of like smearing guacamole throughout the bowl, but it's a small inconvenience for so few calories.
During a visit with Madlener, he made a preview version of a seasonal bowl that includes diced chicken breast, kale, carrots, almonds and cranberry mixed with farro, which would be a new addition for the menu. Coolgreens is still testing things out, but we're currently overexposed to quinoa. Although farro doesn't have as much protein per serving as quinoa, it has a healthy dosage for a grain and comes with an additional nutty flavor and heafty bite. I hope farro is added to the menu full-time.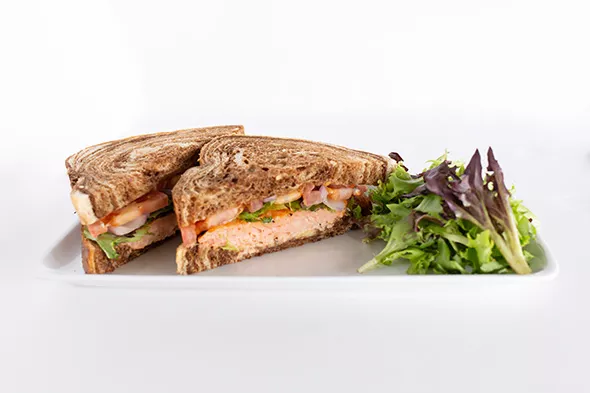 provided
The salmon club served on marble rye bread
Madlener said sandwiches are selling more since the menu change, and in markets in Texas, sandwiches are actually outselling salads, which isn't the case in Oklahoma.
"We're in a nice middle ground because we're not a Salata or Sweetgreen that are only salads and bowls," he said.
He admitted that the salmon club was potentially on the chopping block for when the new menu debuted, but they kept the item on the menu, and it has outperformed expectations. I ordered the club and thought it was a nice option for a fast-casual restaurant. It pales in size comparison to one of Coolgreens' huge wraps, and that's by design. At first, I thought I might have ordered a half sandwich with the Sweet Kale bowl, but Madlener said that the marble rye bread is cut to fit the six-ounce portion of salmon.
"If you used a full piece of the marble rye, the first few bites, you aren't getting any salmon," he said. "I'm buying that sandwich for the salmon, and that's what we want to showcase. The rye is trimmed for size, but it also reduces calories and fat."
The expedited ordering process is a win for customers at Coolgreens, and I'm a fan of menu additions except the flatbread options. I don't go to Coolgreens to get a version of pizza, especially when it's a higher calorie content than its other items. I think the flatbreads would work better as an appetizer that could serve as a vehicle for some fresh greens after it's baked with a little bit of cheese.
It's exciting to see the expansion Coolgreens is undergoing, and it's good to know that a concept from Oklahoma City is focused on providing healthy options from the heart of cattle and fried food country.
Visit coolgreens.com.