Jacob Threadgill
Carne asada plate at El Majahual
El Majahual
3301 SW 29th St.

405-602-2661

What works: Pupusasas and horchata are some of the best in the city..
What needs work: The carne asada is tasty but tough.
Tip:Weekend soup sells out by 12:30 p.m.

SW 29th Street has Oklahoma City's highest concentration of taquerias, both of the brick-and-mortar and taco truck variety, but on SW 29th Street west of Interstate 44, El Majahual is becoming an institution for the El Salvadorian staple pupusas.

About three years ago, Raul Tevez and his wife Olga purchased the building at 3301 SW 29th St. a few years after moving to Oklahoma City from Southern California.

"I saw a lot of Mexican restaurants, but there wasn't an El Salvadorian restaurant here," Tevez said. "I told my wife, 'You know what? Let's buy this building.' We didn't know what to do with it [at first], so we decided to open a Salvadorian restaurant. We've got a lot of people coming. On the weekends, it's usually full."

El Majahual opens 9 a.m. Tuesday-Sunday and serves breakfast all day. A huge pile of hash browns remain on the flattop, awaiting the next order throughout the day, as they can be paired with fried plantains, eggs, beans and thick tortillas.

The unquestioned star of El Majahual's menu and of El Salvadoran food culture is the pupusas, and while the dish is similar to other dishes in Central America like arepas and gorditas, it is intrinsically tied to the ancestors of the region.

Archeologists have traced pupusas back nearly 2000 years to the Pibil culture of El Salvador, where pupusas cooking implements have been preserved in volcanic ash in Joya de Cerén.

Pupusas have spread to neighboring countries like Venezuela and Guatemala, and you can find their interpretation at Café Kacao, 3325 N. Classen Blvd., and the other Salvadoran restaurant in the city, Pupuseria El Buen Gusto, 6062 S. Western Ave.

Salvadoran culture did not begin to make a foothold in the United States until the 1980s as immigrants and refugees fled a violent Civil War that owes its most violent moments to the actions of U.S.-trained military groups. At its height, the U.S. poured a million dollars a day into El Salvador's right-wing military dictatorship and remains a tragic consequence of the Cold War's anti-communist proxy wars thousands of miles away from the Soviet Union.

Most famously in the village of El Mozote in 1981, Salvadoran military forces descended on the town and began to wantonly murder women and children. The civilian casualty count is estimated to be between 800 and 1,200 people, a number that sadly can't accurately be reported after years of cover-ups by our own government.

Just like pressure creates diamonds, the impact of cultures that harness pain into something beautiful can be found throughout human history. Much in the same way U.S. soul food does not exist without the horrors of the slave trade to combine new regional ingredients with African methods and spices, the collective trauma inflicted on the people of El Salvador from Spanish colonization to U.S. intervention has helped create something truly delicious. Unfortunately, something as beautiful as a pupusa does nothing to make up for all of those people lost in the El Mozote massacre and the survivors who carry their memory today. The UN reports that more than 75,000 people died during the Salvadoran Civil War between 1979 and 1992.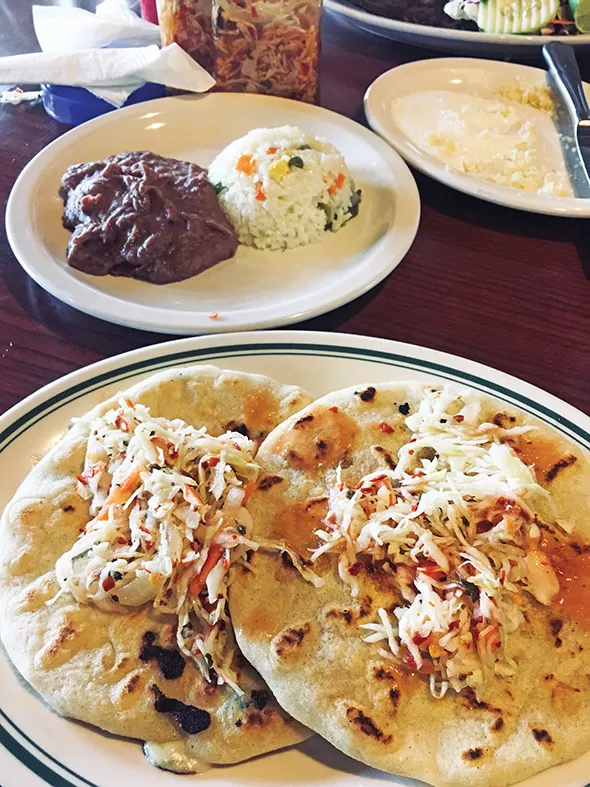 Jacob Threadgill
Pupusas topped with curtido, a marinated cabbage slaw in vinegar and chile
The pupusa is truly a dish worth experiencing. While arepas and gorditas typically use regular corn meal for masa, pupusas traditionally use nixtamal, which soaks the corn kernels and causes them to puff up before being grinded into meal. While they are all-corn-meal flatbreads stuffed or topped with beans, meat and cheese, there is an unmatched consistency that I crave from a pupusa that you cannot get from ingredients stuffed in an arepa or gordita.
The ability of experienced cooks like those at El Majahual to perfectly stuff a pupusa so the fillings don't spill onto the griddle make it hard to replicate in a home kitchen without months or years of practice.
El Majahual offers pupusas for $2.25 each, and they can be filled with beans, cheese and chicharron — not to be confused with the Mexican variety, crispy pork skin — which is braised pork cooked in tomatoes, onions and spices. You can get them filled with any combination of the three items and try squash and cheese or loroco flowers and cheese. Pupusas are served with curtido, a lightly fermented cabbage slaw in red wine vinegar and chile, and a thin tomato sauce.
I had a hard time choosing a favorite between the revuelta with cheese, beans and chicharron and the variety with squash and cheese. Pupusas are filled with a Salvadoran cheese called quesillo that is very similar to mozzarella, which I enjoyed as a larger showcase in the squash and cheese version.
The menu at El Majahual isn't very large. Choose from breakfast selections, plates of rice, beans and salad with the meat of your choice and pupusas. I visited on a Tuesday, and the kitchen didn't have chicken tamales or empanadas available, but Tevez said they're served Wednesday-Sunday.
The black beans are a standout and should be ordered with every plate. I also tried the carne asada plate ($10), and I liked the flavor on the steak, but it was thin and cooked to a near-leather texture.
El Majahual makes all of its food from scratch, including drinks like horchata that has a hint of cocoa and marañon, a sweet and sour drink made with the imported fruit of the cashew tree (the same one that provides the ubiquitous nut).
Chicken and beef stews are available on the weekends, but you have to act quickly.
"We finish them around 11 [in the morning], and the soup is usually gone by 12:30 p.m.; it goes quick," Tevez said.
El Majahual serves the city's best pupusas and does so with friendly service that is amiable to non-Spanish speakers. It's worth a trip the next time you head toward SW 29th Street in the mood for something other than tacos.