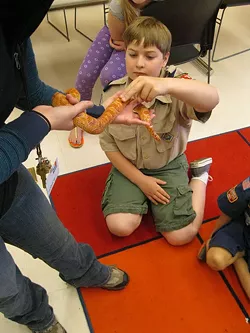 Girl Scouts and Cub Scouts in Oklahoma don't have to go camping in order to earn their next badge, belt loop or pin. Instead, they can spend a Saturday at Sam Noble Museum examining ancient artifacts, making instruments or learning about bugs in order to further their Scouting progress.
Sam Noble Museum, 2401 Chautauqua Ave., in Norman has hosted Scout workshops and programs in some capacity since 2005, according to public programs coordinator Carrie McKenzie.
At $12 per scout, seasonal workshops every spring, summer and autumn provide Scouts across Oklahoma with an affordable, unique opportunity for development and general admission to the museum. For individual or troop registration, visit samnoblemuseum.ou.edu/education or call 405-325-1008.
One adult chaperone must be available for every five Scouts and receives complimentary admission to the workshop only.
Saturday's workshops include Tiger Cub Scouts' Tiger Theater, which focuses on performances related to nature 10 a.m.-noon. Bear Cub Scouts can participate in an instrument-focused World of Sound workshop 1-4 p.m.
At two workshops Feb. 25, Brownie Girl Scouts can learn all about insects during the Bugs workshop 10 a.m.-noon, and Junior Girl Scouts can focus on behind-the-scenes aspects of film and video games during the 1-4 p.m. Entertainment Technology workshop. Scouts should register by Feb. 15 to ensure their spot.
April 15, Wolf Cub Scouts will be Digging in the Past to learn about prehistoric fossils 10 a.m.-noon. Webelos Scouts can learn about Oklahoma-specific ecosystems as they journey Into the Woods 1-4 p.m. Later that evening, Senior Girl Scouts can look to the Sky and learn about the atmosphere, stars and flight 6-9 p.m. Registration for April 15's workshops is due by April 5.
McKenzie said the workshops provide Scouts with a "hands-on, inquiry-based environment" aimed at increasing enthusiasm for science.
"This is just a really great opportunity because they are eager to learn about all these different topics, get the badges, get the belt loops and pins," McKenzie said.
The workshops' interactive nature allows Scouts to experience Sam Noble Museum in a more tactile way, build social skills and work together on collaborative activities. McKenzie said Scouts might be working with their friends or Scouts from completely different towns.
"The museum, if you're going out on your own, it's a wonderful place to learn about all these awesome, different Oklahoma natural history-based topics and concepts," McKenzie said, "but it's not as hands-on because, of course, our artifacts are fossils."
The Digging in the Past workshop lets Scouts explore fossils, dinosaurs and stratigraphy in up-close and personal ways, according to McKenzie.
She cited the museum's curators and experts in entomology, paleontology and ichthyology as part of the program's success.
"We are able to bring in a lot of experts into one place," she said. "They love to inspire the next generation."
While the workshops focus on Scouts in first to tenth grades, McKenzie said the most popular ones are for Scouts in elementary school.
"We see kids who have known each other and grown up through these Scout programs," McKenzie said.
Print Headline: Scout's honor, Sam Noble Museum provides opportunities for Oklahoma Scouts to earn badges.