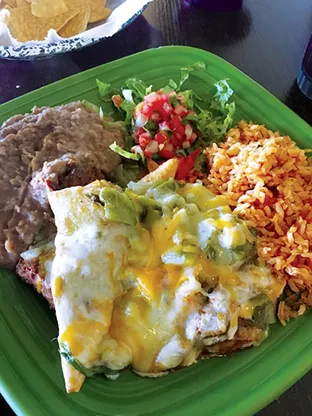 Jacob Threadgill
Sopapillas stuffed with carne adovada and topped with queso and green chile sauce
My very first meal in Santa Fe, New Mexico, has lingered in my memory for nearly two decades. Growing up in Texas (Tex-Mex) and California (Baja), I thought I had eaten all the variations of Mexican food this country had to offer.
New Mexico's unique Southwestern cuisine that is heavily influenced by native cultures and the ever-present green chiles became a revelation for me. I've been chasing the proverbial dragon of that first experience at Tomasita's, trying any restaurant that purports to have a New Mexican influence, and often leaving disappointed.
A short trip over to Yukon to visit the Green Chile Kitchen, 12 E. Main St., is the closest I've come to replicating that first Santa Fe experience, and one of my favorite review meals in a year with Oklahoma Gazette.
Yukon native Trevor Logan fell in love with Santa Fe as an undergrad at Santa Fe University of Art and Design. After Logan moved to San Francisco, he eventually opened the original Green Chile Kitchen in the Bay Area a little more than 15 years ago.
Every year when Logan would return home, he and the rest of the family would talk about opening a Green Chile Kitchen location in Yukon. The dream came to fruition in 2012, and Logan's sister Tara Peters owns and manages the location.
Jacob Threadgill
The Green Chile Kitchen opened on Main Street in Yukon in 2012.
"On any given day, you can see my entire family [at the restaurant]," Peters said. "By brother Trent keeps up the building's maintenance. My father is retired and likes to walk around, filling people's teas and talking to people. My mom still has a job, but she stops in all the time. My sister-in-law is a manager, and both of my kids have jobs in the summer time. We're a little home away from home."
The family love comes through in the recipes, which were developed by Logan, but the menu takes a few different approaches than the Green Chile Kitchen in San Francisco. By customer demand, they've added queso and fajitas to the menu.
"You can't survive [in Oklahoma] without your queso," Peters said. "When we're introducing something like fajitas that aren't truly a New Mexican tradition, we worked with the marinade to make sure it has plenty of [Santa Fe influence]."
Green Chile Kitchen replaces the traditional green bell pepper in the fajita mix with red and yellow sweet peppers and Anaheim chile peppers. The chicken for the dish is marinated in a mixture including Anaheim and Hatch chiles.
"I'm very particular about ingredients," Peters said, noting that the restaurant was ahead of the curve in Oklahoma by sourcing local ingredients and keeping a commitment to hormone-free proteins, grass-fed beef and free-range chicken.
Green goodness
Green Chile Kitchen's most popular items are its signature green chile stew ($6 cup, $12 bowl) and flat enchiladas ($16), both variations of New Mexican dishes. The flat enchiladas are blue corn tortillas stacked rather than rolled, filled with a choice of chicken, beef, pork or veggie and topped with red or green chile sauce.
Other overtly New Mexican dishes include blue corn crusted chile rellenos ($16), green chile burger ($15), New Mexican Frito pie, burritos smothered in chile sauce and fresh tamales.
My heart skipped a beat when I saw that they offered savory stuffed sopapillas ($18). The New Mexican variation on fried dough differentiates itself from other Latin American adaptations by being more pillowy and fluffy and are a common side item for New Mexican dishes that are heavy on sauces in both sweet and savory capacities.
My heart skipped yet another beat when I saw the option to add carne adovada, slow-roasted pork cooked in a mixture of red chiles and other spices. Carne adovada is a one of my favorite dishes to make at home. I use a recipe that I reverse engineered from watching an episode of Diners, Drive-ins and Dives from an El Salvadorian chef in Los Angeles, but it is time consuming. It's a sauce that requires blanching tomatoes, cooking onions and peppers, rehydrating dried chiles and carefully pureeing everything in the right order.
I jump at the opportunity to order the dish when I see it on menus but have been disappointed—most notably with Café Kacao's version that was not slow-cooked—until I tried the Green Chile Kitchen version. The depth of flavor in the adovada shows the commitment to preparing recipes the correct way. It's a hallmark of Green Chile Kitchen, which layers tons of savory flavors in all of its dishes, whether the tableside salsa or the cup of red chile chicken posole ($6) that began my meal.

The accompanying refried pinto beans had a depth of smoky flavor and were cooked with plenty of residual meat fat (sorry, vegetarians). The restaurant does offer a healthy choice of salads and quinoa bowls.
Jacob Threadgill
The blueberry and peach pie is one of a variety of fresh pies offered at Green Chile Kitchen.
Just when I thought I couldn't be happier with my meal, I noticed that it offered fresh homemade pies. Its signatures are green apple chile and Mexican chocolate pecan, but it also offers lemon buttermilk, chocolate peanut butter, coconut cream and peach with blueberries.
I ordered the peach and blueberry because I was contemplating making my own version and was pleased with the filling and streusel topping, but the underlying crust was soggy after sitting in my to-go container for a few hours.
If you are craving New Mexican food, it doesn't require a trip to Santa Fe. Just drive a few minutes out to Yukon.