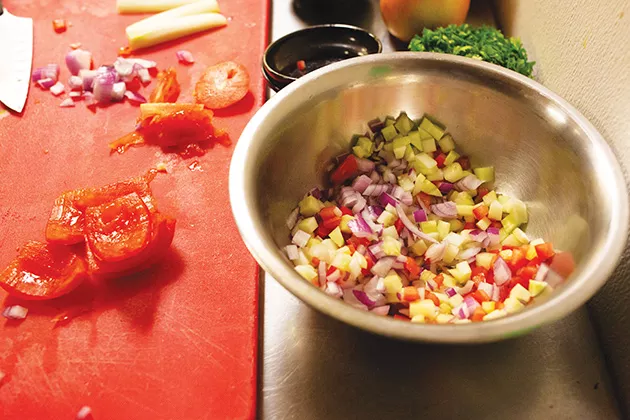 Alexa Ace
Ingredients of the ceviche are mixed together with cannabis-infused cilantro olive oil to create the medicated taco.
Oklahoma summers are known for being hot and humid, but a cool meal is a good way to beat the heat.
Oklahoma Gazette has teamed up with Guyutes owner Jarrod Friedel and chef Matt Pryor to bring readers cannabis-infused recipes that medicate as well as delight. This month, they try their hand at the national dish of Peru: ceviche.
Ceviche is a raw seafood dish cured in citrus juices. Friedel and Pryor have steeped cilantro in cannabis-infused olive oil to take the meal in a medicated direction.
The oil is blended into the rest of the dish with a sweet, tart slaw that goes atop the mixture and is served in a tortilla.
Pryor recommends fresh shrimp for the recipe.
"I like to use fresh," he said. "You can use frozen also, especially if you don't really want to peel the shrimp and devein, but I'm just used to it. So that's what I like using, fresh. As fresh as possible, just because I think it makes the ceviche taste better."
The slaw is used to balance out the citrus of the ceviche.
"I wanted to go with something super sweet, super different. Because this is going to have such a citrusy taste, I wanted something to kind of block that a little bit, take it away," Pryor said. "I was either going to do that or I was going to go with something super hot, but not everybody is very big on spicy."
After making the oil, Pryor chopped up about a quarter cup of cilantro and left it in a sachet inside the oil in the fridge overnight before removing the bundle and pouring the oil into the dish.
"You don't have to mince it or anything. I just like a rough chop so it breaks its oils down a little bit faster," he said.
Using True Glue from Sage Cannabis Co. / Sage Wellness that tested at 28.3 percent, the oil should contain about 70.75 mg of THC per tablespoon, which works out to about 11.79 mg per taco.
Ceviche taco
1 pound cooked shrimp, peeled and deveined
1/4 cup fresh lemon juice from about two lemons
1/4 cup fresh lime juice from about 3 limes
1/2 cup fresh squeezed orange juice
4 whole plum tomatoes, seeds removed and diced
2 whole jalapeño peppers, seeds and vein removed, diced
1/2 cup chopped fresh cilantro
1/4 cup finely chopped red onion
1 avocado, pitted and diced
kosher salt and fresh ground pepper
3 teaspoons cilantro
cannabis-infused oil

Chop the shrimp into 1/2-inch pieces and transfer it to a bowl. Set it aside.
In a small bowl, whisk together the lemon, lime and orange juice to combine. Pour 1/2 cup of the citrus juice over the shrimp and toss it to combine. Allow the shrimp to marinate in the juice for 15 minutes.
Add the tomato, jalapeño, cilantro and red onion to the shrimp. Toss the ingredients to combine them and allow the mixture to marinate for an additional 10 minutes. Stir in the avocado, oil and remaining juices.
Season the ceviche with salt and pepper to taste.
Papaya slaw
1/4 cup mayonnaise
1/4 cup orange juice
2 teaspoons distilled white vinegar
2 teaspoons agave nectar
1/2 teaspoon salt
1/2 teaspoon pepper
1 ripe papaya (about 1 pound), peeled and shredded
2 apples, peeled and julienned
1 head red cabbage
Combine the mayonnaise, orange juice, agave nectar and salt and pepper and whisk the ingredients.
Julienne the papaya, apples and the red cabbage. Add the dressing and toss.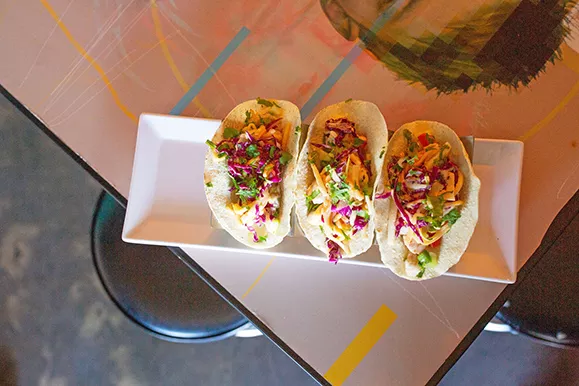 Alexa Ace
Completed cannabis-infused ceviche tacos topped with sweet slaw
Infused cilantro oil
1 cup olive oil
4 grams decarbed cannabis
1/3 cup cilantro

Add water to a saucepan and heat it to 140-160 degrees Fahrenheit using a thermometer.

Add 1 cup of oil to a mason jar.

Place the top of a mason jar lid at bottom of saucepan for a double boil setup
Place 4 grams of decarbed cannabis into a cheesecloth sachet and tie it off with butcher string.
Place the sachet into the oil and place the jar in the saucepan.
After 30 minutes, add a sachet of cilantro to the oil.
Let the entire batch steep for 1 1/2-2 hours, making sure the heat does not exceed 200 degrees Fahrenheit.
Carefully remove both sachets from the oil. Do not squeeze them. Discard the sachets.
Store the oil in the refrigerator. The shelf life is lessened due to the cilantro.
Review
Ceviche is one of my favorite dishes. My parents like to tell the story of the time my grandmother thought for sure I would get worms because 2-year-old me was joyously shoveling "raw" fish into my mouth. The acid in citrus juice doesn't quite cook fish, but it does change the protein structure. I'm used to having ceviche as raw fish fillets, but cooked shrimp is great too and is welcome for anyone who might be squeamish for the raw variety.
The sweetness of the apple and papaya balanced well with the acidity of the citrus juice in the ceviche. After having a few of the previous cannabis-infused dishes from Guyutes that were high in THC content, it was nice to eat a composed dish. I was surprised that it had no residual cannabis flavor from the oil, but the cilantro paired well to mask any of the cannabis. I ate a single taco after warming up the corn tortilla over the flame on my kitchen range for a few seconds, and the subtle effect began to hit about 45 minutes after consumption. The effects were very light, and if I was feeling particularly anxious, I would recommend two tacos. The ceviche itself certainly reminded me of some of my favorites I ate in my youth. —Jacob Threadgill