Jim Heath no longer delivers his embellished, fiery Southern Baptist-style sermons during Reverend Horton Heat shows, but it's not for a lack of things to say.
The psychobilly king — who has combined elements of blues, punk, surf, roots and rock 'n' roll as the guitarist, vocalist and songwriter for the Dallas-based rockabilly trio for more than 25 years — decided to lay off his colorful sketches in favor of putting more music into his live shows. That's not a problem because Heath's often-humorous lyrics and casual wit offer enough charisma to spare.
Reverend Horton Heat (RHH) is scheduled to play 8 p.m. April 7 at Tower Theatre, 425 NW 23rd St. Admission is $18-$20.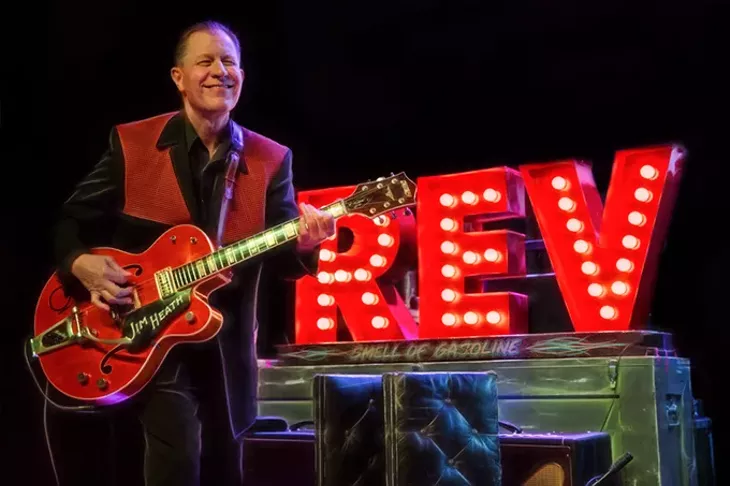 Victory Records / provided
Reverend Horton Heat
The band's last release, 2014's REV, was the highest charting in the group's history — somewhat surprising given RHH's long run of relative prominence and catalogue that includes at least 10 other studio albums. In a recent Oklahoma Gazette interview, Horton gave credit for the success to the band's label, Victory Records. RHH has a colorful label history, which includes stops at Sub Pop, Interscope and Artemis Records.
In recent years, RHH had also become known for hosting the annual rockabilly festival Horton's Hayride. This year, however, the festival is taking a break while Heath focuses on completing the band's long-awaited follow-up to REV and his never-ending tour schedule.
Gazette spoke with Heath about his plans for a new release, the amount of work that goes into planning a festival each year and getting comfortable with musician life.
Oklahoma Gazette: Reverend Horton Heat has a new album coming out soon, right?

Jim Heath: Well, we're working on it. We spent a lot of the summer working out the songs and recording the album. But we kind of ran out of time. Since the summer of '17, we've just been so busy that I don't even have time to mix it. I go in there to knock out a song and do a mix and then it's 'Oh man; I've got to do it again?' But we're getting close. I think I've got about half the album mixed now. But I just don't have time. That's one of the drawbacks of having a group like us that plays so many gigs.
OKG: How does the sound of this album compare to REV?
Heath: Well, it's going to be totally different because it's going to be different songs — it's not the same songs. But I don't know, man. We've got a couple of songs off the new one that are working pretty good in our set right now. But it'll be a little bit lo-fi, a little bit rock 'n' roll. Besides one or two songs, all pretty much positive lyrics. But we've got a new drummer and a new piano player. I've got all this crazy old gear, so it is a little lo-fi.
Gene Ambo / provided
Reverend Horton Heat
OKG: I believe REV was one of the best chart-performing albums you've put out.
Heath: Yeah, it got quite a bit of airplay. A lot of that is because of those guys at Victory Records. They really like us, and we like them. They've been helping us a lot. But I don't know, man. I really don't know that much about the sales.
OKG: You make the music and you play the music.
Heath: Yeah, I don't think about the charts and all of that stuff.
OKG: But isn't it kind of interesting that you have a career that's been almost 30 years now and you're coming off an album that would be considered your most successful?
Heath: Listen; one thing about my band is that we got our first record deal with Sub Pop Records, a Seattle grunge label. They were really good to us for a long time, but the funny thing is that labels kind of come and go a little bit. But my band has not been without a record deal since 1990. That's pretty remarkable.
OKG: What happened to Horton's Hayride? Are you doing it again
this year?
Heath: No, we're not doing it this year. It got to be too big of a hassle. We're going to do the second year of Horton's Holiday Hayride, but we're going to have to rethink Horton's Hayride a little bit. We loved when we were doing it, but it was expensive and a lot of work, man. In a way, it's kind of a relief. That whole thing was based on us having special guests throughout our set. And no one that I was working with could really wrap their brain around it. They're like, 'OK, you've got an hour and 45 minutes,' and I'm like, 'Dude, we have four guests. That means we're going to play like three of our own songs.' I was like, 'You got to schedule us for three hours,' and they were like, 'What? No band plays for three hours.' And it's my own festival.
OKG: Yeah, can't you set the rules for that?
Heath: It's real hard, man. Another thing is that festivals are getting so popular. The bands are getting more and more and more money. And a lot of times, I guess what it is is they're getting money from the city — government money — to play these festivals. Frankly, I think our band needs to go and get that money instead of us playing for free at our own festival. But I hope we can do it again.
OKG: What's more work, comparatively, setting up a festival or setting aside enough time to record and finish an album?
Heath: Well, I don't know. But being in the studio and tinkering around with my crazy old gear, that's my element. I love doing that. Festivals are a whole other thing. I'm not a promoter. They're really at the center of this music scene, more than the labels. They really gamble big every night of the week. I don't know exactly how they do it. And I don't know if I want to be a promoter, but I certainly have a lot of respect for them. But my element is the studio. When I'm in the studio, tinkering with my old tape machines or setting stuff up or doing a session with some guys, I'll be in there and I won't even go to the bathroom. I'll put off going to the bathroom because I just love being in there so much. I'm a music guy; that's my thing.
OKG: Is that something that hasn't wavered or changed for you at all in all the years you've been doing it?
Heath: It's evolved. The one thing about it is that I enjoy playing music on stage now way more than I did when I was younger. But the traveling, I'm kind of over that. That's a necessary part of what I do. When I was younger, there was a lot of pressure on these gigs. Every gig, you're playing a new bar or a new club and you want to play good so they have you back. Being able to make a living playing music was basically dependent on getting signed to a label and a club having you back. Now, that stuff is still a little there, but it's basically gone. Now I just smile and kind of let it rip. I don't care if it's a little club or a giant arena or a little Irish pub in some basement. It's all fun.
OKG: It sounds like you're at a point where you can really focus in on all the things you really like about the business, or at least to the best ability you can do that.
Heath: Yeah. One thing about all of this is that I've been a dad through this whole thing. So I really can't be a cool guy. And I don't have time for that stuff. I'm getting to the point in my life where I'm like, 'Man, I've got to play music.' It's a time-consuming career, you know? Sure, it'd be cool to go and play golf with Willie Nelson. But I don't have time for that.