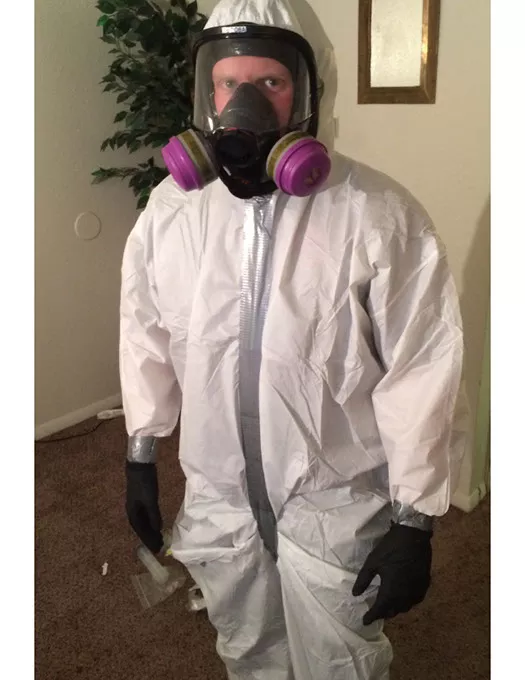 We've all seen enough cop thrillers on television to know what happens at a fresh murder scene.
Two detectives in rumpled suits stoically brush past the neighbors crowded behind the police tape boundary in the yard. An ambulance pulls up to the curb. Inside, a forensic photographer snaps pictures of the departed before being sent out for coffee by one of the detectives. Ideally, the murderer will be behind bars in about 57 minutes.
What most people never consider is the aftermath, the reality of making a space livable again after it has been the scene of a grisly death. After the police tape is taken down, the body has been removed, the detectives have gathered their evidence and the final credits have rolled, somebody still has to live in that house —somebody has to clean up after the terrible thing that just happened there.
"We specialize in everything from murder and undiscovered deaths to hoarding and clutter cleanup," said Justin Douillard of Bio-One Oklahoma, the biohazard cleanup company he started last year. "We also have experience with suicides and decompositions. Today, I did a decomposition cleanup in an apartment. I got a call from the apartment manager Friday saying that a resident had passed away a few days ago."
It's definitely a niche market, and one Douillard had never considered before one fateful day last year.
"It's actually a fairly easy story," he said of his decision to leave a "stable and lucrative" career to start a strange new company. "When it comes down to it, I started doing this because I read about it in Entrepreneur Magazine. I was reading the Top 200 Franchises for 2014 edition, and biohazard cleanup was on the list. It really interested me because it's obviously not your standard type of business."
Bloody job
Since then, the 44-year-old Tahlequah native has seen a little bit of everything. He has cleaned mold infestations and suicides, hoarding cases and fatal accidents, elderly people who died in their sleep and murders so gruesome it made him question the nature of humanity itself.
"We had a job where we cleaned up after a fight between two men," said Douillard. "One of the men had cut a main artery, and he bled out and passed away. But before he died, he struggled throughout the entire home. He went from the bathroom to the bedroom, from the bedroom to the living room [and] out onto the front porch. It really did look like a Hollywood horror movie. It looked like somebody had sprayed the walls with blood with a garden sprayer. There were bloody handprints all over the walls where he had struggled."
Along with the blood were breathing packs and IV packages on the floor from where the paramedics fought to save the man's life.
"You're standing there realizing that he didn't come back. Nobody comes back from stuff like this," Douillard said. "I remember thinking how sad it is, what the world is coming to. When you see the real scene behind the crime and you see bloody handprints on the wall from a man trying to stay alive, it can really hit you hard."
He said it might be those realizations that make him good at his job. It's the human beings left in the wake of crimes that he tries to be especially sensitive to while he's working. After all, becoming a biohazard remediation specialist is, at the end of the day, simply about acquiring the special licenses and certifications required by the state and taking out a few ads. But becoming a good one? That, according to Douillard, is something altogether different.
"I do think you can train somebody to do this job," he said, "but I also think it takes a certain kind of person to do this job well. You have to deal with a lot of awful situations, and you have to show compassion. You have to be aware of some of the heartache that people are going through while you're there to do a job."
The unknown
When Douillard's phone rings, he doesn't know what the scene will entail, whether there is blood present from a cut finger or because someone lost a husband. It could be anything, and Douillard has to be aware of that every time he answers.
"These are people who have a stranger in their house eight hours after losing a loved one. It takes a special kind of person to be able to handle that," he said.
He also said that the physical, reactionary elements of the job take some getting used to. He is in a biohazard suit anywhere from four to eight hours at a time. He witnesses massive amounts of blood and other elements that take some getting used to.
"There are times when you can smell the scene 100 feet before you get to the door," he said. "There are definitely some elements that you have to adjust to."
Despite some of the more gruesome aspects, Douillard said working with clients is his favorite part, one that more than makes up for the grit and grime of the rest of his day. He realizes that the people who call him aren't characters in a cop show. Their scenes don't end when the police tape comes down. They need help to move on. Douillard relishes providing that help.
"At the end of the day, nobody likes to clean up blood. But I do love seeing the gratitude I get from people who've just gone through a horrible situation," Douillard said. "I take care of the things nobody else can and nobody else wants to."
Print headline: Scene changer, Running a biohazard cleanup company has its perks and its fair share of blood and guts.