The earthy herbal whisper of an antique store, the clinical coolness of a hair salon, the hearty, rich buzz of a coffee shop—open the door of any local business and scents are often the first to greet you—followed shortly by a cheerful voice and riot of distinctive color.
The OKC metro's treasure trove of local skincare and soap making companies, including Twinkle Apothecary, Sage & Elm Apothecary, and Local Lather Refillery and Soap Shop are no exception to this phenomenon.
They all face the challenge of marketing products defined by their smelll, texture and scent, in a place where those senses can't be used: the internet.
Having experimented with both in-person and online sales, Twinkle Apothecary is rebranding to a more internet-centric tactic, and closed out its physical location inside Field Study Clothing on Aug. 27, in order to focus on more customizable products which are currently estimated to launch by the end of October.
"People will either be able to come in, make an appointment and talk to me about what they need, and I'll make it for them right there," Twinkle Apothecary owner Stefanie Grant-Cassel said. "Or you'll be able to choose from a bunch of different options on the websites."
The apothecary's product line includes perfume, skincare, body care, deodorant and makeup.
Translating the experience of taking the cap off a perfume bottle into the digital world is crucial to the company's future.
"A lot of the language used to describe fragrance is just very, like esoteric," Grant-Cassel said.
Overcoming this potential communication challenge takes effort.
"In today's world, I think if you want to sell anything, you have to have a plan for how to do it online," Grant-Cassel said. "So it is a challenge, but there are a lot of different ways to go about it. I would say definitely you have to have samples."
Offering samples gives customers the most reliable way to know what a perfume truly smells like, she said, since the way it smells in a bottle may not be the way it smells worn on the skin several hours after application.
"The best way to get a fragrance that you like is to try it on, and so you can do that online or in the store," Grant-Cassel said.
Her business offers sample options of its perfumes online at twinkleapothecary.com to help customers experiment with various fragrances.
"It's okay to take your time. It's okay to try different things and explore and let it be a process; let it be a creative process," Grant-Cassel said.
Another part of overcoming the communication challenge requires choosing the right words and visual clues for the website to convey each soap, perfume, or brand's overall vibe.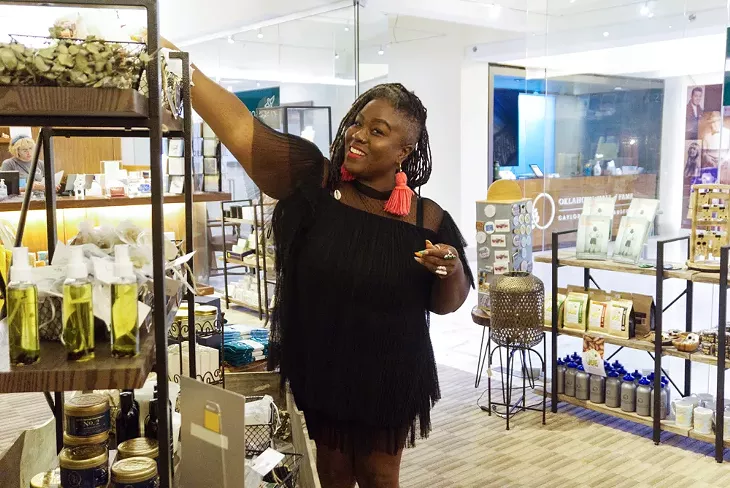 Kendra Michal Johnson
Sage & Elm Apothecary Owner Krystle Robinson-Hershey checks out her wares at the Oklahoma Hall of Fame Gaylord-Pickens Museum.
"You're having to really be very intentional about what colors and where and placement, how to organize your categories," Sage & Elm Apothecary Owner Krystle Robinson-Hershey said.
Her business offers handmade soaps, skincare and haircare items at events, local retail shops, and via its website, sageandelmapothecary.com, with a new product available every week.
"I worked really hard to try to make sure [customers] still felt like they were with me even if they weren't with me, because I still wanted them to feel that presence of care and nurture, with plants, in a very rich environment," Robinson-Hershey said. "And so I wanted our online presence to be just that—I didn't want it to be just a little online store where you just click a button. I really wanted them to feel the aesthetic of peace, while shopping, and relaxation."
Meanwhile, for Local Lather Refillery and Soap Shop, part of conveying the shop's upbeat cheery vibe on locallatherok.com happens through music.
"Ours has a kind of cheeky element of relating it to music, like we often put what we're listening to when we make each batch of soap on the tag. Because we're hugely inspired by the music that we're listening to," Local Lather Refillery and Soap Shop Owner Meg Rinehart said.
The music serves as another way of explaining a scent's overall feel.
"You're never going to listen to Johnny Cash and make a pink bar of soap that smells like rose petals. It's not going to happen," Rinehart said. "So, like, for us, we kind of tie it into our color choices, the vibe, the style, and try to describe it to the best of our ability. 'If you like these things, you will like this.'"
Local Lather maintains two OKC locations: Its main location, The Lab, 4209 N. Western Ave., and newly-launched The Refillery, 1757 NW 16th St.. The latter is "a bulk refill location that offers lots of personal care and cleaning products," according to its webpage.
Customers first experience handmade skincare from these brands in various ways, from wandering through a local market or store to making an internet search to receiving a gift.
"Locally, probably most first time customers are coming into the store," Grant-Cassel said. "The best thing is like when someone is maybe visiting family from out of town or something, and they've never heard of me, and they just wander in and they're like, 'Oh, wow, I didn't know this was here,' you know? So locally, yes, definitely in person, but I have new customers coming to my website all the time. I think they just find me on Google."
Placing their products online, helps make it easier for potential customers to find them.
Kendra Michal Johnson
Local Lather Refillery and Soap Shop Owner Meg Rinehart tosses reusable dryer balls—a reusable substitute for dryer sheets—in her newly launched shop, The Refillery.
"My products are pretty niche. Natural, vegan handmade products. There's not a huge market for that," Grant-Cassel said. "So it's helpful to be online, because people who are searching for those things can find me. So you can reach your target audience a lot easier online, as opposed to just, like, being open in the mall, and having people who might not be interested in your products just kind of stumble in and not understand it."
Social media shape the journey
When it comes to marketing online, the explosion of dialogue around skin, hair and self-care on social media in recent years makes keeping up with platforms like Instagram as crucial to the success of a small business as running a website.
"It was pretty organic," Rinehart said. "When social media started becoming what it is, it's so hard to know exactly at what point it pivoted to such an integral role that it has now. But, I mean, culturally when things shift, you kind of go with it."
These online accounts offer new ways that small skincare businesses can communicate with their customers—and new challenges accompany those opportunities.
"Instagram has changed," Grant-Cassel said. "You know, when I started in 2015-2016, it was, you know, really just an opportunity to connect with your community. And now it's an advertising platform. You have to pay for advertising and you didn't used to have to do that before."
Robinson-Hershey said she prefers not to sell directly on social media, pointing customers back to her website.
"I don't use my social media store necessarily as much, because I found that a lot of people that chose to do that, when social media crashes—which is rare—but when it does, you lose valuable customer data and accessibility to your clients, your customers," she said. "So, for me, it was important that they always know exactly where to find me outside of social media."
The two digital mediums can be used to fuel each other.
"You would be a fool to ignore the opportunity to power one with the other," Rinehart said. "Instagram powers the website and the website in turn validates the Instagram, you know? It's like, 'Here's this great here's this great [thing and] how we make it. Here's what makes it so amazing. And click here if you want to buy it.' They go hand in hand. They're besties."
Additionally, while an effective small business website can be maintained with gradual changes over extended periods of time, social media demands much more constant attention.
"They might change it for the holidays, maybe a sale comes up next week, right?" Robinson-Hershey said. "But social media changes by the day. I mean, literally, mid-day I'm posting something different in a different way."
The difference in pace calls for endless creativity.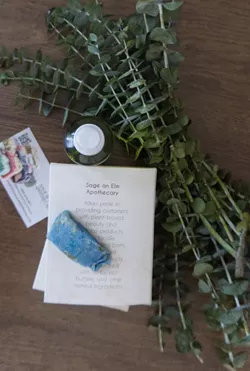 Kendra Michal Johnson
Sage & Elm Apothecary includes a local delivery option with their online purchases.
"The content that I post has to be, in my opinion, fast moving, it has to be colorful, it has to be creative," Robinson-Hershey said. "It takes a lot out of you. There's a reason why people hire social media managers. It's not for the faint of heart. But I still produce my own social media."
That same immediacy is a large part of what makes social platforms beneficial for companies like Local Lather, Sage & Elm and Twinkle Apothecary.
"People don't buy from companies. They buy from people," Rinehart said. "So people are gonna love your soap more or your scent more when they love you and know who you are and what you're about and what your business principles are and what your ideologies are."
Social media posts also allow potential customers to connect with local brands on a day-to-day basis.
"You can give in a social media-sense an idea of what it would be like to come into your store, of what it would be like to interact with your staff, of where your products come from and how they're made," Rinehart said, "details about where they're sourced and what you're getting. Because now people want to know like, 'Okay, so your soap is made out of great ingredients. How great are they? Like, are they fair-trade? Are they organic? All of the details.' I think social media provides a really great way to showcase the thoughtful things about your business."
COVID-19 brought connection to the forefront
All three business owners launched prior to 2020, and the pandemic pushed them further into the digital realm.
"It's just been a roller coaster. So I was really lucky to have set my business up to be ecommerce based," Grant-Cassel said. "Because when 2020 hit and everything shut down, and everyone was at home shopping online, everything was ready to go for me."
For some local skincare makers, it was a time to take a step back in order to leap forward.
"I think it was a time for me where I really went back to my roots, in a sense. It's humbling and grounding to hit a bump that's beyond your control," Rinehart said. "That makes you regroup and remember how you started."
The numerous shutdowns, canceled events and times of isolation that came in COVID-19's wake heightened customers' desire for a personal connection with the product makers.
"We found that people were reaching out to us for that personal connection because of our belief in beauty and plants and in nature. And because of social media, we create videos where we walk people through our product, we show what we're harvesting, what we're working with for the week," Robinson-Hershey said. "And people were so intentional about watching those videos."
Her company's local delivery option also leapt to new heights at the same time.
"People had the most beautiful responses. I can recall delivering to a client during the pandemic, especially early in the pandemic, and the client said, 'Do you have a minute to talk?' And I'm thinking, 'Oh, they have a question.' They didn't have a question. They genuinely want to talk human being to human being," Robinson-Hershey said.
Rinehart said that creating an Instagram highlight telling the story of her business showed her how much her approach to social media changed during the pandemic.
"I started talking directly to the camera and I started talking directly to my customers," she said. "And I started asking them directly what they want to see. And what they are looking for from me."
Connection became a central focus.
"It was a very fragile and vulnerable time for the whole world," Rinehart said. "And so, in that time period, it felt very natural to shift and be a little bit more honest about where we were and what our goals were and how we were doing and ways that we could serve people better and ways they could support us more."
Like many areas of life as it slowly reemerges from the pandemic, personal care was brought back to the essentials.
"Soap is a necessity. It was an essential item," Robinson-Hershey said.
And like essentials tend to do, it endured—and reemerged in a wide variety of handcrafted and locally scented options from Twinkle Apothecary's powder cleanser, to Local Lather's bath fizz, to Sage & Elm's bar soaps.