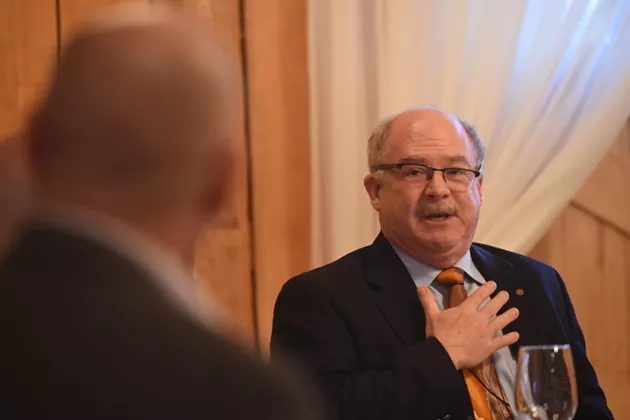 Mark Hancock
Bart Binning, a local realtor, answered questions of the OKC school board about the use of tax increment financing in the city.
Oklahoma City's school board wants to better understand the tax increment financing (TIF) process, especially as the city considers expanding it.
The city council has recently discussed expanding the use of tax increment financing in downtown, which is the process of taking property tax growth and using it for incentives for development projects. While it impacts all jurisdictions that draw revenue from property tax, like the school district, it's a tool that is solely managed by the city.
"We've all been very behind the curb on this," school board chair Lynne Hardin said.
The school board held a special meeting Tuesday evening and invited a local realtor to discuss the TIF process.
During TIF discussions last month, the city council was told that school district officials were supportive of the plan. However, district officials said they were not aware of the conversations.
"I had contact with a senior staff member of OKCPS who is no longer with the district," said Cathy O'Connor, director of the Alliance for Economic Development, the organization that oversees the city's tax incentive programs. "This person had served as the district's representative on the Downtown TIF district in the past. This is unfortunate, as I think it caused some confusion within the district as they did not have the information at their fingertips because of the turnover."
The staff member referred to by O'Connor was identified as Rod McKinley, the district's chief operating officer who abruptly resigned last month.
Robert Neu, superintendent of OKC schools, said no one in his administration was aware of the meeting between O'Connor and McKinley.
During Tuesday's meeting, the school board openly discussed its skepticism of the TIF process. Some board members said they would like to negotiate with the city to possibly build a new school downtown where the new TIF hopes to attract residential development.
"Lets become the winning recipients of this poker game," school board member Justin Ellis said.
While the school district could ask for portions of the increased property tax through TIF, the city is the lone decision maker and is under no obligation to work with the school district.
"As a practical matter, since all of the governmental entities in the area would be impacted, they need to be involved," said Don Hackler with the Oklahoma Department of Commerce.
Hackler added that the state statute concerning TIF does not require cities to work with other government agencies.
Following Tuesday's school board meeting, Neu told Oklahoma Gazette he had met with City Manager Jim Couch that day to discuss the issue.
"[Couch] expressed a commitment to keeping us in the loop," Neu said. "And I appreciate that."