Susan Agel, the CEO at Positive Tomorrows, looks over pop art palm prints created by students and displayed in the hallway. mh
A local historic church had capital costs and overhead that became overwhelming for the owners. Some buildings are sold and torn down when this becomes the case. Other buildings, like the church, are repurposed into something more innovative and better than their original design.
"Our organization began in 1989, when individuals and groups got together as a community collaborative," said Susan Agel, president and principal of Positive Tomorrows. "We saw holes in the system, examining how people became homeless and how they were accessing services at that time. Our diverse groups got together, found some grant money, and that's how we kicked the organization off."
Positive Tomorrows is a school for homeless children in the metro area that now calls the historic church home. The school is accredited kindergarten through fifth grade and can currently accommodate 58 children at one time.
"The first semester, we turned away 50 kids. Last year, [we turned away] 105," Agel said. "We have discovered there are not many places in the country that do what we do. We are very proud of the school."
Students in Ms. Susan Paz's, class of Kindergarten/1st graders, at Possitive Tomorrows school. mh
Kids are referred to the school by various shelters in town. Ninety-one children passed through the halls last year. Each class is kept to no more than 16 children. All teachers are state-certified, and each class has a teacher and an assistant.
"It's a wonderful teacher-student ratio," said Rachel Durham, development officer of Positive Tomorrows.
The classrooms have colorful art on the walls, laptops and natural light streaming through the windows, and children are engaged in their work.
"Each child has an iPad kept at school, giving them immediate access to technology," said Durham.
And there are smiles, bubbly laughter in the hallways and animated greetings in a warm learning environment.
"I do know that the stability the school provides for at-risk children and their families is critical," said Jason Dunnington, Representative for House District 88. "Without the school, those children would be subject to multiple school changes a year, which is terribly disruptive to any child's education."
The Oklahoma City Public School District counted 2,450 homeless children last year. They are mostly considered 'couch-homeless,' families sleeping on couches, staying with other family temporarily, bouncing around from family member to family member, said Agel.
Pop art self portraits of students, displayed in the hallway at Possitive Tomorrows school. mh
Currently, there is not enough family shelter housing in OKC, and homeless families with children don't want to be visible on the streets for fear of losing their kids.
"One of the things we do for these children is provide a safe school where other kids are like them, because we see that homeless can be such a lonely experience," Agel said.
In a regular school, it's difficult for kids to attend events such as sleepovers or birthday parties because these kids have very little; they are often sleeping in garages or cars. They often don't play sports or have Halloween costumes.
The school also works toward breaking down barriers by providing services to children and their families. Durham said hygiene bags — which include toothbrushes and toothpaste, soap and shampoo, among other things — are given to each student.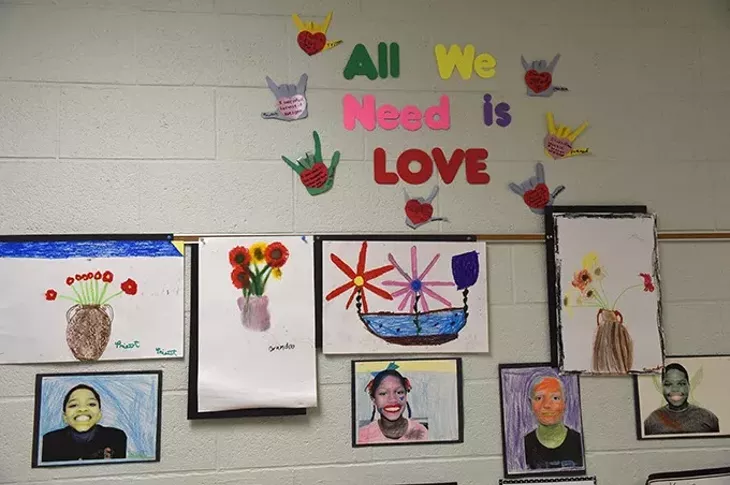 Student artwork displayed in the hallway at Possitive Tomorrows school. mh
When kids first arrive at Positive Tomorrows, the school staff helps parents get back on their feet from homeless shelters or transitional housing.
"Case support and case managers work together here," Durham noted.
Positive Tomorrows addresses hunger by offering breakfast, lunch and snacks daily, as well as transportation for parents to attend parent-teacher conferences.
"We participate in the [Regional] Food Bank Backpack Program, offering a backpack filled with enough food to get through the weekend," said Agel.
Positive Tomorrows strives to help the children in any way it can.
"We have Boy Scout and Girl Scout troops here. During school breaks and over the summer, we remain open as a summer day camp because it's easier for the parents to keep working and gives kids the consistency they need," Durham said.
---
Print headline: Bright Tomorrows, A school designed to serve homeless children offers top-notch education, a safe haven and positive steps forward.