Alexa Ace
The former OKCPS administration building at 900 N. Klein Ave. has been vacant for years, but a development proposal could mean restoration into a hotel.
The former Oklahoma City Public Schools (OKCPS) administration building could be restored and converted into an entertainment and hospitality concept.
Three different proposals were submitted for redevelopment of the building at 900 N. Klein Ave., which also formerly housed Roosevelt Junior High School. Oklahoma City Redevelopment Authority recommended The Theodore, a hotel concept from development group Carpathia, be selected.
"The historic property will become a welcoming, school-themed hotel with a pool, performance space, and three food and beverage concepts. The other administration building will become a creative workspace with open floors ideal for local businesses," reads Carpathia's proposal. "The hotel at The Theodore will blend historic architecture with contemporary finishes, playfully emphasizing the property's scholastic heritage. The Theodore's restaurants and nightlife will provide a range of accessible to exotic cuisines, from New American to ethnic fusion to local beer."
The building's redevelopment would be taken on by a team of mostly local companies. Carpathia, a newly formed group, would be the developer, and McNellie's Group would serve as operator. Mass Architects is the design company and Ross Group is the construction company. Rosin Preservation will serve as the historical consultant, and while it is based in Kansas City, it has consulted on more than 20 Oklahoma projects.
Representatives from Carpathia and McNellie's Group did not respond to requests for comment.
The proposal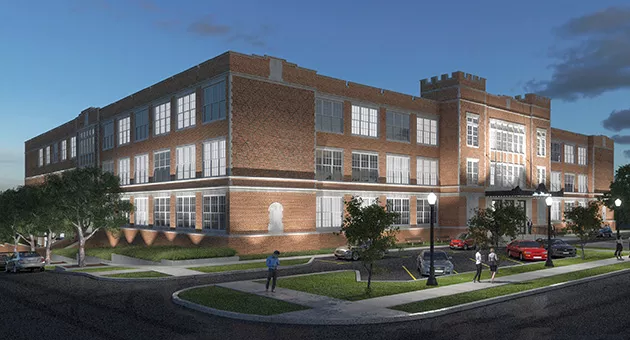 Provided
Oklahoma City Redevelopment Authority recommended the OKCPS board of education pursue Carpathia's proposal.
There are two structures on the property; the main building would become a 109-room hotel, while the smaller building on the property would be future creative space. The project will also include at least three food and beverage concepts, retail and office spaces, performance space and a pool lounge.
"Not only will our redevelopment create a unique boutique hotel, unparalleled gastropubs, a brewery, performance space, and year-round pool club," reads the proposal, "it will also provide business travelers and family tourists market rates in close proximity to the Arts, Plaza, and Midtown districts."
The proposal emphasizes accessibility to accommodate "visitors of all backgrounds and abilities." The group intends to make several structural changes to add a second elevator and construct walkways and lifts. Six design objectives are listed in the proposal: destination creation, adaptive reuse, street-level pedestrian engagement, high quality, sustainability and flexibility.
"Hotel rooms on the third and fourth floor will be developed with the capacity of becoming multi-family apartments if the local market demands it," according to the proposal. "The performance space will have a sound system and retained stage that allows the venue to serve as a movie theater, community meeting space, concert venue, or lecture hall."
Carpathia expects it will take at least three public hearings to discuss the scope of the project and other logistics. After that, it anticipates a 180-day preconstruction phase and approximately 18 months of construction.
"Given the amenities that will be provided at The Theodore and the amenities of the nearby area, we have determined that our market rate will be $130 per night and our average occupancy will be 68 percent," according to the proposal. "The redevelopment team anticipates a stabilized occupancy by year two."
The group hopes to open The Theodore by January 2022.
However, Oklahoma City Public Schools board of education must approve the proposal before Carpathia moves forward. The board's next meeting is 5:30 Monday at Metro Tech Conference Center Auditorium, 1900 Springlake Drive.
Other proposals
Far Wespen, a New York investment group, and developer Marva Ellard also submitted their own proposals for the property.
Far Wespen already owns property adjacent to the building, so it would develop the two properties as a whole. That would entail renovating the building into residential units and amenity space. Ultimately, the group would create more affordable housing units, retired teachers' housing, senior housing, commercial offices and commercial/retail space in the two properties.
Ellard's proposal would restore and adapt the historic school into "multifamily residential" with the main building "as a central hub." The project would include construction on a new four-story residential building atop a parking structure and construction of seven "contemporary bungalows."