Miguel Rios
Oklahoma City Public Schools superintendent Sean McDaniel presented three possible paths to majorly realign public schools to a packed Northeast Academy auditorium Jan. 22.
Oklahoma City Public Schools superintendent Sean McDaniel announced last week three possible paths to realign facilities and resources with the district's needs. The announcement is part of Pathway to Greatness, an OKCPS project that has been in the works for more than a year.
"The theme, the story that we want to tell, is a story that goes well beyond closing schools, although that is a part of what we're going to talk about," McDaniel said. "It is about how we're offering school to our kids and to their families and if there's a better way to do it that will result in more positive outcomes."
Trading up
Before describing each path, McDaniel presented positive changes, or "trade-ups," coming to the school district based on recommendations from community members.
One of the recommendations was increasing the number of teachers in elementary schools. Two in five schools have grade levels with only one teacher, McDaniel said. Under Pathway to Greatness, all elementary schools would have at least three teachers per grade.
Every elementary school would have a dedicated STEM space, which only two of the current 54 schools have now. Every elementary school would also staff full-time art, music, physical education teachers and at least one counselor.
"I guess I have taken things for granted in my lifetime. I thought every school for a long time had a full-time art, music and PE teacher," McDaniel said. "Right now, only 18 of our 54 elementaries have those three things. Through Pathway to Greatness, we're saying every elementary will have all three, full-time every day."
Pathway to Greatness would also realign grade bands to have most elementary schools serve pre-K through fourth grade and most middle schools to serve fifth through eighth grades. The program would also reconfigure mid-high schools to only house ninth through 12th grades.
At middle and high school levels, each school would have a fully functional science lab and students would have more access to extracurricular activities.
In terms of class sizes, McDaniel said the program would reduce class sizes for kindergarten through grade six. Addressing the student population at U.S. Grant High School specifically, McDaniel said all three paths would reduce overcrowding by as many as 600 students and lower class sizes.
School buildings that are closed will be repurposed for other uses, McDaniel said. He emphasized that new uses for the buildings would be more beneficial for neighborhoods than in the past. Potential repurposing options include centers for community health, mentoring programs and early childhood education.
Closing down
"We're going to go through some pain here; there are going to be school closures," McDaniel said. "I've been saying that from the day I stepped into this eight months ago, and that is a fact."
Closing schools and consolidating resources would save money and allow for even more trade-ups, he said.
"As we close a school, we don't pay utilities, we don't pay insurance, we don't pay operation costs. We move that money into an investment bank and then we deploy it back out to get the trade-ups we're talking about," McDaniel said. "An important piece of this is without the closures and us stopping on [payments], we can't get to these trade-ups we believe are so important. So it takes one to get the others."
Under all three paths, at least 13 schools would definitely close: Edgemere Elementary, Edwards Elementary, Gatewood Elementary, Green Pastures Elementary, Horace Mann Elementary, Johnson Elementary, North Highland Elementary, Oakridge Elementary, Pierce Elementary, Putnam Heights Elementary, Rancho Village Elementary, Sequoyah Elementary and Oklahoma Centennial Mid-High School.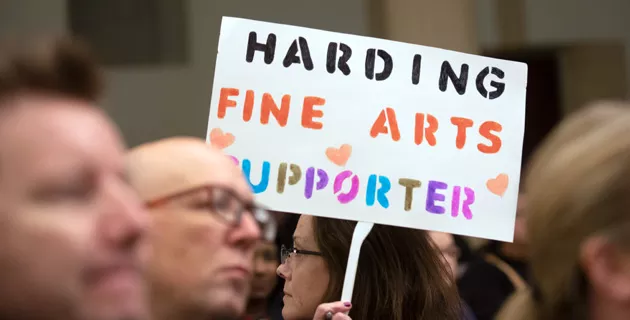 Miguel Rios
More than 400 parents, students and community members attended the Jan. 22 announcement of the three paths.
Five elementary schools would become middle schools under all three paths: Capitol Hill Elementary, Greystone Elementary, Martin Luther King Elementary, Mary Golda Ross Elementary and Parmelee Elementary.
Additionally, West Nichols Hills Elementary would be reconfigured to house fifth and sixth grades and feed to Belle Isle, which would be reconfigured to house seventh and grades, creating a fifth-eighth grade band.
Northeast Academy and Classen School for Advanced Studies, both mid-high schools, would merge, making Classen strictly a middle school and Northeast a high school.
"In all three paths, Classen School of Advanced Studies becomes Classen Middle School only. We immediately double our seats there, and then the high school portion of Classen comes to [Northeast Academy]. So it becomes the Classen SAS High School," McDaniel said. "I know there are going to be questions about names ... that it's not simply the closure that causes us to be uncomfortable it's, 'What are you going to do with the name? Is there a way you can keep the Northeast name in it?' So we will continue having those conversations. The same thing holds true with West Nichols Hills as they move into that Belle Isle fifth through eighth."
If current Northeast Academy students choose to remain at what would be Classen SAS, McDaniel said seats would be guaranteed for them. The same is true for Northeast middle schoolers who would go to Classen Middle School.
Under all three paths, Emerson South Alternative School, KIPP Reach College Preparatory, Seeworth Academy, Harding Charter Preparatory High School and Harding Fine Arts Academy would be relocated. OKCPS is working with those school leaders to find a home for students.
"Those conversations are coming," McDaniel said. "It's a relocation, so kids who are housed in one building go to another building. We're not talking about doing away with programs."
Additional schools will close depending on the path that is chosen. In Path A, Hawthorne Elementary and Spencer Elementary would also close. In Path B, Linwood Elementary and Rogers Elementary would also close. Under both paths, Westwood Elementary becomes Emerson South Alternative School.
In Path C, Hawthorne Elementary, Shidler Elementary, Van Buren Elementary, Telstar Elementary and Westwood Elementary would also close; Wheeler Elementary would become Emerson South.
Each path also varies in terms of which schools feed into other schools.
"What we've tried to do is make very strong feeder patterns so there is no doubt if I go to this elementary I'm going into this middle and I'm going into this high school," McDaniel said.
Despite school closures and reconfigurations, McDaniel said they are committed to protecting the jobs of all employees.
"We expect for all employee groups that we are going to be able to protect employment," he said. "It may look a little different, but we want to employ our people. ... We will move teachers and administrators and relocate them around our district."
Paving the path
The trade-ups for all three paths are identical, but Paths B and C provide more reinvestment money for additional benefits, McDaniel said. Since Path C closes three more schools, it would yield the most money.
"If it's just about building up your reinvestment bank, we would choose C," he said, "but a question we wrestle with is, 'Is the money we get in C worth all these additional things that have to happen: more changes in feeder patterns, more school closures, more disruption?'"
OKCPS wants input from the people affected to help make a decision, McDaniel said, so community meetings were hosted throughout January at various schools.
Most of the community meetings have already happened, with the final one scheduled at 6 p.m. today at Northwest Classen High School, 2801 NW 27th St.
Members of the school board commended McDaniel on being open to feedback and working with the community. Gloria Torres, OKCPS District 6 board member and vice chair, said she was encouraged that specific concerns were addressed.
"Many of our concerns were heard such as the overcrowdedness in southside schools, the need for additional space and the need for our students to have access to more advanced programming, such as the Classen SAS model in south Oklahoma City," she said.
Other board members acknowledged the difficulty of closing schools but said that seeing the trade-ups for students made it feel worth it.
"It doesn't hurt any less when you see the list. It's still a punch to the gut," said Carrie Coppernoll Jacobs, District 3 board member. "However, seeing the trade-ups and knowing what our kids are going to get takes away the gut-punch. I'm so glad that our students are going to have the things they undoubtedly deserve."
OKCPS plans to enact the changes for the upcoming school year. McDaniel will recommend one path on Feb. 19, and the board will vote on the recommendation March 4.
The district will begin work March 5 to put their goals into place, McDaniel said. Officials have already started looking at logistics and have outlined priorities of what needs to be done before school starts in August.