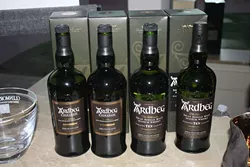 Get a little drunk and a little smoky for the children.
For the last eight years, Mark Mann, Steve Cortes and Bill Hickman have hosted the Oklahoma City Charity Scotch Tasting with proceeds going to charities that help local children, said event coordinator Nicole Thomas.
The ninth annual event runs 7-10 p.m. Oct. 22 at a private home in Nichols Hills and benefits Rainbow Fleet, a local nonprofit dedicated to improving the quality of life for children, families and childcare providers.
Carrie Williams, Rainbow Fleet executive director, said the organization takes a holistic approach to childcare by working with parents to find financial aid and the right provider, as well as continuing education for those working in childcare and one-on-one mentoring.
"We go into home childcare facilities and teach them about safe sleep, behavior and guidance," Williams said. "We help make sure their facilities are arranged the best way to be conducive to learning."
The organization also has a child and adult care nutrition program to teach facilities to serve meals that meet U.S. Department of Agriculture standards so they can be reimbursed, a savings for the facility and a benefit for kids.
"Not every childcare environment is right for every child," Williams said. "Some kids thrive in big centers. Some do better in small homes."
She said that the right care sets children up to succeed when they get to school and gives parents peace of mind.
Rainbow Fleet also offers a toy library; a $40 annual membership allows members to check out childhood development toys and lesson plans.
Tickets to the Scotch tasting are $100, and guests receive a commemorative Scotch glass and get to try six flights of Glenmorangie and Ardbeg Scotch whiskeys donated by Glazers and Diageo, a cigar bar from ZT Cigars, food from Mickey Mantle's Steakhouse and drink service by Hooters.
Dan Crowell, ambassador of Scotch whiskey, will make a presentation, calling out notes on the liquor and providing background on each blend. Thomas said it's an interesting and informative way to learn more about Scotch.
The Highlanders of Oklahoma City will perform on pipes and drums.
For more information and tickets, call Epic Events at 706-7484 or email nicole@epiceventsok.com.
Print headline: Fancy flights, This annual event offers six rounds of top-name Scotch whiskey to raise funds for Rainbow Fleet.