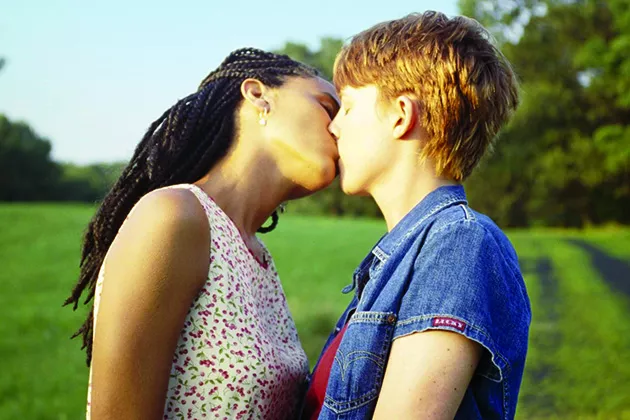 Fine Line Features / provided
The Incredibly True Story of Two Girls in Love starring Nicole Ari Parker and Laurel Holloman is the first film in Herland Sister Resources' Queer Film Continuum series.
I was not exposed to queer cinema until my freshman year of college.
I had just moved to New York, and one of my gay floormates gathered several us together in a suite to watch But I'm a Cheerleader, a 1999 romantic comedy starring Natasha Lyonne as a cheerleader sent to a conversion therapy camp when her parents suspect she is a lesbian.
It is campy and ridiculous and features several indie darlings, including Michelle Williams, Melanie Lynsky and Clea DuVall in supporting roles. RuPaul is in the mix, too.
The film has become something of a classic queer film and a cult hit, but at the time my friends and I watched it in 2005, it felt underground. Even now, when I mention it, most people have no idea what the movie is.
It is this lack of awareness surrounding queer cinema that Queer Film Continuum, operating as an extension of Herland Sister Resources, 2312 NW 39th St., hopes to correct with its upcoming lesbian independent film series.
The series is held at Oklahoma Contemporary Arts Center, 3000 General Pershing Blvd., beginning Saturday. It focuses on indie films of the '80s, '90s and early 2000s by lesbian directors and about lesbian characters.
Herland is a nonprofit organization that has operated since 1983. According to longtime member Ginger McGovern, Herland began as a book and music store and grew into a collective that now holds weekly discussions and monthly supper clubs.
"Herland has a cool history," McGovern said.
In 1995, McGovern said, Herland was involved in the Supreme Court of Oklahoma case Fox v. Fox. Herland helped raise the legal funds for Donna Jeane Fox, a mother who was initially declared unfit because she was a lesbian. Fox lost custody of her children but regained custody on appeal.
Herland's assistance earned it the American Civil Liberties Union (ACLU) of Oklahoma Human Rights Award in 1997.
Historically, Herland has been female-focused, but more recently, McGovern said the group is making outreach efforts toward growing its community and attracting a new generation of members. The film series is part of that.
Although LGBTQ+ communities often coalesce around nightlife and politics, Herland would like to build community around art. It hopes that this will, in turn, boost Herland's reach and funds, allowing the organization to continue creating a safe place for LGBTQ+ members.
At Oklahoma Contemporary, visitor services associate Liz Sholar is a member of Queer Film Continuum and is helping coordinate between the organizations. One thing the group learned quickly is that distributors charge hundreds of dollars for the rights to screen films, and even as a nonprofit, Queer Film Continuum initially hit that speed bump.
"The ones we have right now were all donated to us by directors and producers," Sholar said of the film lineup. "So it was really great to be able to reach out directly to the people that owned their own films and express how grateful we were for the work that they've done and their creativity and [be] able to share that with our community."
Herland and Queer Film Continuum hope to raise money throughout the series and put funds toward paying for movie licensing so future iterations of the event can afford fees for desired films.
Sholar emphasized the impact of representation in film and the importance of showing stories written and directed by members of the LGBTQ+ community.
"I think that so often, LGBTQ people are portrayed in film by people who are not in the community," Sholar said. "So we really wanted to focus back on directors and writers, in this case, who are lesbians, who are queer women, so that we could highlight our own voices, essentially, rather than letting someone else speak for us and give us our own reflection back in a warped view."
Sholar admitted that even she hadn't seen many of the films they have lined up for Queer Film Continuum because some of them are slightly obscure and a little older.
"I'm excited to see the representation that I don't normally get, just on a personal level," Sholar said.
True stories
The series' first film on Saturday is
The Incredibly True Adventure of Two Girls in Love
. It's a romantic coming-of-age story from 1995 in which two high school students fall for each other.
April 6's film is All Over Me, a dramatic love story from 1997 set against New York's Riot Grrrl music scene. The film on May 4 is 2 Seconds, which was released in 1998 and follows a former racing cyclist relegated to courier work in Montreal.
Sholar expressed enthusiasm especially for the May 25 screening of The Lesbian Avengers Eat Fire, Too, a documentary about a lesbian activist collective that grew out of the ACT UP (AIDS Coalition to Unleash Power) advocacy group.
A panel discussion will follow this screening with representatives from various community organizations, including different levels of education and local government, a community religious leader and more. The goal is to discuss the state of LGBTQ+ rights in Oklahoma.
James Cooper, Oklahoma City's first openly gay city councilmember, is confirmed to attend.
Sholar also hopes to get OKC Pride involved in the event as a way to sign up volunteers for this year's Pride Parade. She would like to see the film inspire activism and action within the LGBTQ+ community.
All screenings begin at 7 p.m. and are free to the public. Audience members of all backgrounds are welcome. Queer Film Continuum recommends that guests be age 13 and older.
Short films and discussions will be a part of every event.
After the series concludes, the films will be donated to Metropolitan Library System to help make LGBTQ+ film more accessible to Oklahomans.
"I just want people to feel comfortable and really enjoy themselves," Sholar said, "and have a good movie experience where they're not thinking about, 'Where am I?'"
Herland and Queer Film Continuum are also hoping to spark more political action, conversation and advocacy with the film events. Long-term goals include the creation of a queer film festival in Oklahoma City and an LGBTQ+ advisory council to the Oklahoma City mayor's office.
Queer Film Continuum is open to ideas and collaborations for future movie events. Those who are interested in volunteering at any upcoming film screenings can contact Sholar at Oklahoma Contemporary.
With Oklahoma Contemporary's upcoming move to its new campus near downtown Oklahoma City, Queer Film Continuum will be actively seeking a new venue for its fall film series.
To learn more about the screenings and Herland's other events, visit herlandsisters.org.