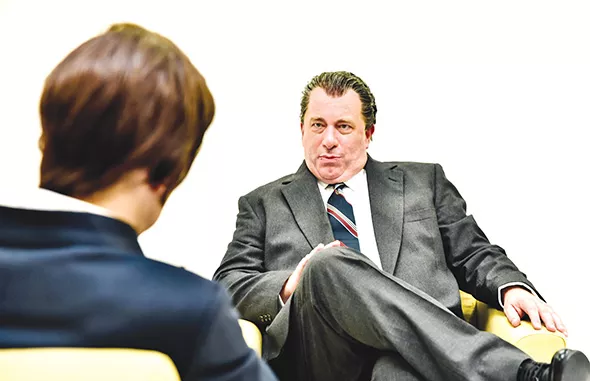 K. Talley Photography / provided
The play, by Peter Morgan (The Queen, The Crown), recreates Frost's historic 1977 interview with Nixon and the lead-up to it.
On May 4, 1977, millions of Americans witnessed Richard Nixon do something almost unthinkable. He admitted he had done something wrong.
"I let down the country," Nixon told interviewer David Frost. "I let down our system of government and the dreams of all those young people that ought to get into government but now think it too corrupt. ... I let the American people down, and I have to carry that burden with me the rest of my life."
Frost/Nixon
Sept. 4-22
Lyric at the Plaza
1727 NW 16th St.
lyrictheatreokc.com
405-524-9312
$25-$65
Nixon, who resigned before he could be impeached and received a pardon from his successor Gerald Ford, would never stand trial for his role in attempting to cover up the 1972 break-in at Democratic National Committee headquarters in the Watergate Hotel. The interview with British TV personality Frost would be the closest he would get to publicly facing up to his actions.
Lyric Theatre stages Frost/Nixon, a play by Peter Morgan (The Queen, The Crown) recreating the historic interview and the lead-up to it, Sept. 4-22 at Plaza Theatre, 1725 NW 16th St.
"It's a really well-written, interesting play, that uses the interviews between Frost and Nixon as a sort of cornerstone and way to discuss how interviews with the president are negotiated … how they're controlled, and ultimately how the medium of television was in some ways, at certain points in his career, Nixon's downfall," said director Michael Baron. "People think he lost to Kennedy because of his bad performance on television, and then here he is once again in an intimate interview where the camera and the medium allow him to come clean and tell the American people that he was sorry. We got a window into his soul, if you will, beyond press conferences."
The play stars Matthew Alvin Brown as Frost and D. Lance Marsh as Nixon. Baron said he wants them to portray the historical figures as human beings instead of attempting to recreate every gesture and inflection in the interviews.
"Watching the interview itself, I think, is helpful to a point," Baron said, "but … an actor can't do two things at once; you really can only play the scene that you're in honestly. I'm sure there'll be some vocal mannerisms that both will pick up from studying Frost and Nixon, but it isn't a museum piece. You're not watching history onstage. You're watching a play, and it's dealing with something greater, in one way, but also, it's more interested in the private human experience. So, if anything, as opposed to a documentary, I would compare this to a Shakespeare play. This portrait of Nixon is just as accurate or not accurate as Richard III or Henry VIII. … We kind of assume because of the events around their lives that they might have behaved in these ways. This, of course, you have a huge collection of actual taped documentation, but how actually Nixon and Frost got to that specific moment, we're not exactly sure what was going on in their minds besides what we have on record."
The play will feature a live video feed of the actors playing in real time on a screen above the stage.
"You'll be able to see how the camera is influencing what you think about what you're seeing," Baron said. "You can actually see the live version in front of you and also what the camera and what television is just giving you on that big screen. … Today, everything is filmed, it seems, in some way, so it will be interesting to see how when we get to the interview part the cameras are static except for maybe a close-up. They just kind of stood there, whereas today, we're used to cameras moving and bringing us through a story. So that'll happen throughout the show, sort of the modern-day, cinéma-vérité camera work, and then when we get to the actual interview, it'll be interesting to see when the cameras stop and just kind of home in on Nixon and Frost."
Though Baron is typically averse to incorporating this kind of technology into live theater, he said the video will provide an interesting subtext to the action and give him more options for staging scenes.
K. Talley Photography / provided
Matthew Alvin Brown plays journalist David Frost and D. Lance Marsh plays former president Richard Nixon in Lyric Theatre's Frost/Nixon Sept. 4-22.
"I've never been a fan of video onstage because of the scale of it is larger than what you're seeing in front of you and people, whenever there's a television on, they tend to look at the television," Baron said. "So I'm hoping to negate that by not having the television moments be special, but constant. So eventually, you can choose to watch the whole entire show just on the video wall if you really want to, but I think after a while, you'll get used to the two perspectives, and because our theater is intimate, you're going be able to see the live perspective and the video version of what you're seeing at the same time. So I think you'll get used to it. Also, there's a lot of private, intimate moments in the show, and usually those private moments that occur onstage, you have to put the actors right downstage as close as you can to the audience. In this version, I can put them anywhere I want onstage. I can put them not even facing the audience, and the audience actually then at certain points if they see want to see the actor, they have to look at the video screen because they can't see their face onstage. The freedom to not have everything what we call 'cheating out' in the theater or facing front is going to be exciting."
Baron said the play's issues are still relevant in the present political climate.
"We're still grappling with who controls the media, who controls the presidency, the different tactics that are used on both sides to influence the public," Baron said. "I just thought it was really timely. … I wanted it to not only be an exciting piece of theater, but also explore this historical moment and its repercussions even today as far as the blending of Hollywood and entertainment and actual news. And, of course, this president was in turmoil, as the current presidency is under turmoil, and so to see how each of them dealt with their specific and very different situations … whereas Nixon was not a fan of the camera and not very adept at using the television medium, Trump is a master at using television. That's what started his career. Even when he was just in real estate, he still was always on television and knew the power of press and PR."
While Frost/Nixon does more to humanize Nixon than the cartoonishly evil caricature common in pop culture, Baron said he thinks people should remember that historical figures are also people.
"This play certainly doesn't absolve Nixon, but it makes him more human, and that, I think, is always helpful in dealing with world leaders who are so inaccessible, perhaps, or their personality is larger than life, to see where they are real people and where they actually doubt themselves," Baron said.
In a 2008 interview with NPR's Terry Gross about the Oscar-nominated film version of Frost/Nixon, historian James Reston Jr., who helped Frost prepare for the historic interview, said something similar.
"It humanizes Nixon, and that's a very good thing," Reston said. "When you move beyond humanization into sympathy, you get into much more dangerous territory. There is no reason to feel sympathy about Richard Nixon in relation to the Watergate scandal. … You can say the villain is complicated, and he is fascinating and enigmatic and riveting. But he's still a villain and he did do these things, and we need to remember precisely what those crimes were."
Tickets are $25-$65. Visit lyrictheatreokc.com.