provided
Oklahoma Centennial Land Run Monument in downtown Oklahoma City is one of the largest sculpture works in the world. The final two of 45 pieces will be installed in November.
Prix de West Invitational Art Exhibition
through Sunday
National Cowboy & Western Heritage Museum
1700 NE 63rd St.
nationalcowboymuseum.org
405-478-2250
Free-$12.50
This year is shaping up to be one of the most memorable years for prolific Norman-based sculptor Paul Moore. Not only is his massive, 45-piece Oklahoma Centennial Land Run Monument set to complete installation in November — a year ahead of schedule after 20 years of work — Moore became the first artist to be awarded two of the top honors at National Cowboy & Western Heritage Museum's Prix de West Invitational Art Exhibition, which ends its run at the museum Sunday.
Moore's 300-pound bronze sculpture "The Procession" depicts a religious ceremony outside a pueblo in Santa Fe, New Mexico, where Moore lived for 13 years before returning to Oklahoma to revive University of Oklahoma's figurative sculpture program. It was honored with the Purchase Award, the top honor at Prix de West, and becomes part of the museum's permanent collection.
Moore said he is the first Oklahoman living in Oklahoma to be honored with the award. Oklahoma natives Allan Houser and Wilson Hurley previously won the award in Prix de West's 47-year history.
"To be in their company is quite the honor," Moore said.
This marked Moore's 10th year at prestigious Prix de West, and all five of his pieces sold on opening weekend, part of $2.94 million in total sales from some of the world's preeminent Western art collectors.
provided
Paul Moore and his sculpture "The Procession" were honored with Prix de West's 2019 purchase award.
Moore's other four pieces — "Navajo Country," "The Wood Gatherers," "Yagui Deer Dancer" and "Shalako and Zuni Girl" — were honored with the Robert Lougheed Memorial Award, which is voted on by all 98 displayed artists at Prix de West.
Entering the opening night's award ceremony, Moore thought he would have the opportunity to win the James Earle Fraser sculpture award, which went to 26-year Prix de West veteran Steve Kestrel, whom Moore considers one of his icons and the best stone carver in the country. He said he nearly did not attend the closing ceremony where he was honored, initially wanting to stay home and ice his back, until his wife talked him into going.
"To have all of your heroes, present-day artists to give you that award — to me, you can't hardly top that," Moore said. "Then I won the Prix de West [Purchase Award], and no one had ever won both. It came as a total shock. I was rather speechless and didn't know what to say. I was in shock and, in many ways, still am."
Moore said wanted to honor Santa Fe's native population, which he noted is being pushed farther out from the city as it becomes gentrified, with the immense piece "The Procession," which looks like a painting from a distance until the viewer gets close and realizes it projects in solid bronze onto a green desk.
"I wanted to show how important the religious procession is to their culture," he said. "The challenge was to compact going from low relief to high relief and compact 60 yards within a 6-inch space and make it believable."
Multiple honors
The two awards from 2019 Prix de West are waiting to be framed and added to Moore's immense collection of honors at his studio, Crown Arts Inc., 118 W. Main St., in Norman.
In 2013, Moore was honored with the state's Governor's Arts Award, one year after his bust of President John F. Kennedy was placed in the collection at his Presidential Library and Museum in Boston, Massachusetts. Moore's portrait of animator Chuck Jones, which is surrounded by characters Jones created for Warner Bros., is on display at Smithsonian Institution.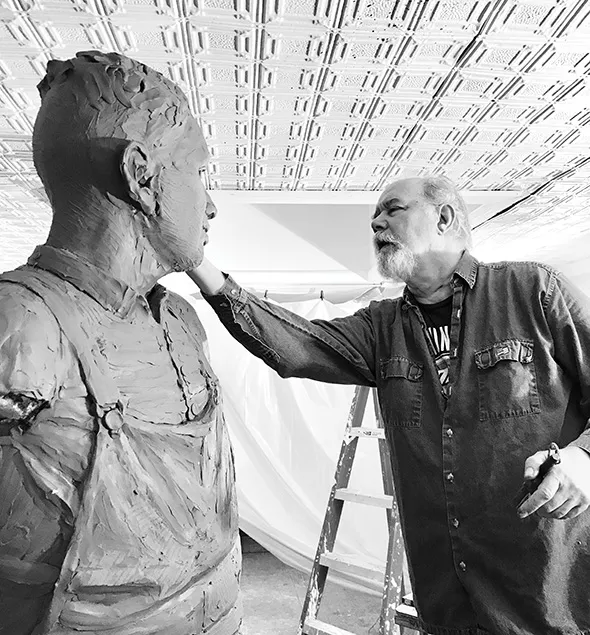 provided
Norman sculptor Paul Moore
Moore is considered by many of his peers in the industry to be the most prolific sculptor of his generation. He said that on average, many sculptors do about 30 commissions in their lifetime, but he recently completed his 154th commissioned work, Oklahoma Centennial Land Run Monument. One of the largest bronze sculptures in the world, it features 45 life-sized pieces that will span 365 feet in downtown Oklahoma City when it is installed this fall at 200 Centennial Ave.
"The Land Run [alone] is more than most people do in their career," he said.
Moore's career reflects being an autodidact. He credits his father for instilling a prolific work ethic. Moore was born in Oklahoma City in 1957, but his father was a minister who specialized in taking over small churches, so the family moved from towns throughout California and Oklahoma every few years. He said the works of Auguste Rodin and Jo Davidson inspired him.
Moore is making sure that work ethic stays in the family. His sons Ryan and Todd have grown up and worked side by side on the Land Run monument with him as it was completed over 20 years. His 13-year-old grandson Ian also now pitches in at the studio. The final two pieces for the monument were sent to Deep in the Heart Art Foundry in Bastrop, Texas, where Moore's sculptures will be cast in bronze and readied for final installation to join the other 43 pieces on display in November.
The project is financed through the city, state and federal government. Moore credits the city for stepping up to cover rising bronze costs over its 20-year creation and said the only way to complete such a large project was to focus on it one piece at a time.
"It's been a struggle," Moore said. "Within three years, I lost my hair and went gray because of how intense it was, especially at the very beginning. Oklahoma City has been incredible at taking on the brunt of it, the cost increases, and I'm pleased that they've had the integrity to hold in there and continue until the very end. I'm looking forward to the first of November and getting installed."
Visit crownartsinc.com.