Jacob Threadgill
Peppered ponzu ahi tuna with vegetables and rice
Since moving to Oklahoma City from Mississippi last year, I've been on a quest to find a great version of étouffée. I've previously had solid, but not-exactly-what-I-was-searching-for experiences at Brent's Cajun Kitchen and Cajun Corner in this review space.
My quest took me recently to Pearl's Oyster Bar, which is one of the longest-standing seafood restaurants in Oklahoma City, and I was happy to find a great bowl of crawfish étouffée under redfish Pontchartrain ($25), which highlights the restaurant's beginnings as a Cajun-focused establishment.
The restaurant debuted in 1983 at the corner of NW 63rd Street and Classen Boulevard with a Cajun tilt, but it has expanded over the years to add Asian and Mediterranean influences and moved to its current 5641 N. Classen Blvd. location in 2007. The concept was so successful that it expanded into Texas only a year after opening, but now Pearl's Restaurant Group includes Trapper's Fishcamp & Grill, 4300 W. Reno Ave., and Pearl's Crabtown, 303 E. Sheridan Ave.
Pearl's Oyster Bar positions itself at a different tier than the other two establishments, where some dishes get gourmet treatment and some take on international flavors. Recent additions to Pearl's menu include appetizers like crabby guacamole ($14) and blackened scallops with a green chili beurre blanc ($13) and ahi tuna poke ($10). Its entrée menu has recently added Japanese sea bass with spicy ramen, mushrooms, broccoli, boiled egg, pickled carrots and scallions ($20), camarones verdes — shrimp with chimichurri sauce, green rice and vegetables ($19) — and their take on cioppino, the classic San Francisco tomato-based stew ($20).
Many readers, I'm sure, have plenty of fond memories eating at Pearl's Oyster Bar, but for me, a recent Sunday dinner with the in-laws was my first visit. The restaurant offers a robust champagne brunch menu, but we made our way in around 7 p.m. and found Pearl's around half-full.
It has one of the best patio areas in the city, and the décor is contemporary and fun, if not dimly lit during dinner. Our meal began with an appetizer of blackened scallops. A blackened preparation of the scallop is risky business because you've got to get a good char on it without overcooking the center. The chef achieved that on the exterior, but the interior was slightly overcooked while still enjoyable, especially paired with the excellent take on a classic French beurre blanc sauce that was equal parts spicy and buttery. I would order the appetizer again just for the chance to dip the complimentary bread in the sauce. The green chili beurre blanc also makes an appearance on the entrée portion of red chili seared mahi mahi ($20), which was our server's favorite entrée.
I should've taken his suggestion. I ordered the peppered ponzu ahi tuna ($21), which covers the pepper-crusted sushi-grade tuna in a soy-ginger glaze and is served with seasonal vegetables. I ordered the tuna seared, which is the only way to eat tuna unless it's sashimi or canned.
The kitchen delivered a medium-rare piece of tuna that had no discernible sear on the outside, which indicates to me that it wasn't cooked on a high enough temperature in a quick enough period. The result was a tough piece of fish. It happens to the best of us. Management apologized and offered a replacement while taking it off the final bill, which is a sign of great customer service.
Everything else in our dinner order was very well seasoned and cooked. The redfish Pontchartrain — blackened red fish on top of spicy crawfish étouffée with rice — was the star of the meal. The étouffée was thick, but you could tell that it was cooked with seafood stock, which is a must for me.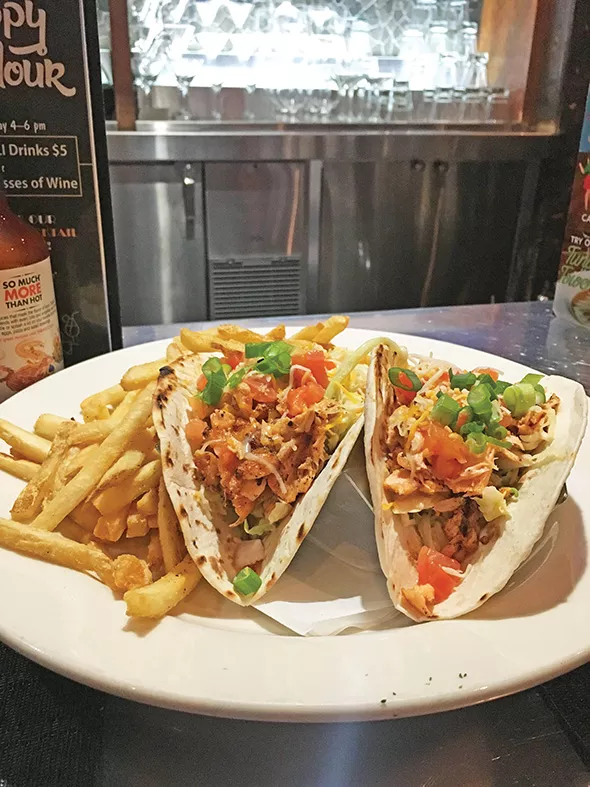 Jacob Threadgill
A lunch portion of salmon tacos with fries at Pearl's Oyster Bar
The crawfish enchiladas ($17) are an interesting addition to the menu, and they deliver if you're looking for a cheesy and indulgent entrée. The interior of the enchilada is crawfish with cream cheese and spices. Blue corn tortillas are then covered in loads of extra cheese and broiled bubbly brown. The blue corn provided a nice component to the dish, but I thought it was somewhat one-note: cheesy. If that's what you're in the mood for, by all means, but I thought it needed an acidic sauce of some sort to break through the grease.
A side Caesar salad came out with the crawfish enchiladas, and the dressing was good, but I couldn't help but notice what looked like Parmesan cheese from a can topping the salad. I honestly can't remember the last time I've seen the bits of cheese that look and taste like sawdust. Maybe the kitchen was low on fresh Parmesan — not a critique, just an observation.
We finished the meal with chocolate love cake ($6.50) and blackberry cobbler ($5). The table was unanimous in praise for the cake over the cobbler, but both were worth the calories.
I returned to Pearl's the following day for lunch and was surprised to see it was packed around 12:30 p.m. I'm not used to seeing such a lively crowd for a weekday lunch, but I guess its position in an office complex near the Chesapeake campus makes it a popular lunch location, especially when I saw how quickly the food came out.
I ordered a cup of gumbo ($5) that included chicken, Andouille sausage, okra, tomatoes and small shrimp. It hit the spot on a cold day and arrived at my seat at the bar less than four minutes after I ordered. I also got a lunch order of the salmon tacos ($13) with french fries. I wasn't surprised with the gumbo came out quickly because it's soup that has been prepared, but the salmon tacos arrived before I finished my soup.
The tacos were solid if somewhat unspectacular. They delivered what the menu said they would be and more than made up for the previous night's misstep with the tuna. I'll definitely remember Pearl's the next time I need a quick lunch because it delivered food from the kitchen faster than most counter-service places. I'm also happy to know I found a place that delivers the étouffée for which I've been searching. After more than three decades of service, it's easy to see why Pearl's is an Oklahoma City institution.

Visit pearlsokc.com.